July 30, 2017
Side Bay, the fantastic bay with the oddly innocuous name, is Port Alice's best kept secret. Since I've lived in Port Alice, I've listened to people talk about Side Bay like it was some kind of precious gem or a magical haven. This really means something in a place like Vancouver Island that has stunning views just about everywhere you look!
Before going to Side Bay, I talked to my cat sitter, Leah, about it. She enthusiastically told me that I'm going to love it. I asked her what is so special about it. She mused and then, struggling for an answer, said that it is "like Hawaii."
Well, yes, I guess it is a lot like Hawaii. It is a large bay with islands and black lava rock protrusions with the background sound of a gentle surf hitting the beach. It just has pine and fir trees instead of palm trees. It also does have an air of a warmer place, which, I realized, might be because it is right beside Brooks Bay Peninsula. Brooks Bay Peninsula was just missed by the big ice cap in the last ice age and still has vegetation from another era. I think some seeds might have blown over to Side Bay. I did notice some odd-looking plants there. While preparing this post I realized that it has the most photos of all other of my posts. This goes to show you that Side Bay has plenty of "visual interest."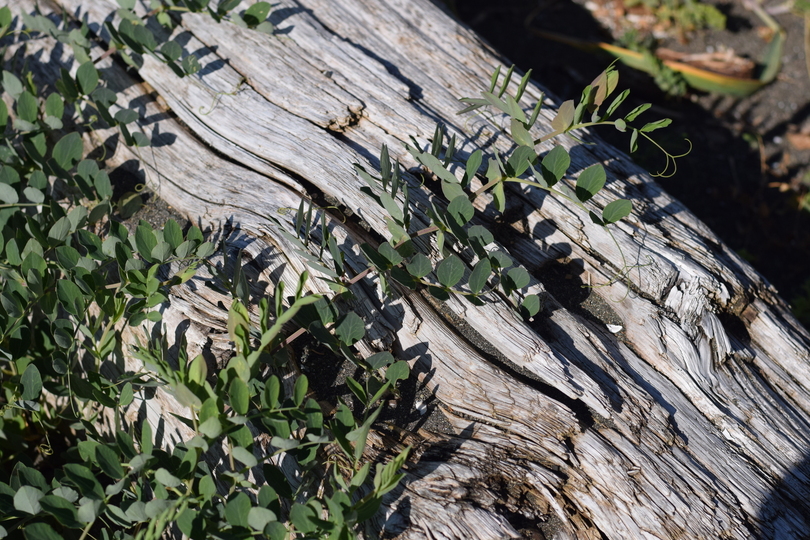 Strange looking plants 1.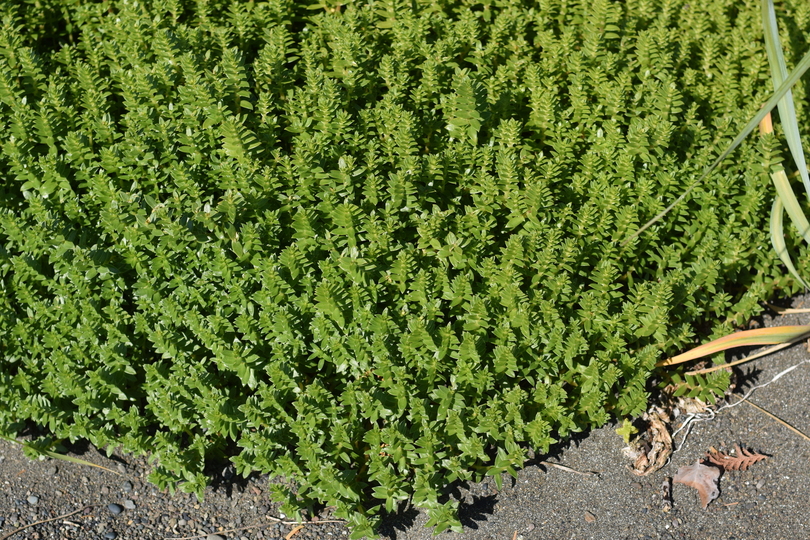 Strange looking plants 2.
James bought a new truck, a four-wheel drive, just in time for our trip to Vancouver Island. We also had a new fancy dancy kayak carrier, a new kitchen centre and a couple of camping chairs with their own little table on the side and cup holder. We were stylin' kayakers!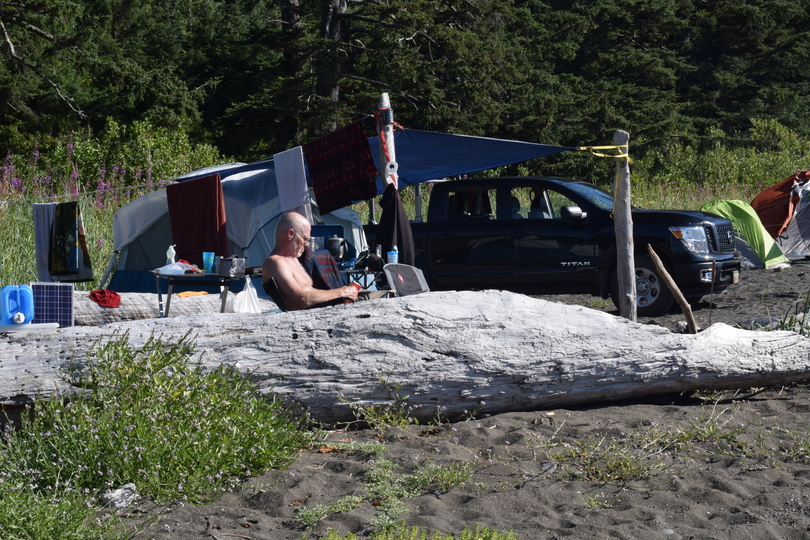 We were stylin' kayakers.
Since we had taken this road to the Wild West Coast before, we thought that we knew where we were going. Once we got into the belly of the forest, uncertainty set in. We relived our fear of taking the wrong turn and getting lost or ending up on top of a mountain cut-block with no room to turn around. We scrambled around the truck for our BC Coast Explorer and the Backwoods Map Book, trying to figure out this route like it was the first time we'd taken it. We bemoaned that I did not bring a printed out copy of my post for Gooding Cove of 2016, that I laboriously edited and re-edited, to use as a guide. There is such a labyrinth of logging roads in the area, it is just too easy to get lost.
Things were a little easier this time though, as, with Port Alice's new tourism promotion initiative, we found nice new professionally done guide signs that replaced the home-made ones from the year before. In keeping with the tendency of BC backwoods signage, however, there weren't many signs at the beginning of the route.
To get to Side Bay, take Marine Drive from Port Alice around the inlet. Follow it until it "becomes" Teeta Main (there's no turn or dividing marker)—it is just Marine Drive in one part, and Teeta Main the next part. When you get to that hairpin turn 25 km from Port Alice, there is no guess work at all. There is a lovely sign pointing the way to Teeta 500 (or K 500) and other mains that come after. After Teeta 500, you take K main, then I main. Somewhere around I main, the signage for Side Bay and Gooding Cove starts, and that's all you need to know.
May I once again remind you to avoid travelling on the logging roads between 6 am and 6 pm on the weekdays when the loggers are at work. In a lot of places, the roads are very narrow and only allow passage for one vehicle. This means if you come face to face with a logging truck you could be toast! They will stop if they can, but sometimes they can't because of their heavy loads and could plough right into you! If this happens, they are not liable either. If you do come up on a logging truck that can't stop for you, head straight for the ditch or the bush.
There is another complication to this scenario. Though most loggers maintain banker's hours, some contract-based logging companies don't always—so you must always be wary. I talked to someone in the forestry industry and he says that that's quite rare for the North Island. It tends to happen more on the Central Island. To travel the backwoods of Vancouver Island you need to have a thick skin…but a lot of people do it. In my post for Gooding Cove, I wrote about how James and I came across a logging truck and survived. It appeared the truck was expecting us. A Western Forest Products pick-up had driven by earlier and they likely informed the logging truck via the 2-way radio that there were a couple of yahoos with kayaks on the road.
Also, when you venture into the back country, make sure to tell someone where you're going and when you plan to be back, so it doesn't take days or weeks before someone realizes you're missing.
Interestingly, the trip to Side Bay only took two hours. When we went to Gooding Cove last year—because we got side-tracked to Cayeuse Main and had to back track, and then ended up stuck on a mountain top (with a stunning view of Quatsino Sound)—the same journey took us 5 hours!
Arriving at Side Bay, we spent a few moments in stunned silence taking in the scene before us. There were people around, but the vastness and the beauty of the huge bay made them seem quite insignificant.
Side Bay Beach Gallery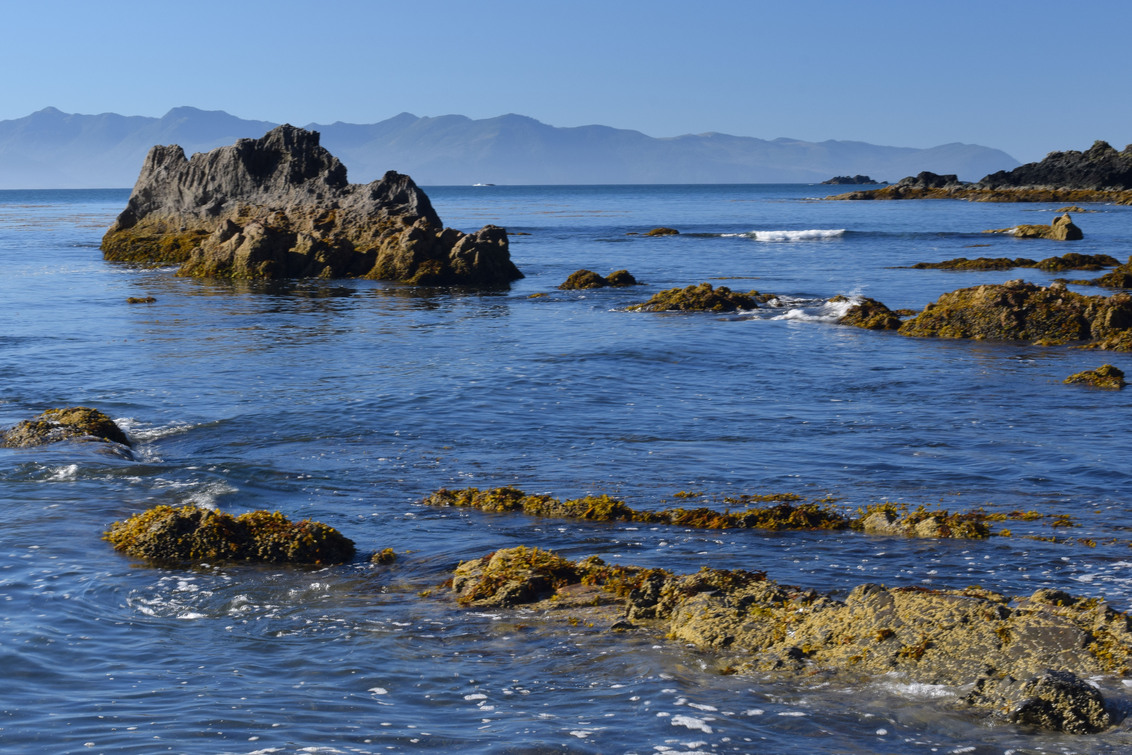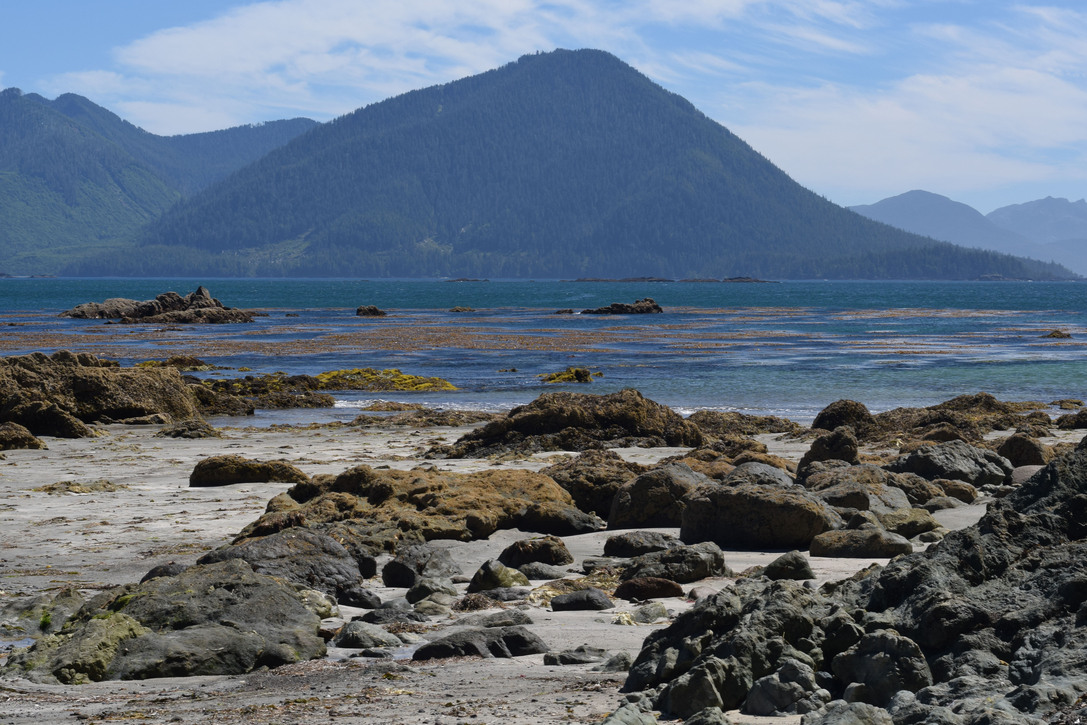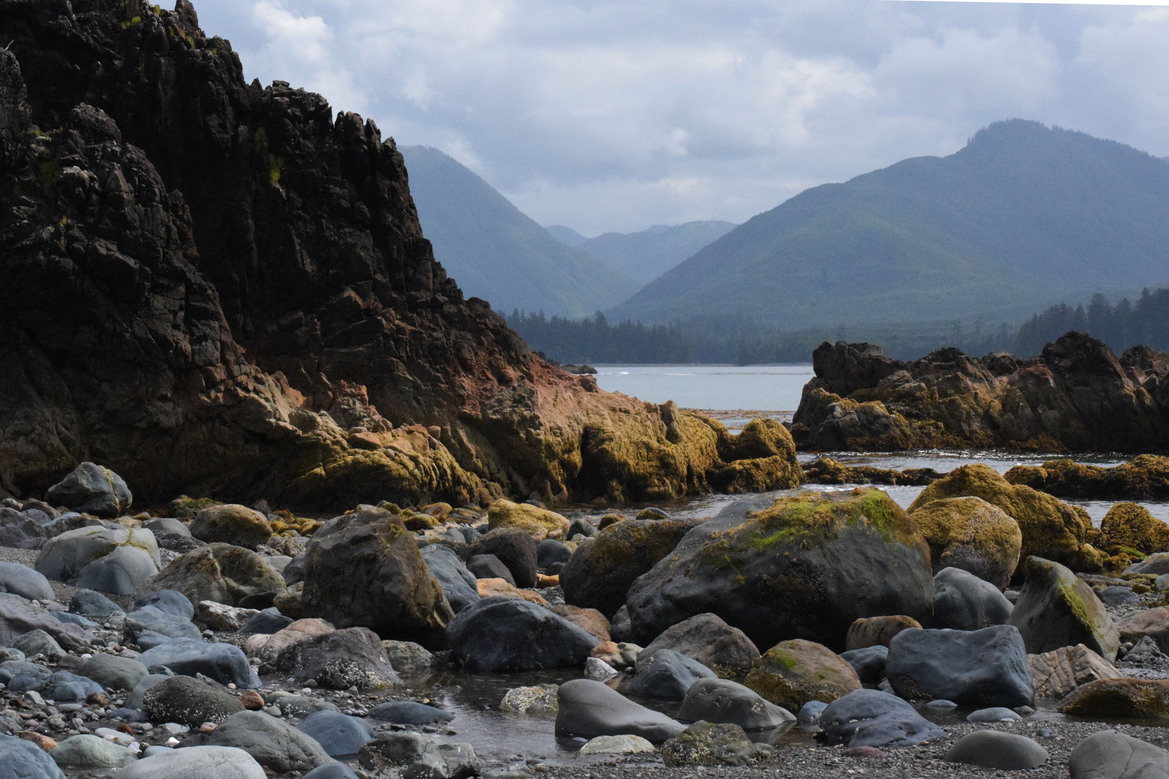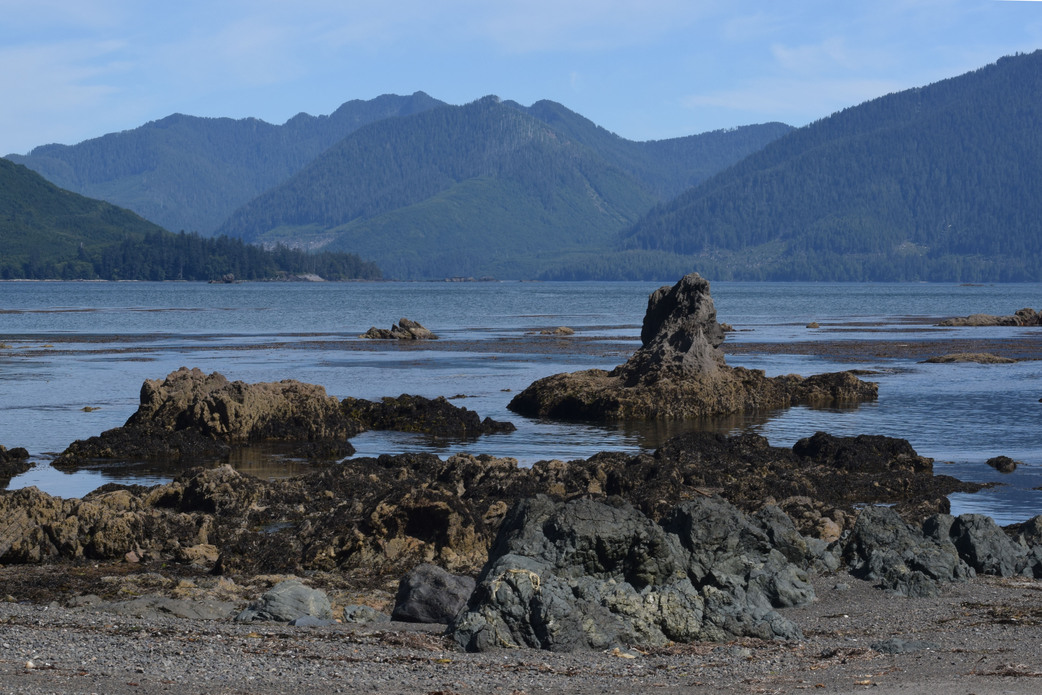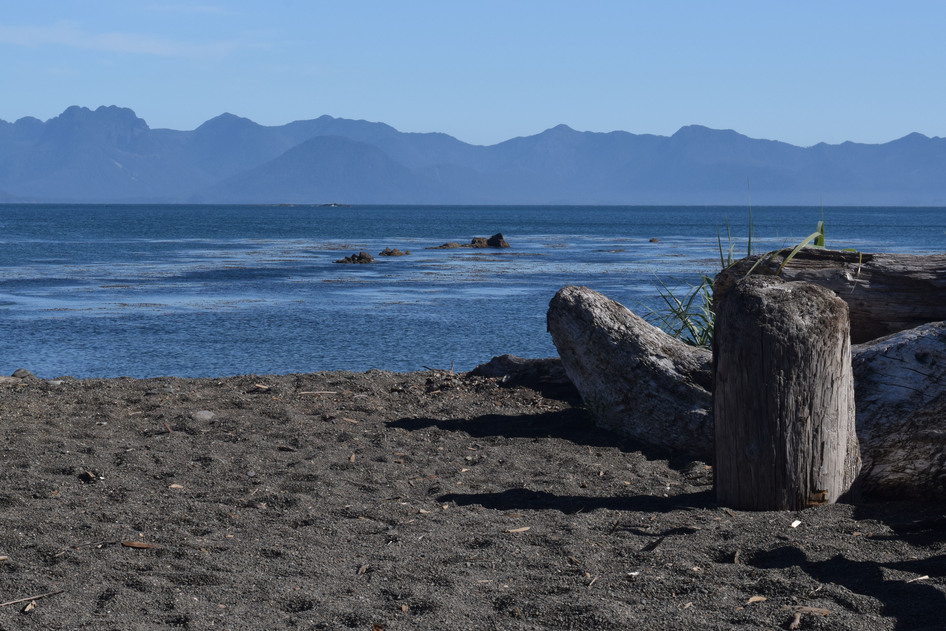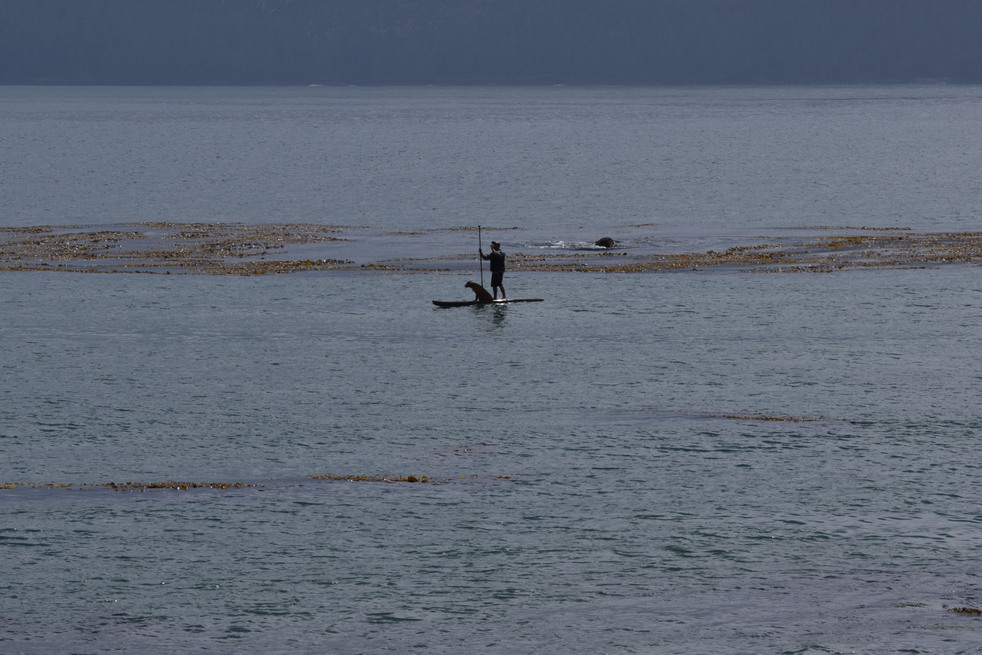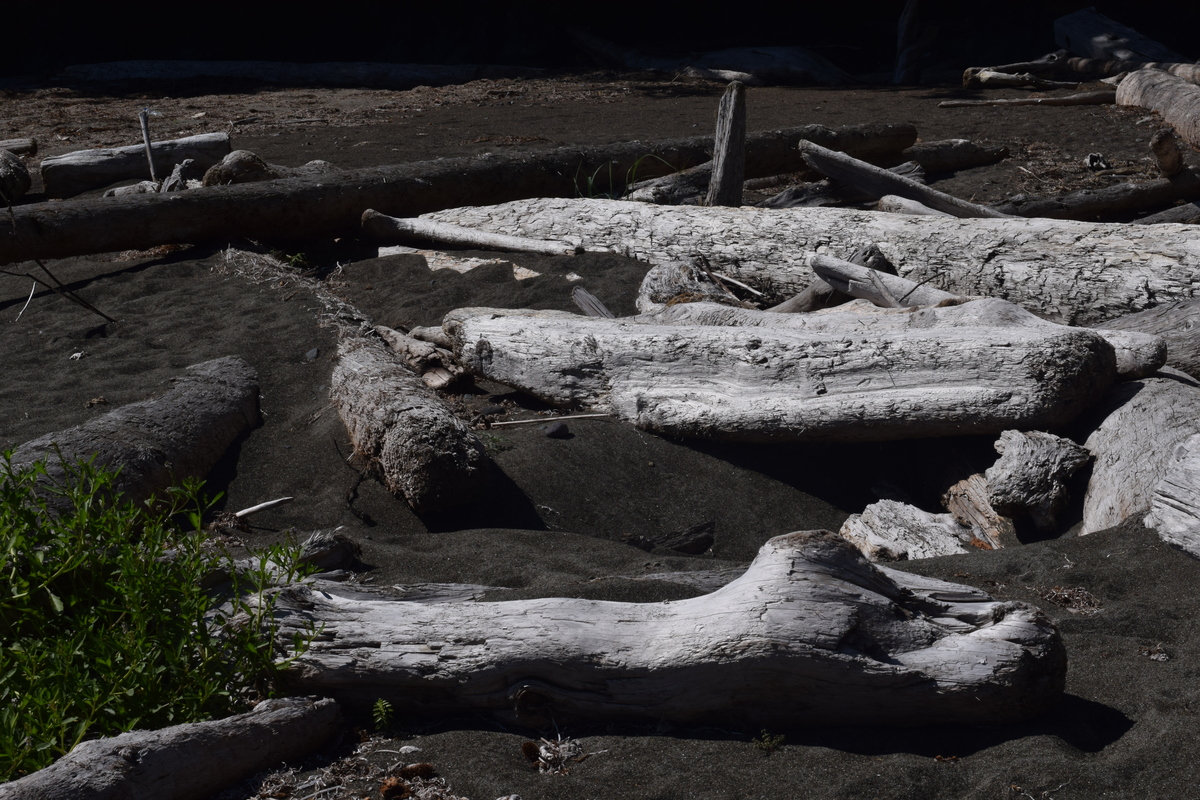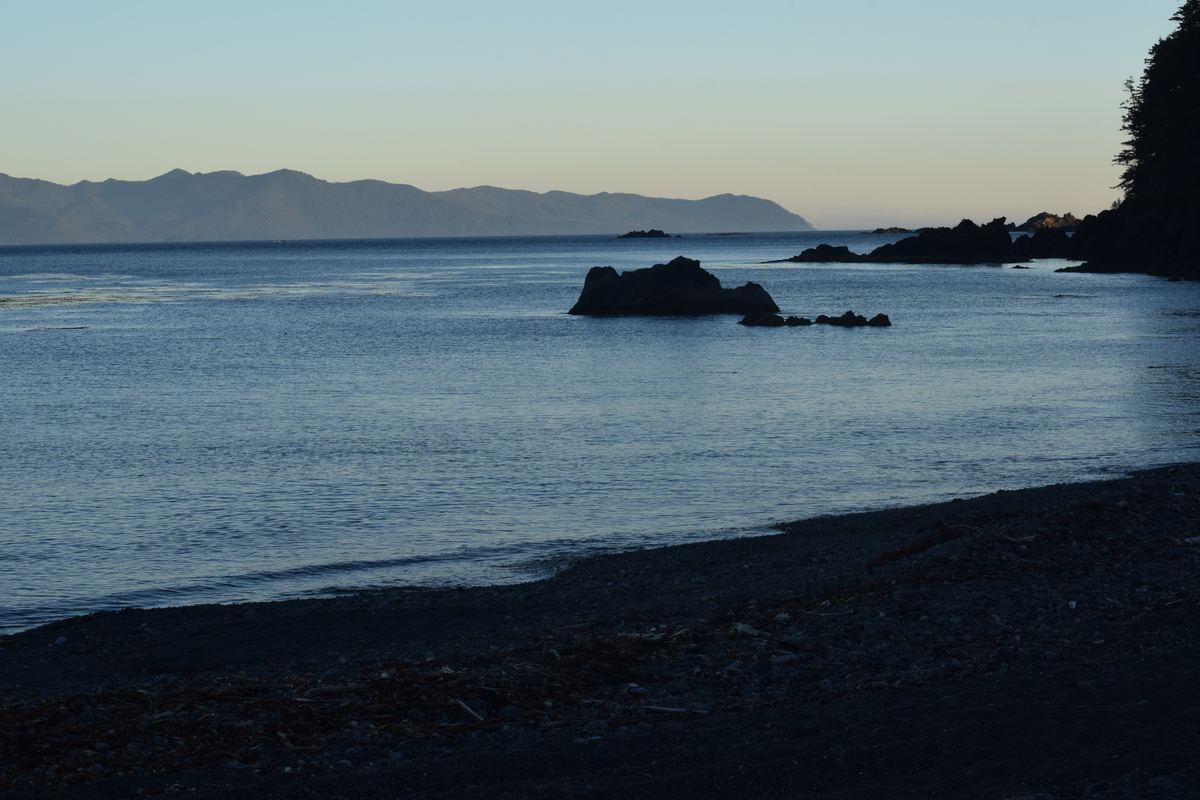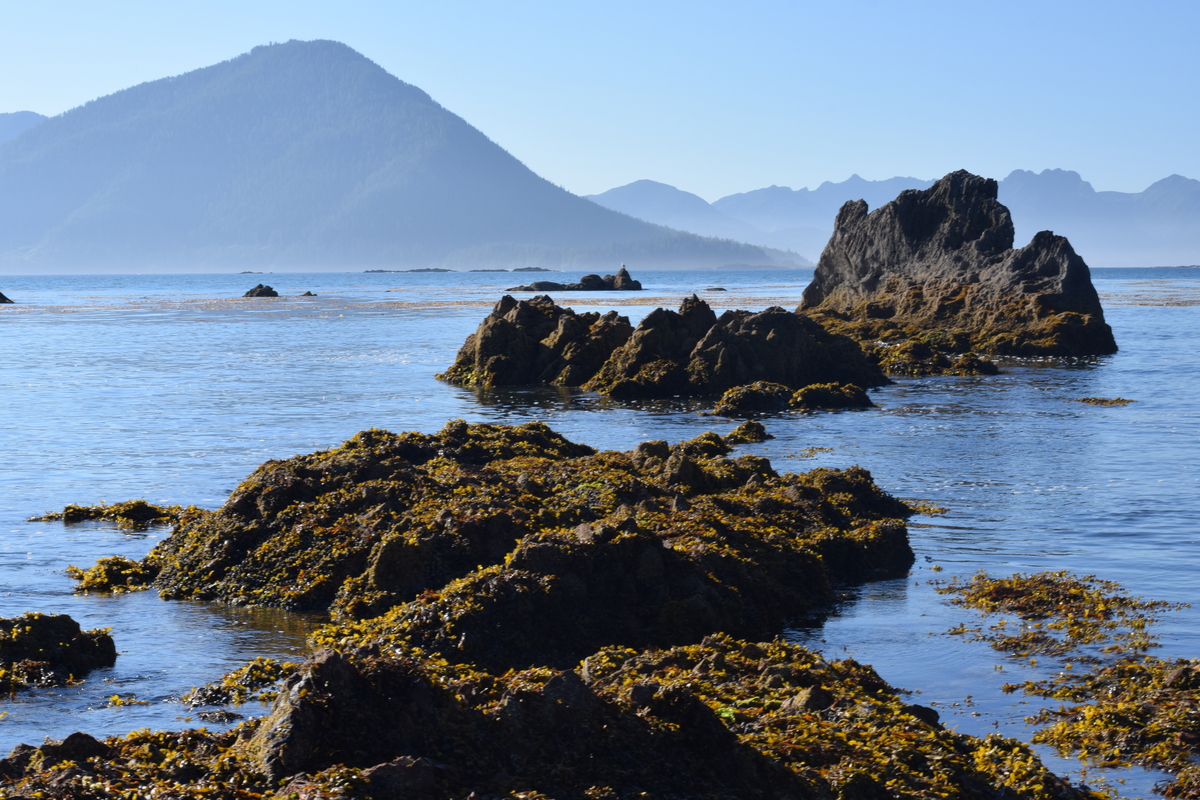 We set up camp right away and headed out onto the water. There was a good surf hitting the beach, but the water in the middle of the bay looked flatish. After struggling to figure out a way to get on the water without getting Chloe and ourselves all wet, we decided to go in nose first. It worked!
Once we were on the water, we discovered that we were riding some pretty big rollers. The water wasn't "flatish" at all! It felt a little like being on an elevator going up and down without stopping. If this were my first time on a kayak, I would have been having a serious panic attack!
We paddled by the rocky north shore, trying to take pictures while also saying "wee wee" as we went up and down the ocean roller coaster. We ended up at Mayday Island, on the sandy beach at the northeast corner, to have our snack.
Riding Swells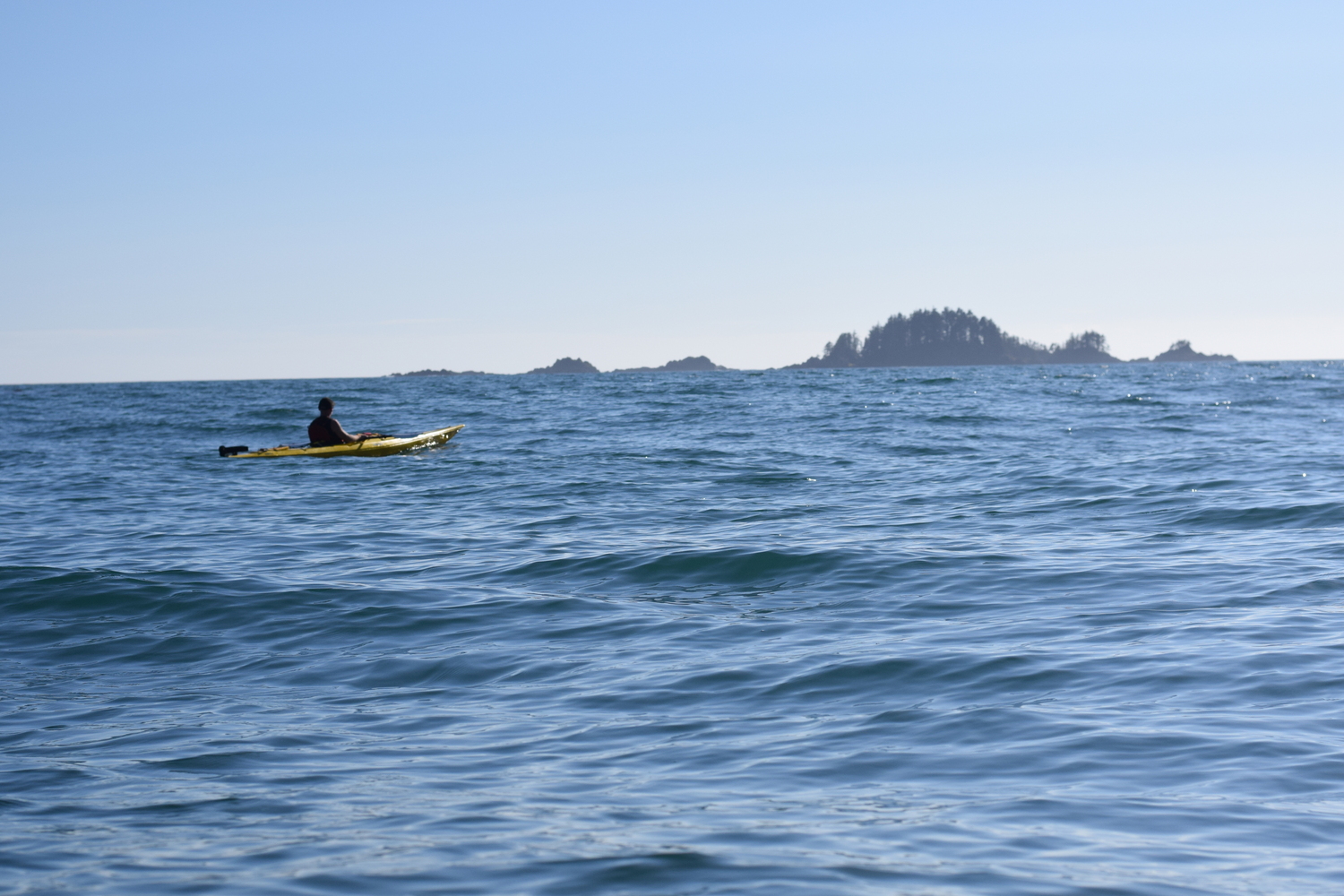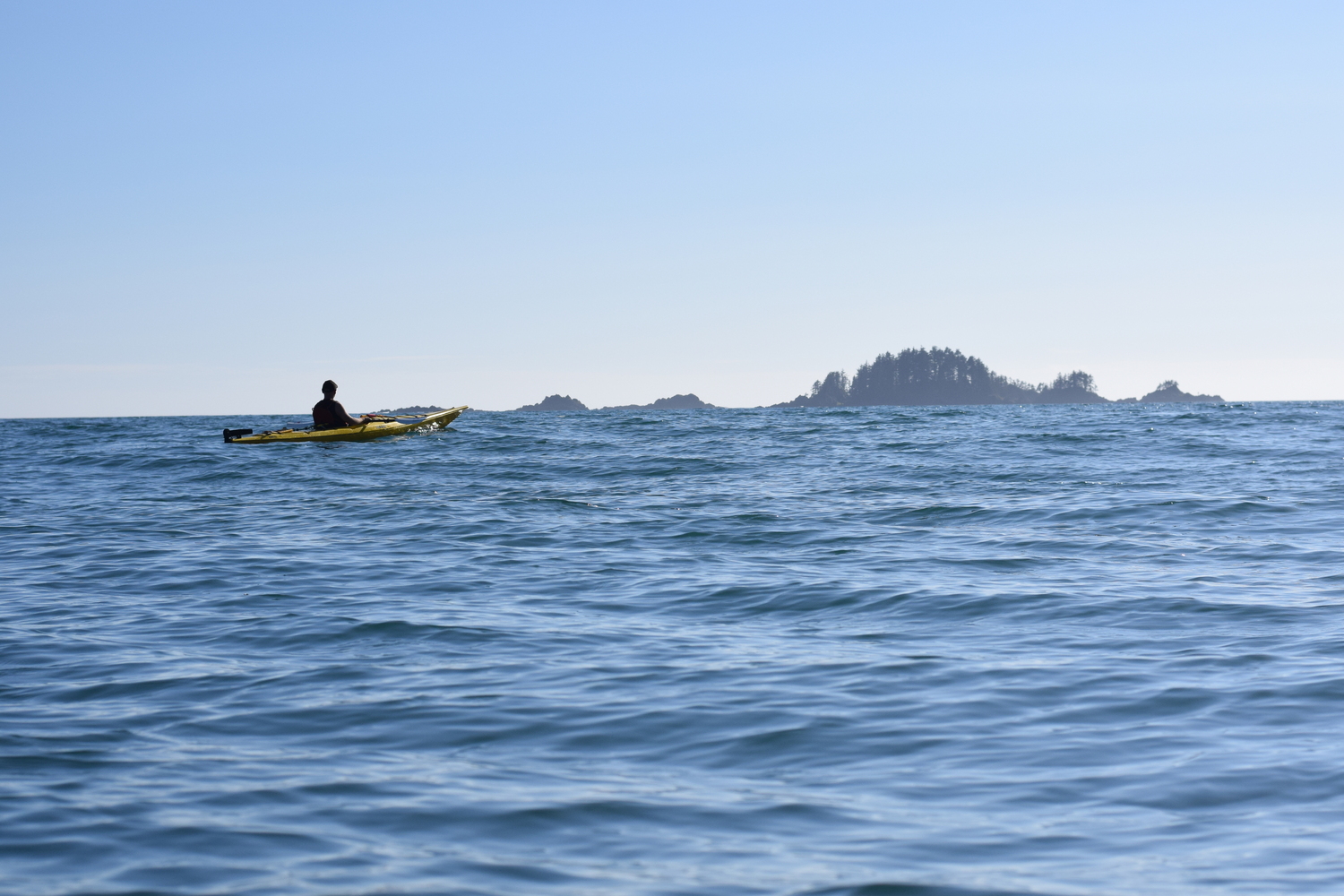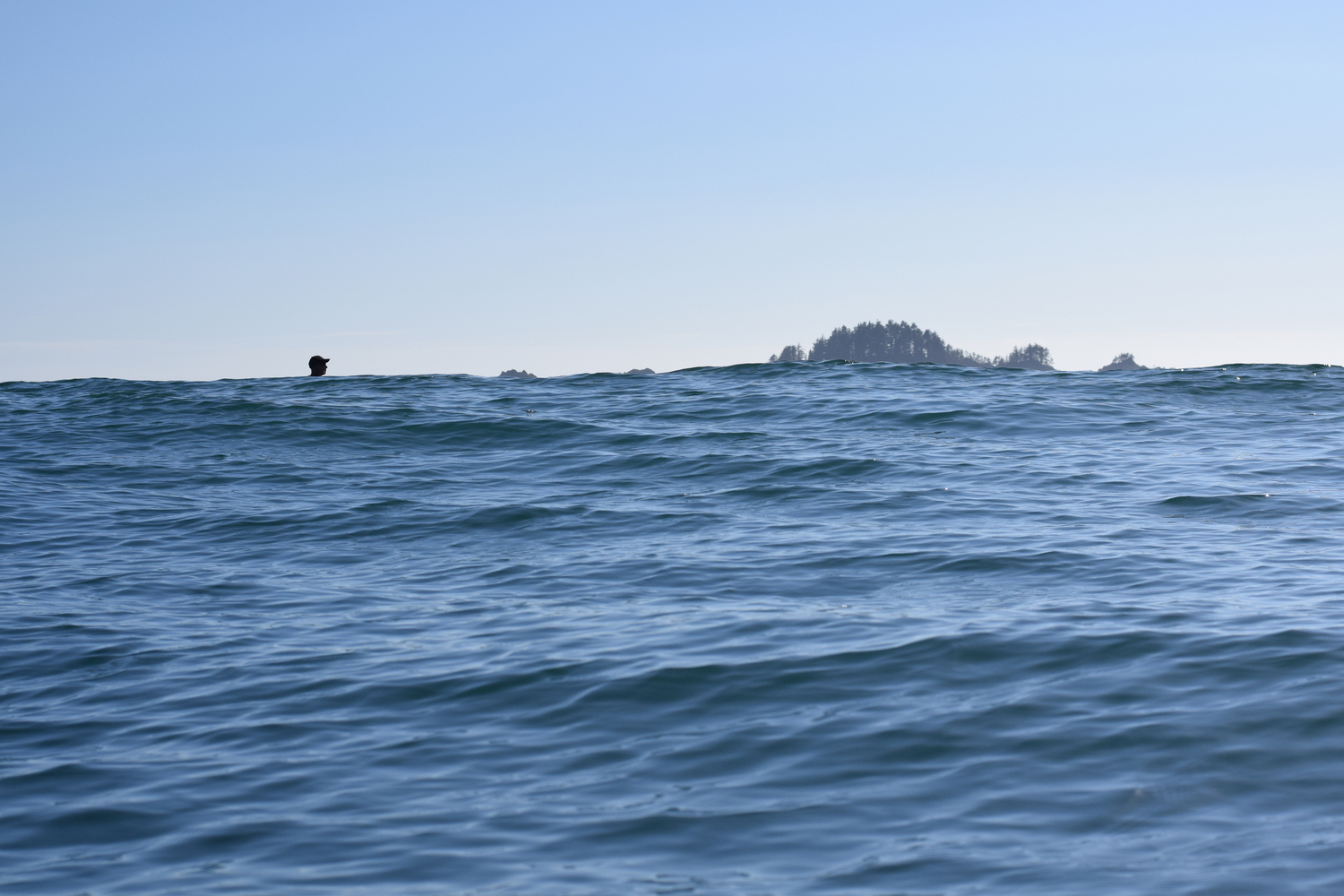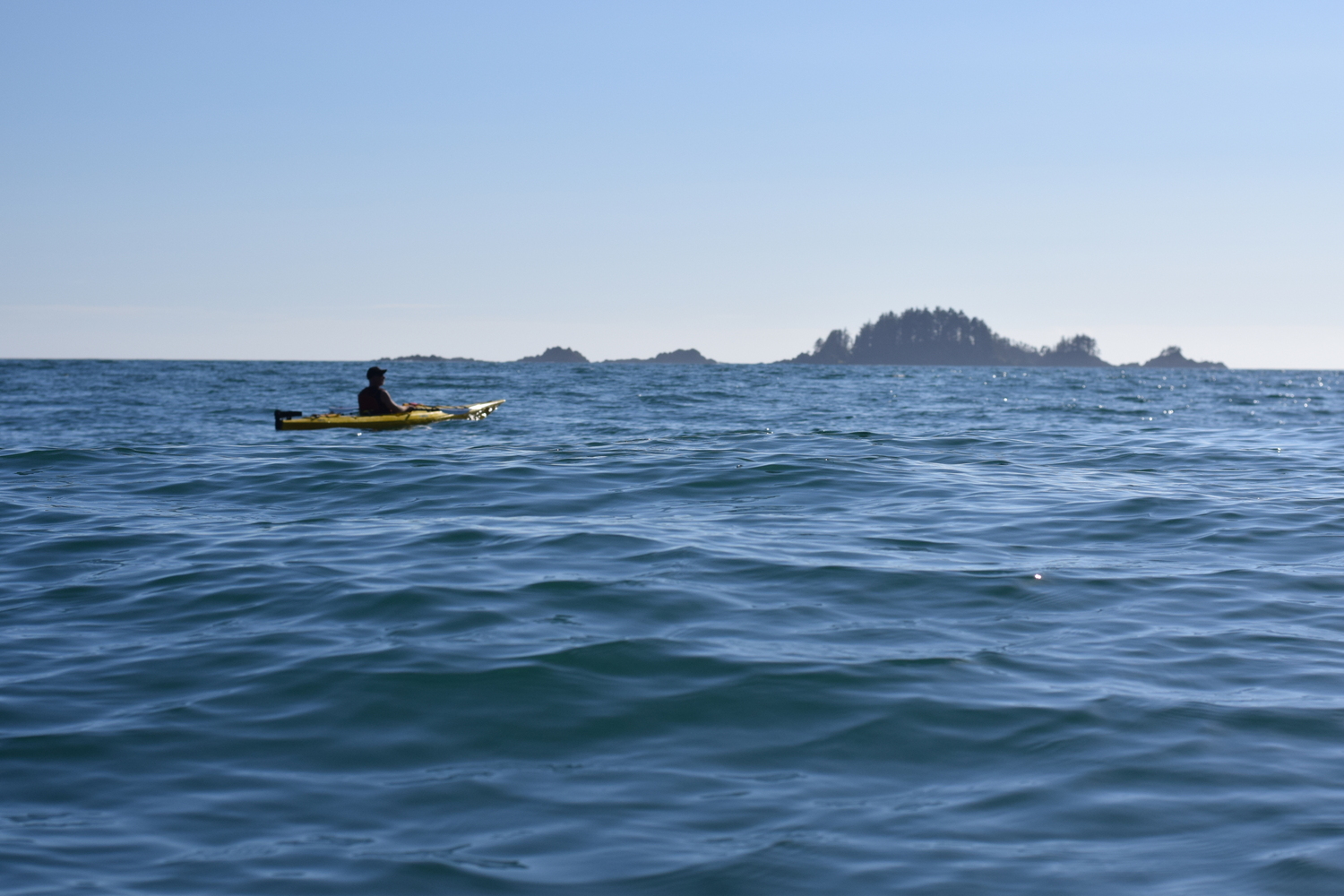 July 31, 2017
That first sojourn we thought we had seen all there was to see and wondered what we'd have to explore the next couple of days. As it turns out, there would be a lot to discover just by checking out all the nooks and crannies of the bay.
The next day, we planned to get up "bright and early" so we could maybe kayak out to Lawn point, a stretch of land that looks to be covered by a primed lawn from the air, which is actually very tall grasses hiding rough boulders. We were even fantasizing about going on to Restless Bite by passing the turbulent Kwaikiutl Point.
We had the best intentions. Even though we did get up fairly early, by the time we got cleaned and fed and had our coffee, we didn't get onto the water until around noon. It turned out to be a good thing. The water wasn't as turbulent as the day before. The rollers on the bay were much smaller than yesterday, but, as we headed toward the open ocean, they became enormous!
James said we could turn back if I wanted to. I paddled ahead a little more, then accepted the offer. We later realized we should only be out here with skirts and not with a Chihuahua. We realized, once our kayaks filled with water out there, our gooses would be quite cooked! We saw a few kayakers paddle out to that area, but they were likely not kayaking with a Chihuahua and probably had skirts, tons of experience and plenty of bravado!
The situation then got a little more interesting. After deciding to head to the far east side of the bay (the other end of the bay from our campsite) the wind picked up. The ride got rough and rocky. We kept getting splashed. We realized, if this wind had suddenly come along on the open ocean, it would not have been fun to say the least! If we had gone out there in the morning when the water was calmer, we might have gone too far afield, possibly even going on a hike. When it would have been time to go back—after a little daytime heating—we probably would have had to fight the winds and maybe even a few breakers on the open ocean.
Hitting that wind, we made a sharp left turn and headed in the direction of our campsite. This is where I came to understand the term "crosswinds." The waves were going from west to east, and the wind was coming from the north to south. The smooth undulating waves developed choppy points that knocked us all over the place!
Having cut our kayaking trip short, we were quite disappointed. Nevertheless, we took our kayaking snack at the far west end of the beach in the shade of the stones. We checked out a huge cave from afar that was only visible at low tide. We did some sunbathing and even some swimming. James went in the icy cold water (in this way, Side Bay is not like Hawaii!). As usual, James was the braver one, swimming a lap or two. I got wet up to my waist and dunked my hair in the water. Later I noticed that my hair was quite soft and silky, which probably explains why so many products from the sea are used in personal care products.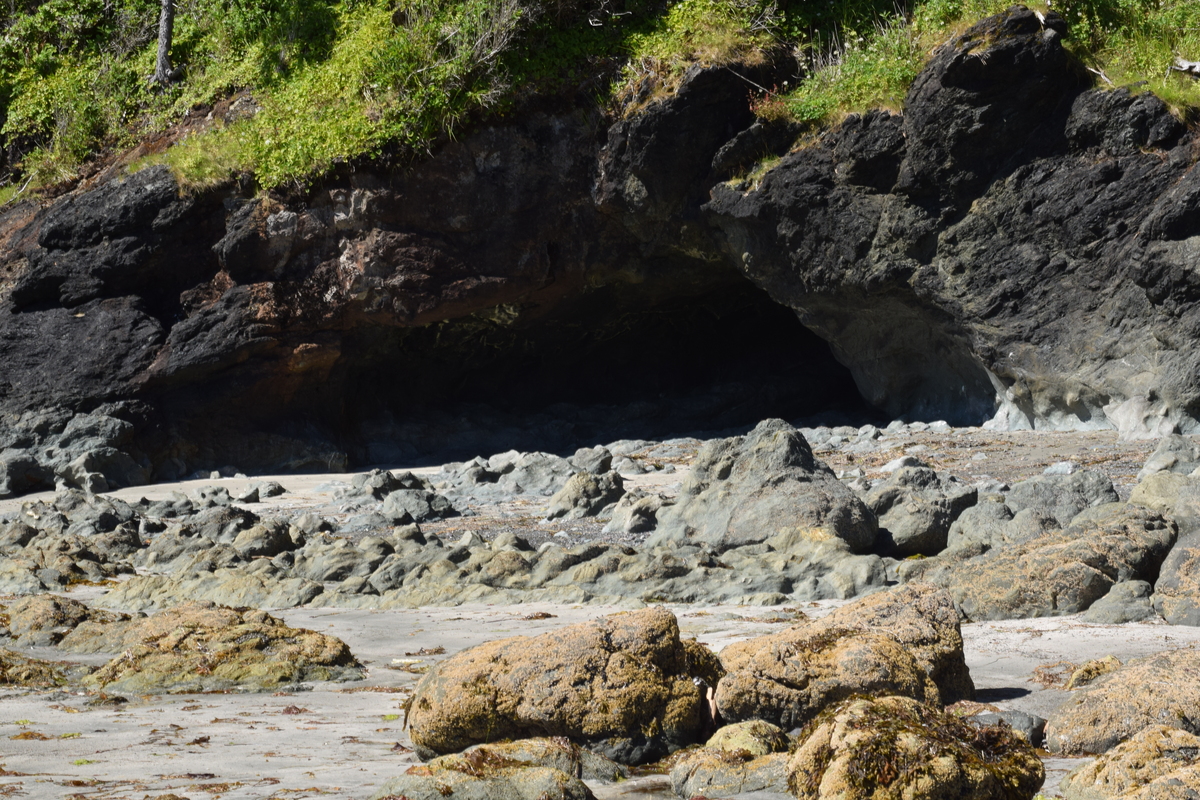 Cave visible at low tide.
As evening approached, we went out for a short kayak ride to explore the shore just north of the beach. We saw a driftwood beach, then came upon a wall of stones. At that moment the wind seriously picked up again and I wanted to go back, but Mr. Adventure just went around the stones. It was a good thing too. What we discovered was a photographer's delight!
On the other side of the wall of stones we found volumetric shadows, high contrasts with blue and black and water making interesting patterns pouring through crevices. I call this place the "Side Bay Stonehenge." I took too many pictures, and it was a lucky thing too. I still had a lot to learn about photographing shadows using metering. If I focused on the rocks, the camera would overexpose them and take away the strong shadows. I had to focus the metering on the water to make the rocks looks like the dark and powerful monoliths that they were.
Side Bay Stonehenge Gallery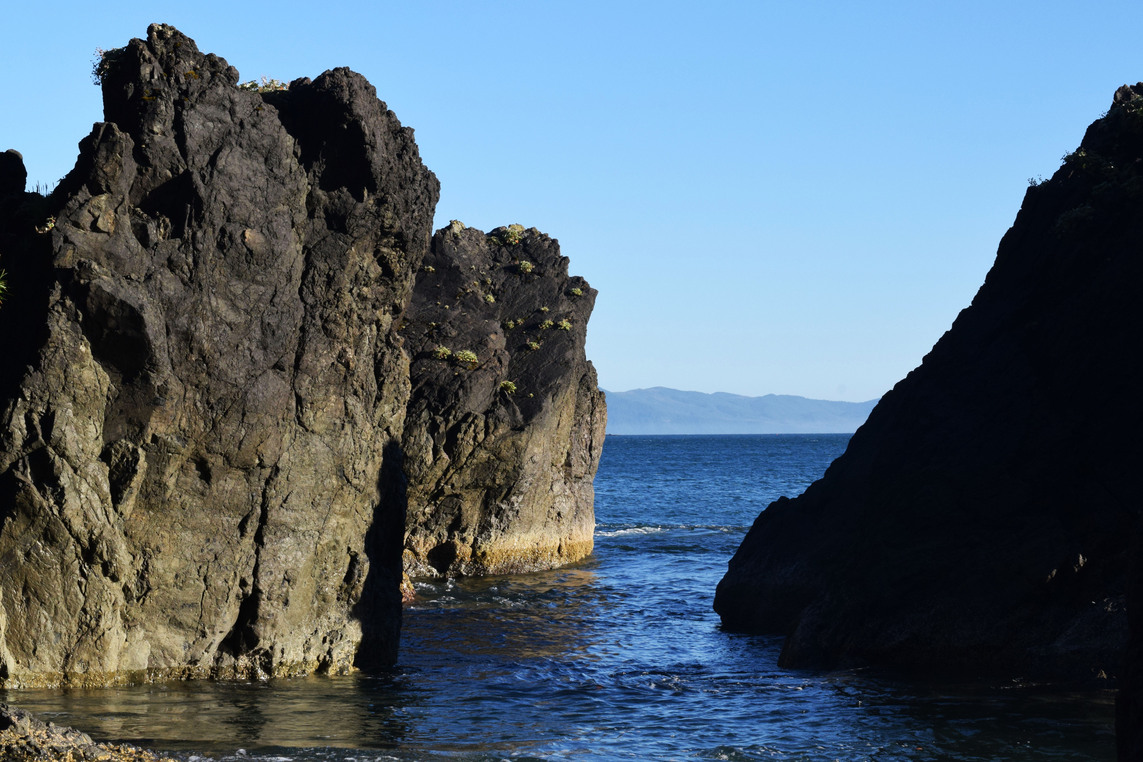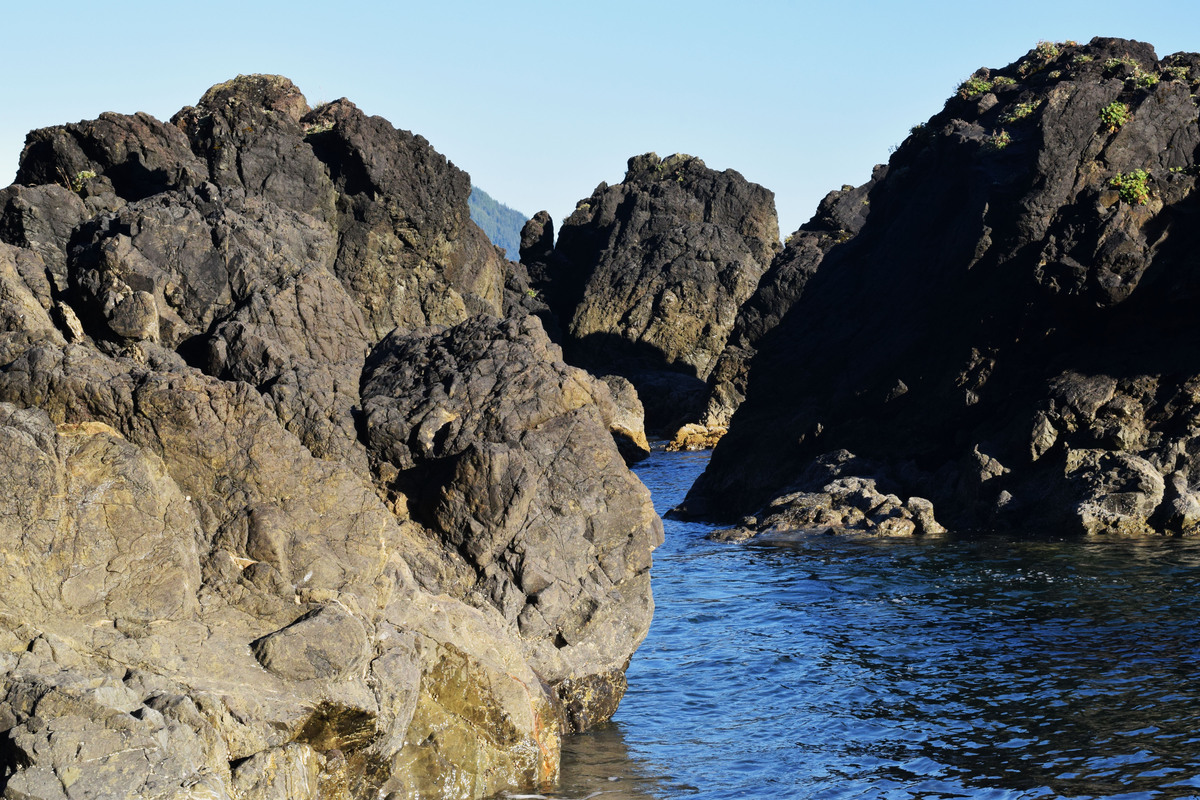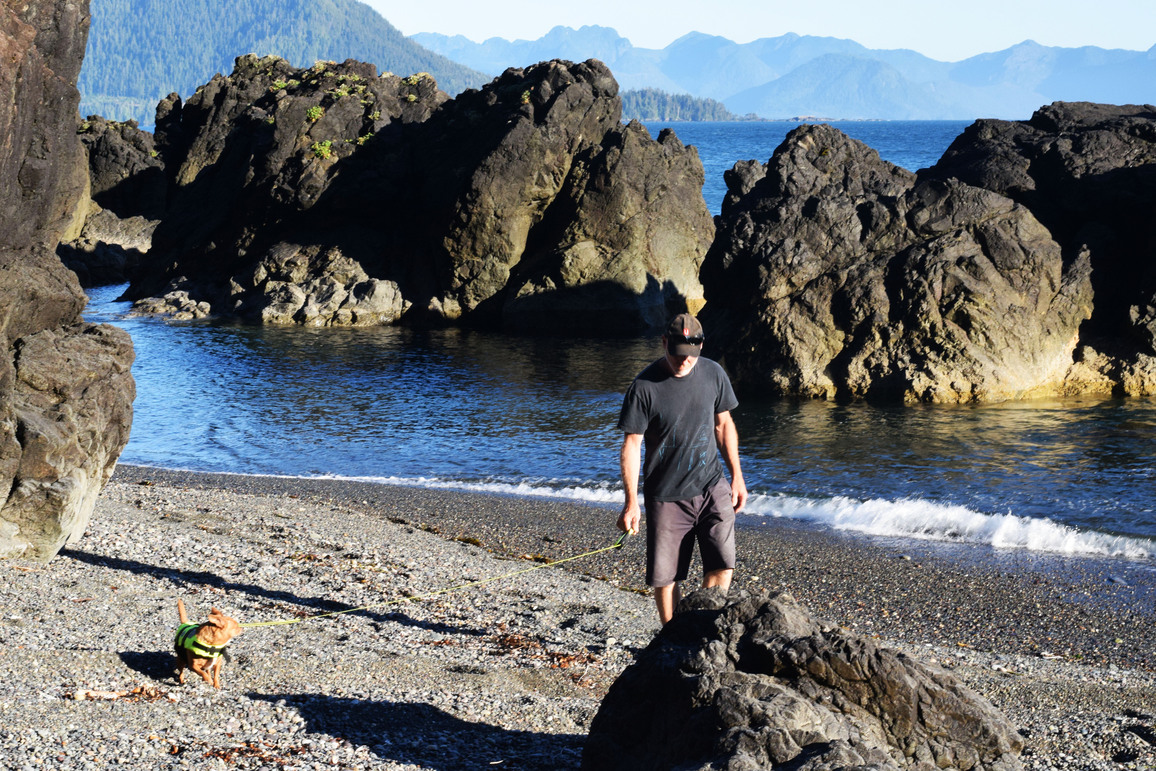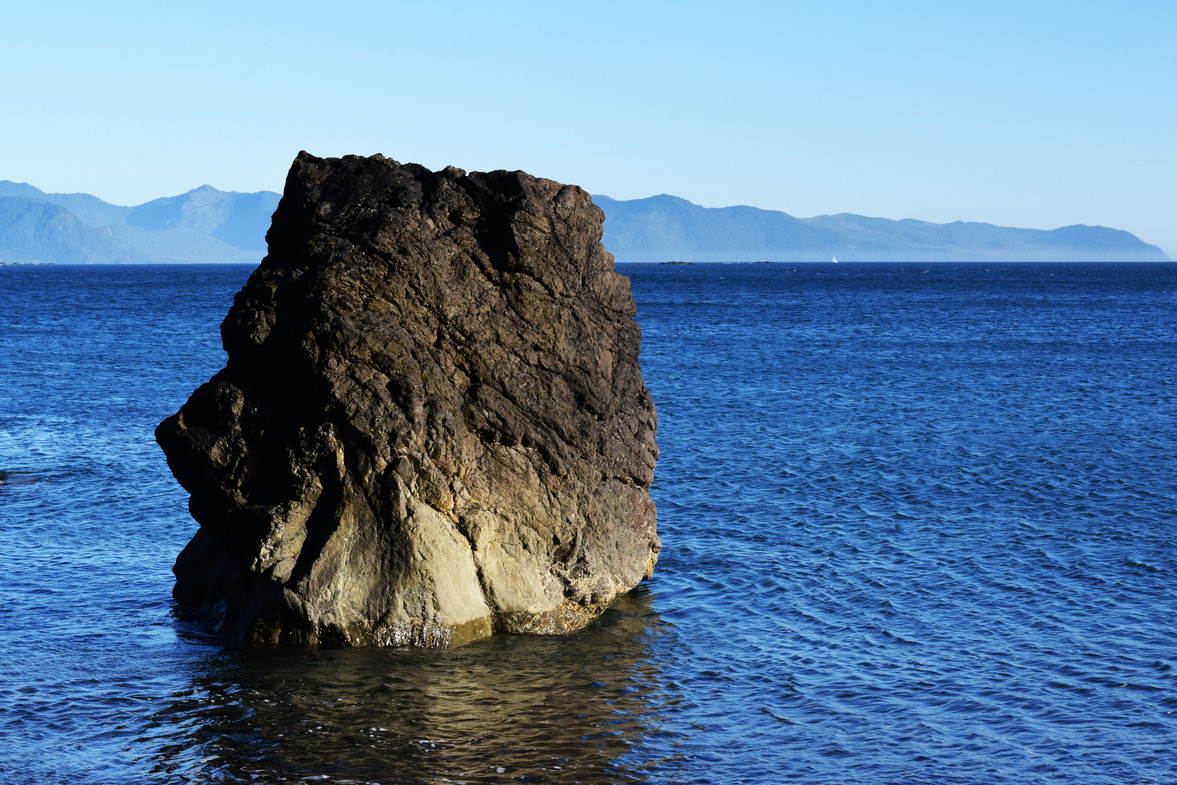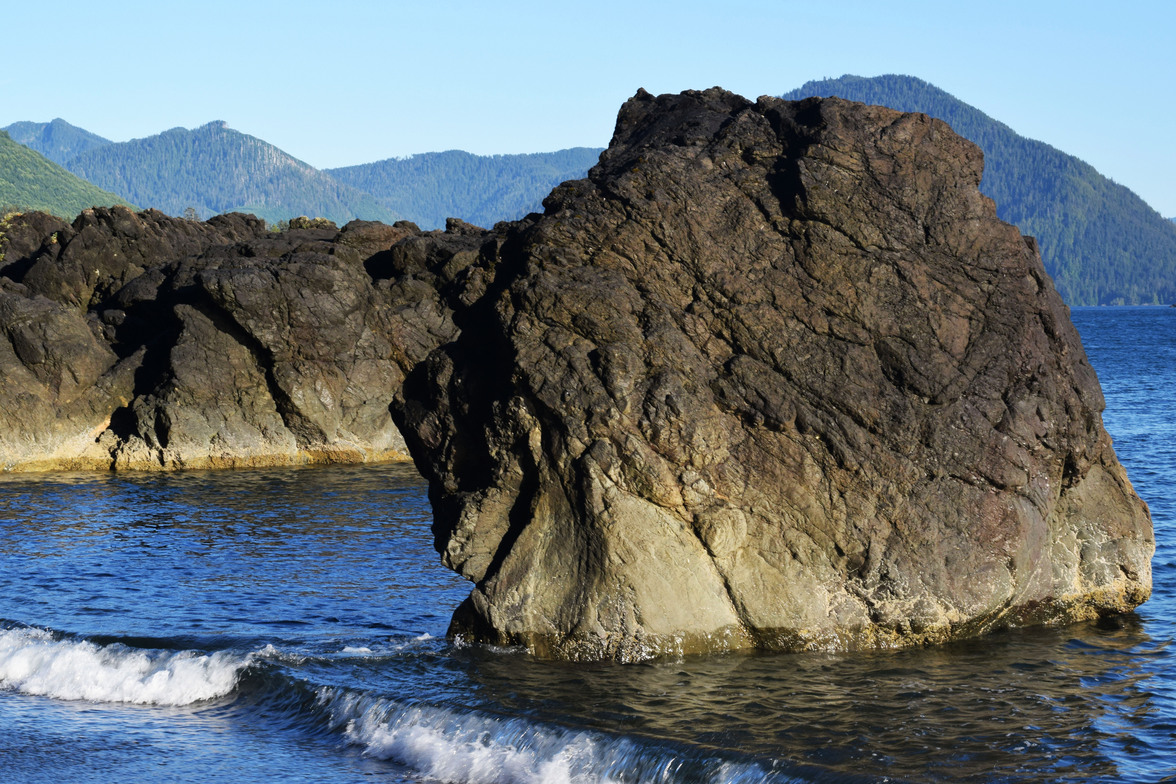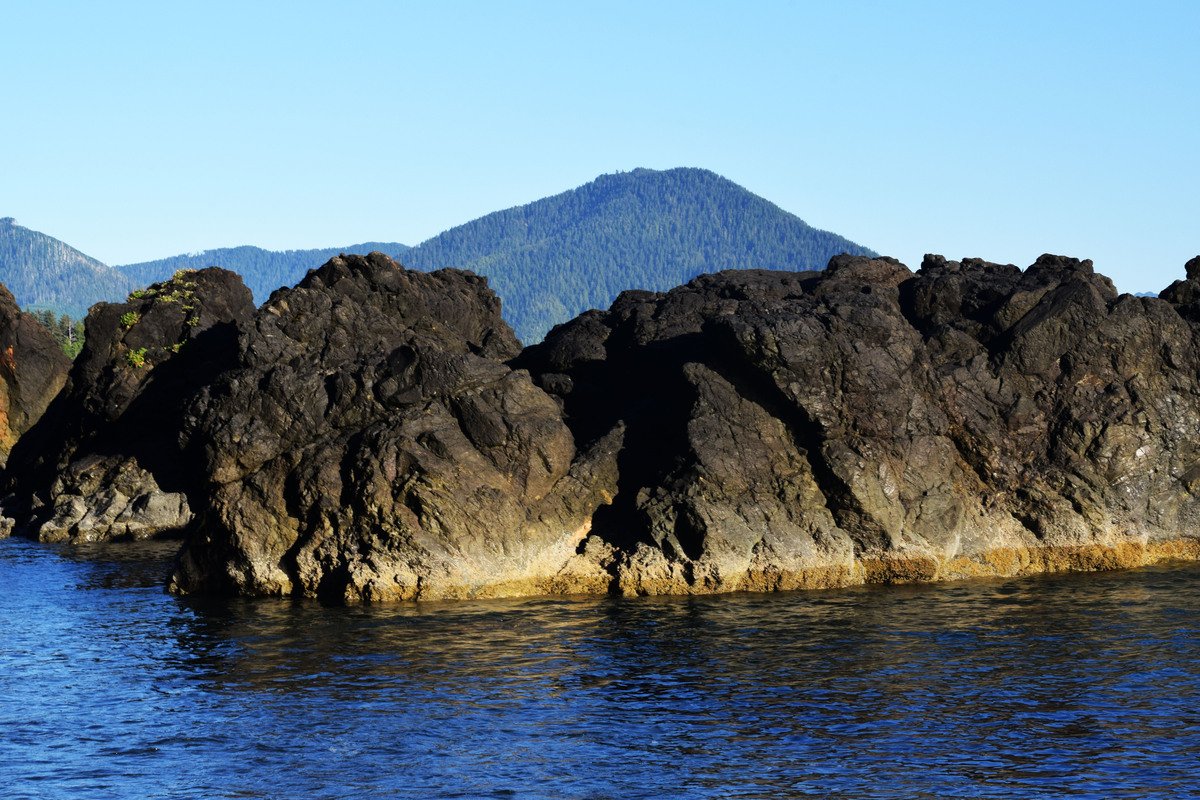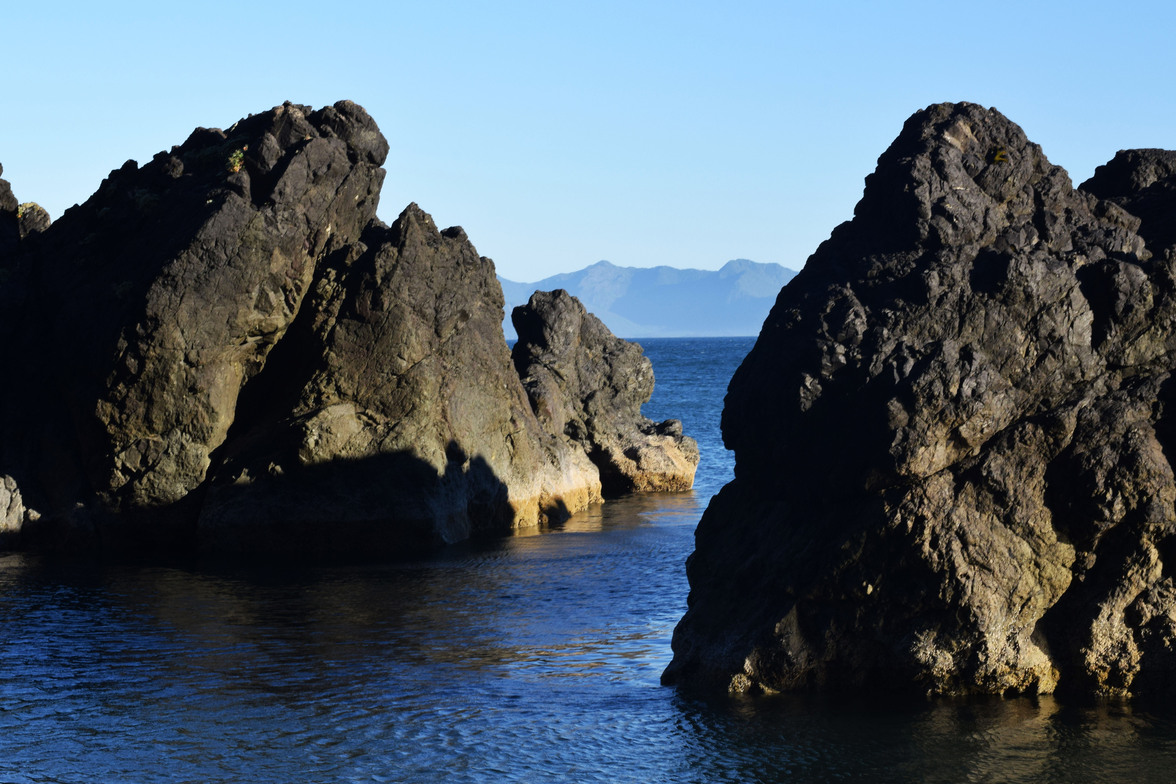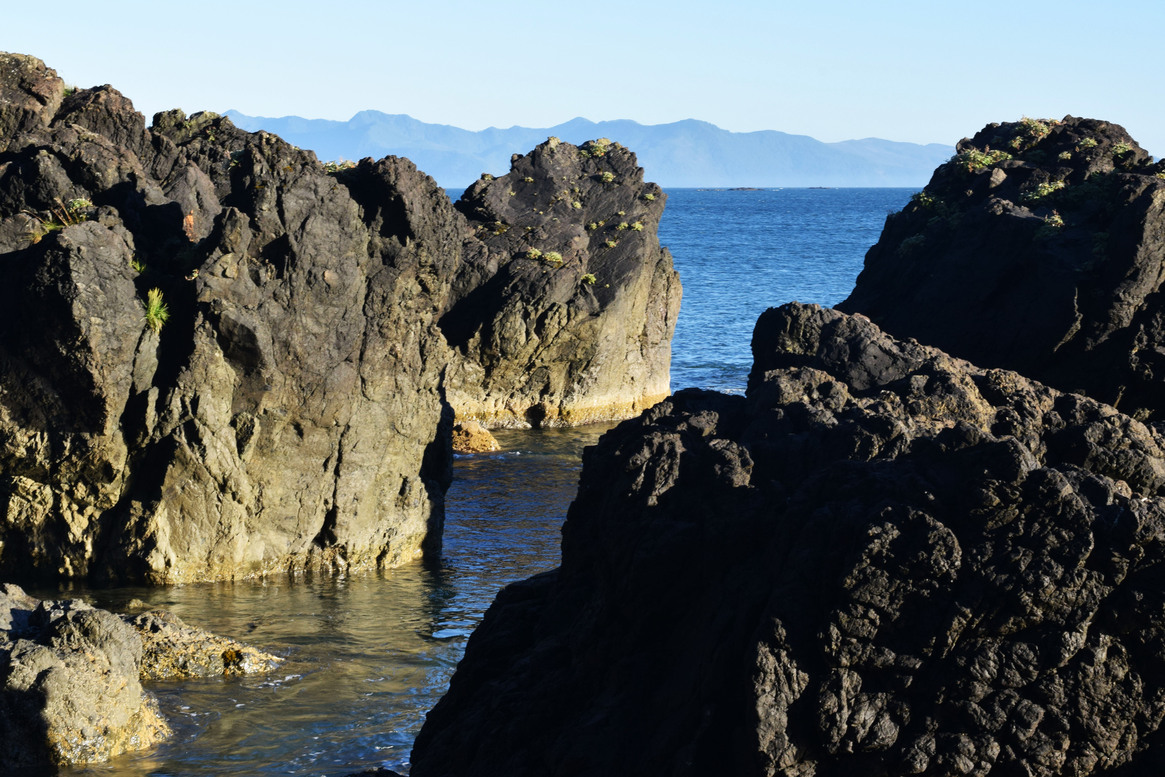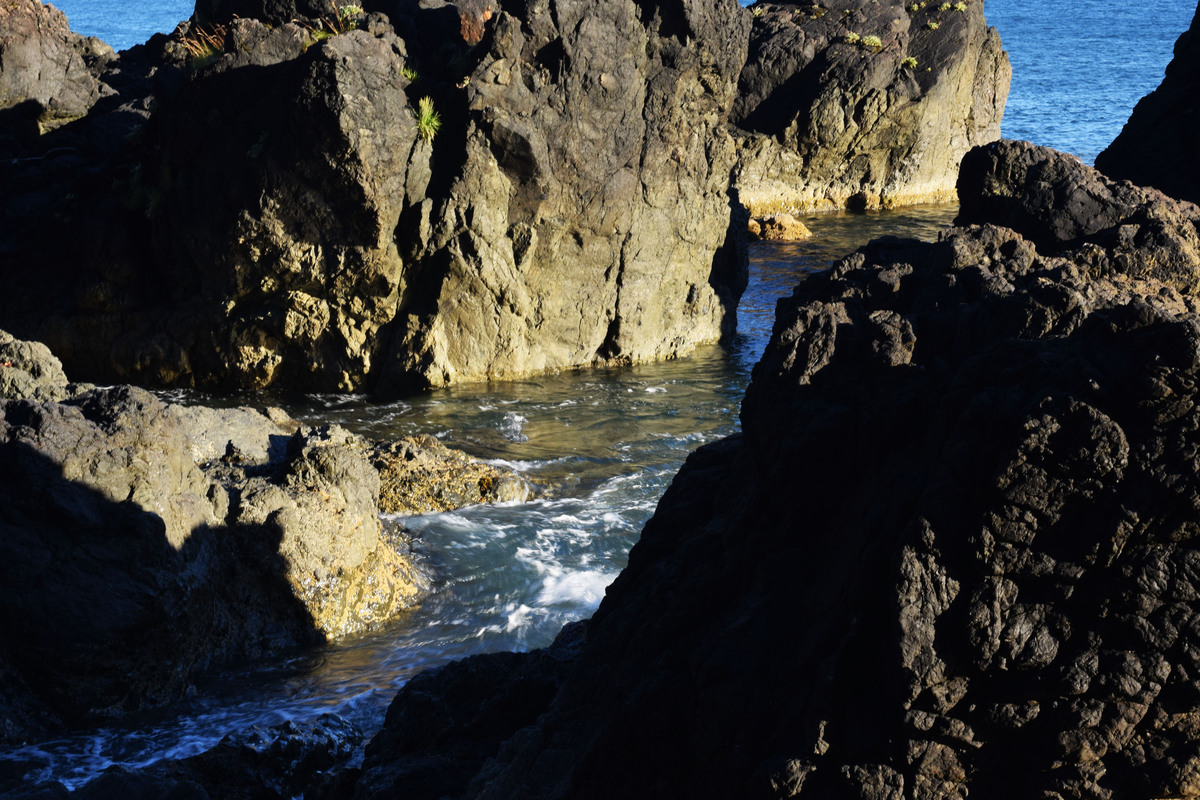 August 1, 2017
For day three, we were out of ideas; but still ended up having an adventure anyway. The winds from the north were fierce. We "settled" for a return to Mayday Island. Since we were passing by the north side of the island. I saw a monolith of a rock that would have made a good picture, so I decided to turn the kayak around and get a shot. As I was doing this, James, ahead of me and already around the island, noticed I was nowhere to be seen!
After I took my shot, I had to fight with all my might to turn back around in the wind and waves and follow the course. James wasn't too happy about my risking life and limb for art. He gave me quite a scolding when he finally found me. The whole thing was kind of for naught anyway, as the photo wasn't very sharp or well-framed.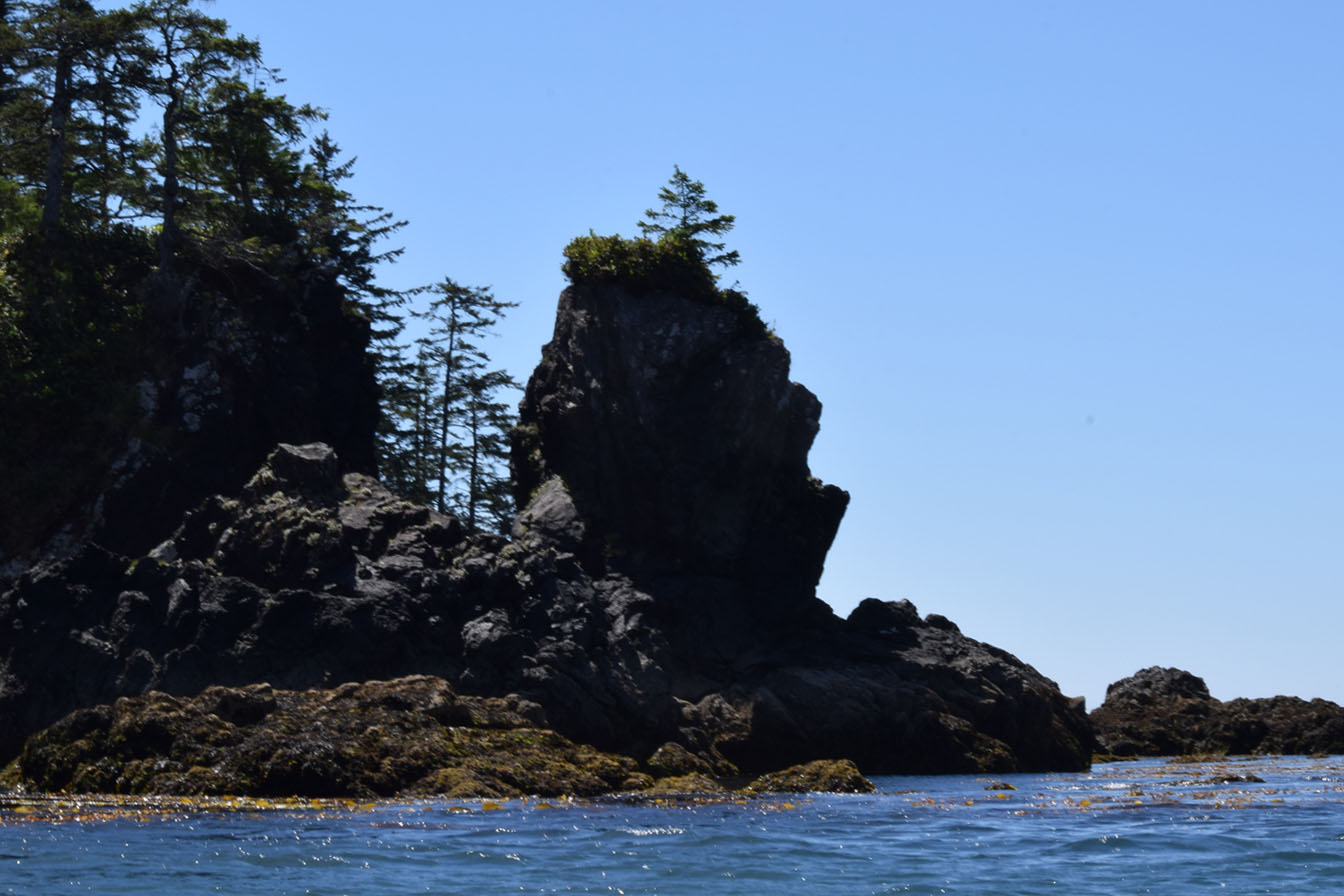 The risky photo.*
Landing at Mayday Island for a break, the creativity gods compensated me for not getting a good shot of the monolith. As I came sliding onto the beach, I saw these little seaweed plants twisting and turning in the clear water. With the added enhancement of ripples, the seaweed struck me as expressionistic art. I took a gazillion pictures! Here are just a few of them.
Seaweed Art Gallery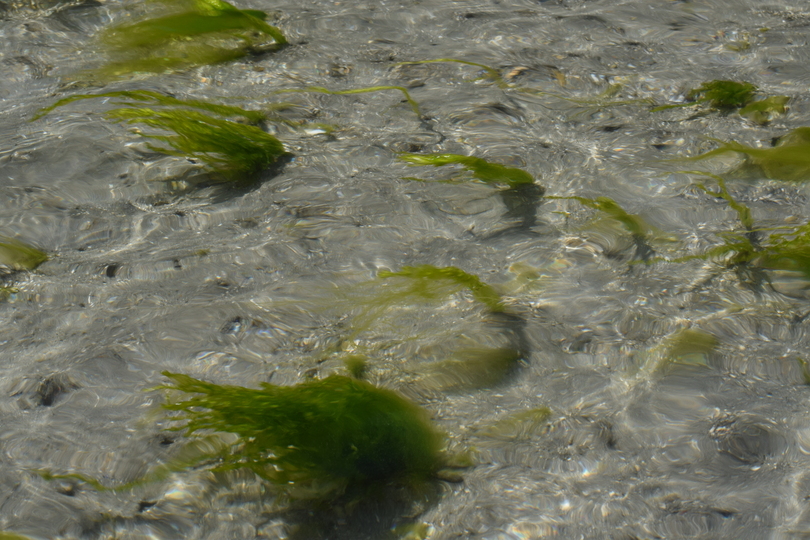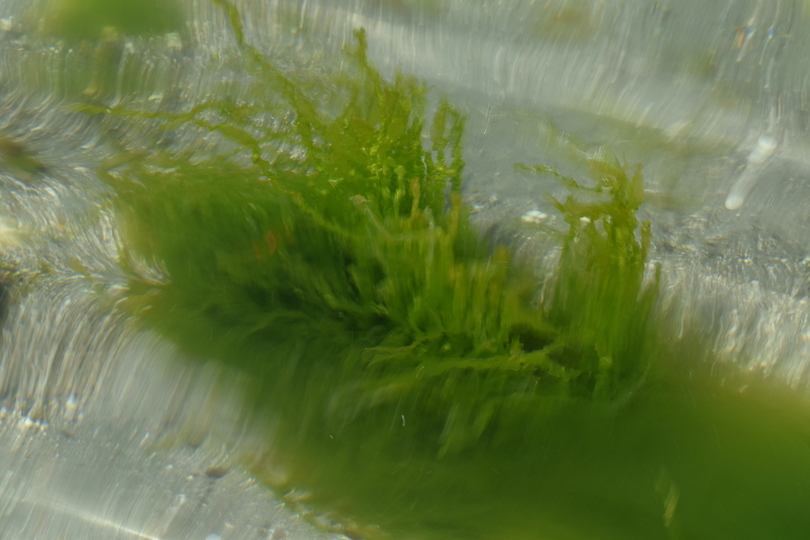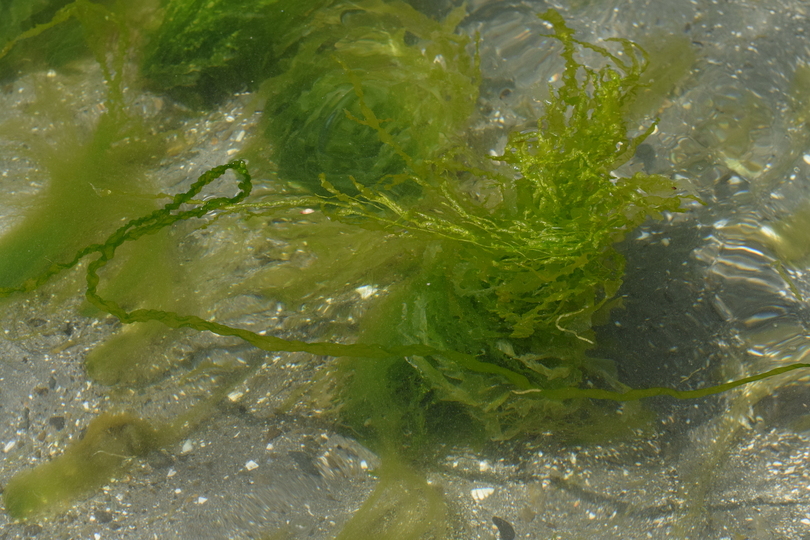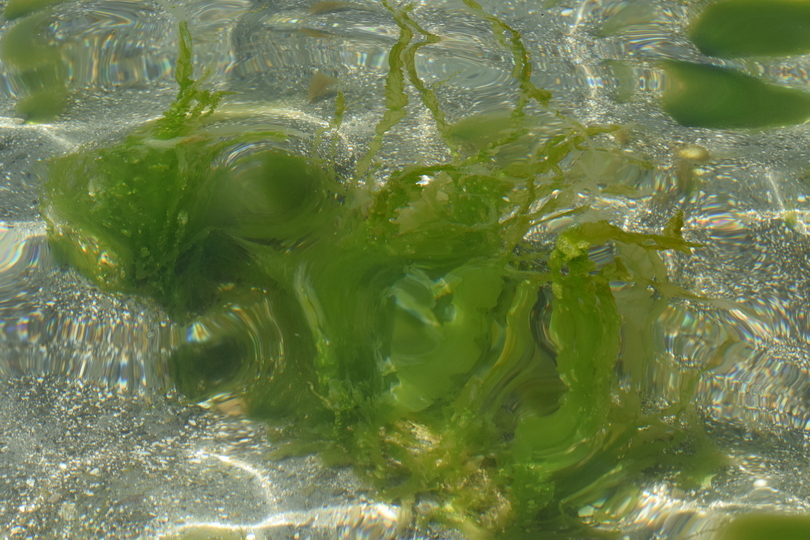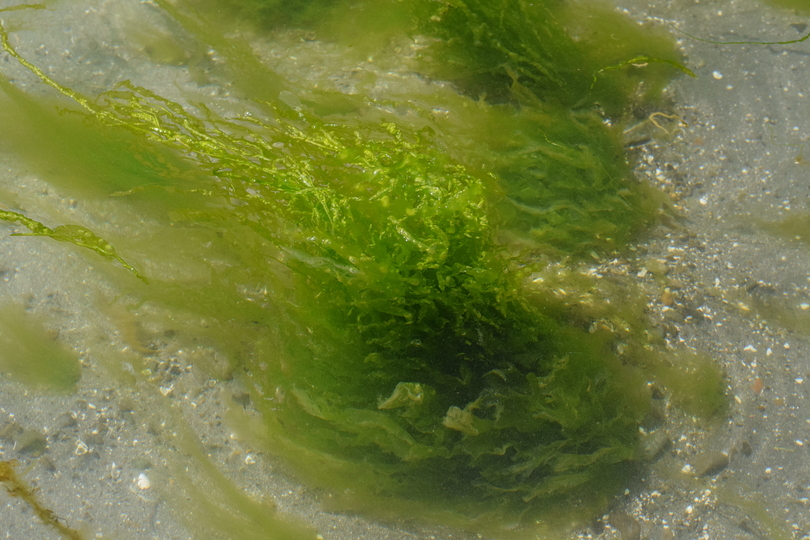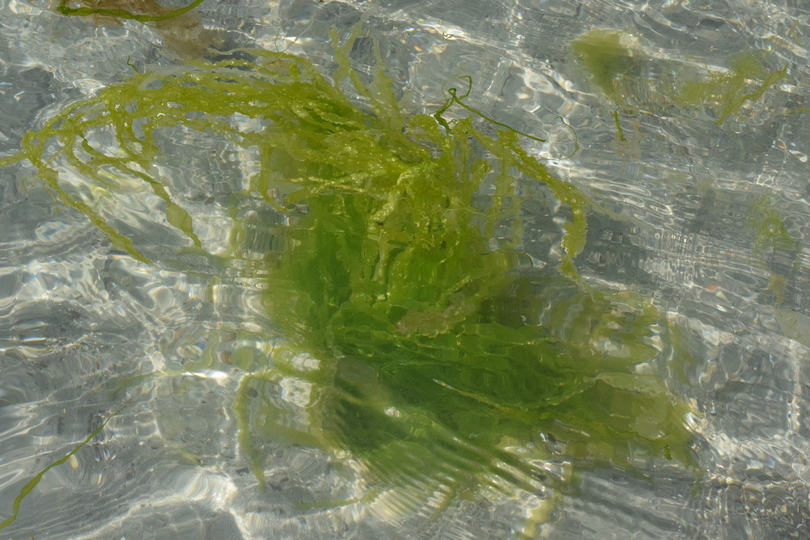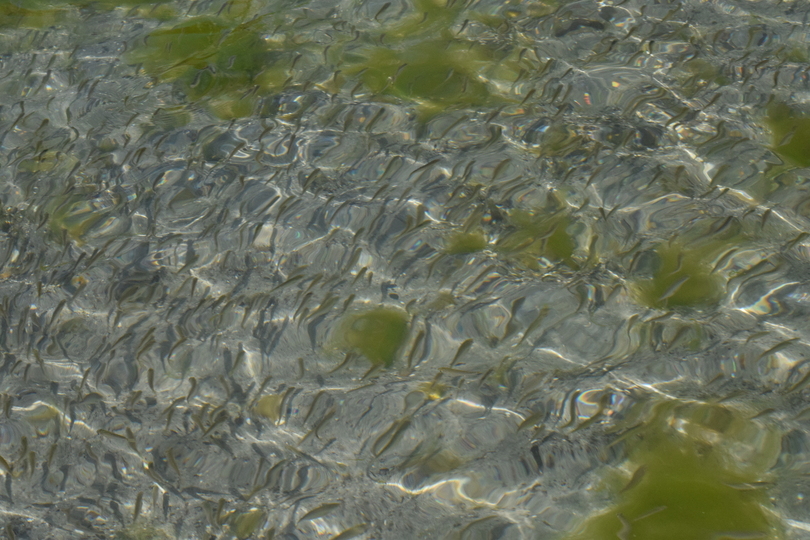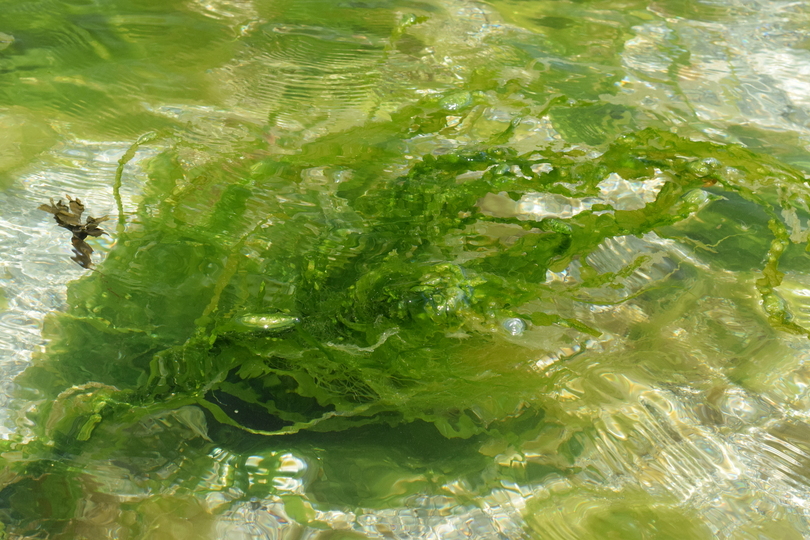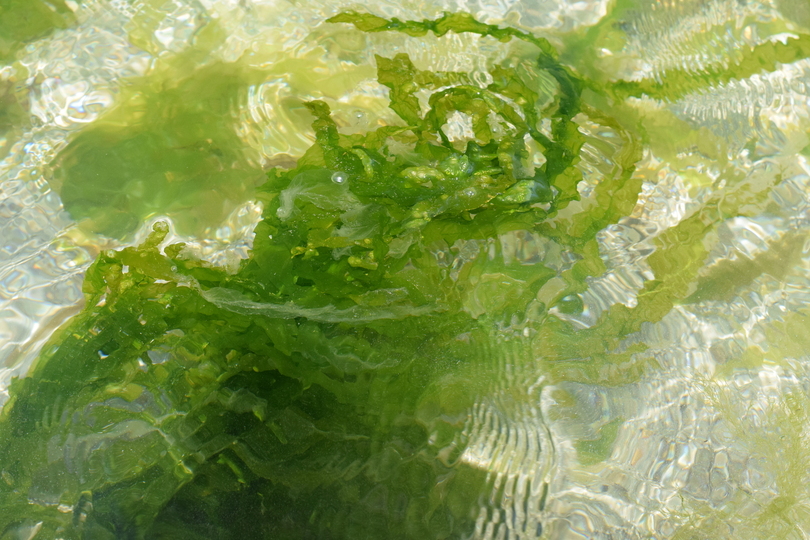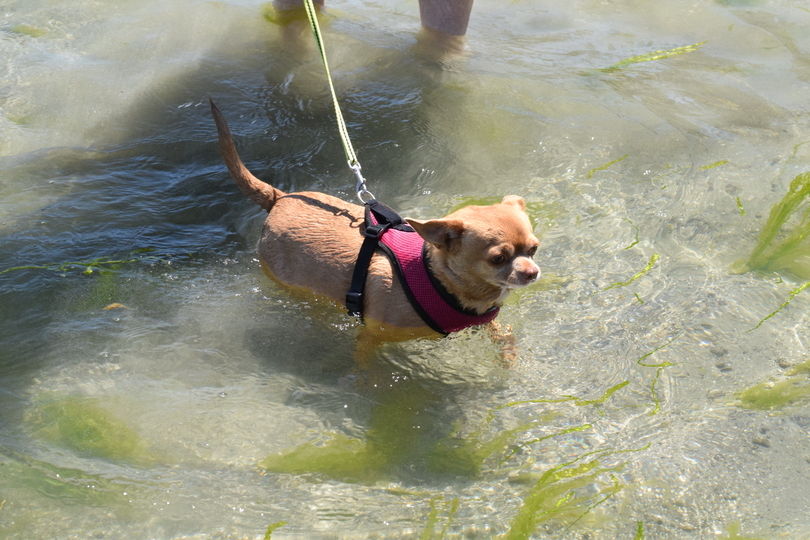 We originally wanted to paddle up the creek just east of the island, but it had to be ruled out because of the low tide. It probably could have been an interesting adventure. Paddling around the east side of Mayday Island, we found a beautiful hidden beach for some all-over sun tanning, skinny dipping and rock picture taking. It had a smooth sandy white beach surrounded by black lava boulders and a view of black lava islands in the distance. It felt like it was just us and the Pacific Ocean! The water was great for swimming: it was nice and shallow with clear water revealing a sandy bottom. I spent more time in the water than James this time. It took me a while and a few dunks to get adapted to the icy water, but I even swam around a bit.
Secluded Beach Gallery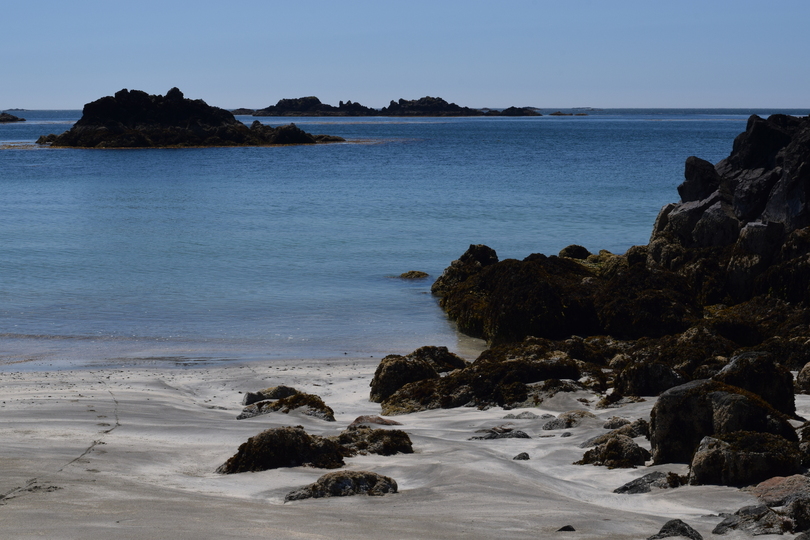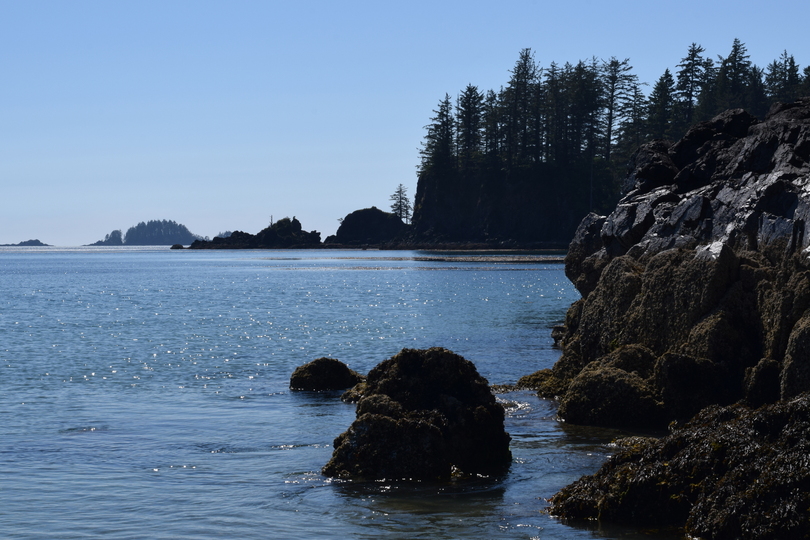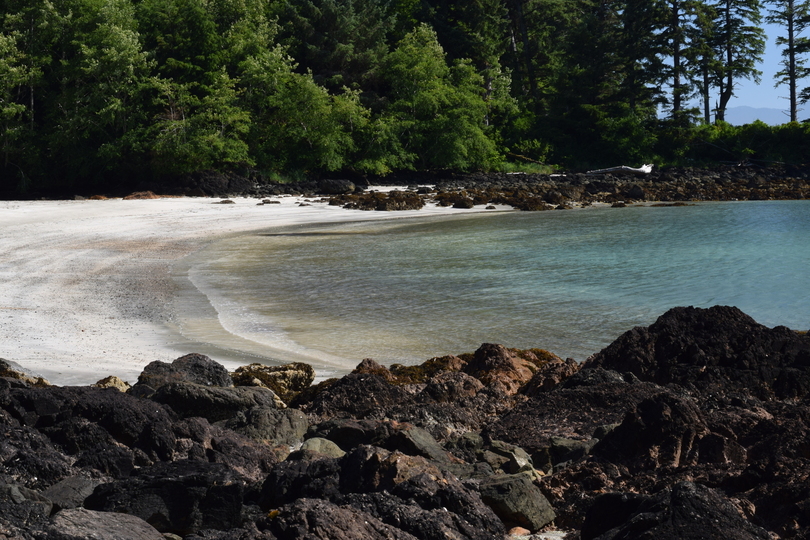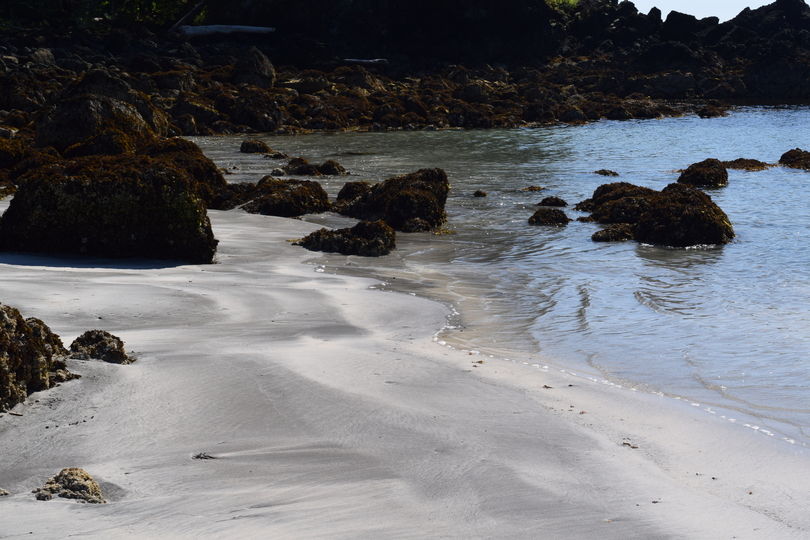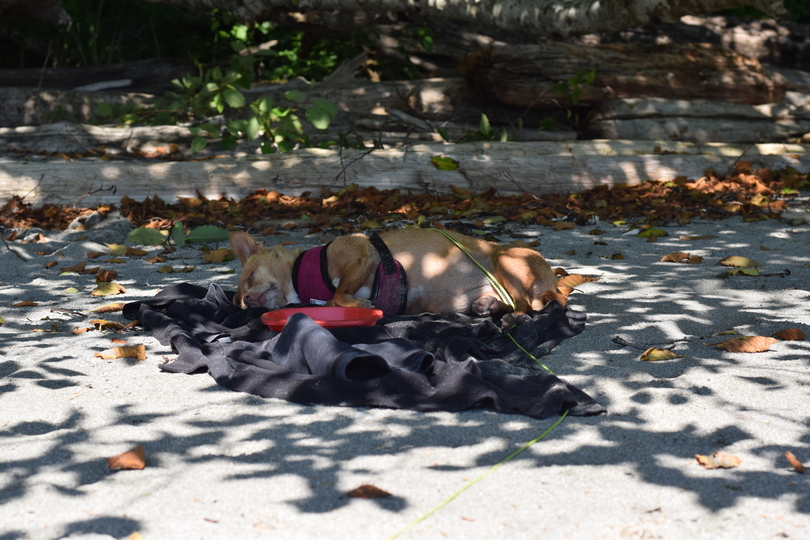 When we got back, we were treated to a ride up the mountain in quads by a couple of our camping neighbours. They took us up to a lookout point where we were able to get some great aerial shots of the Rugged Islands and Brooks Bay Peninsula. The sky was tinged with a little bit of brown—a sign of the many forest fires raging that summer—that turned the whole scene a dusty pink as the sun went down.
Lookout Point Gallery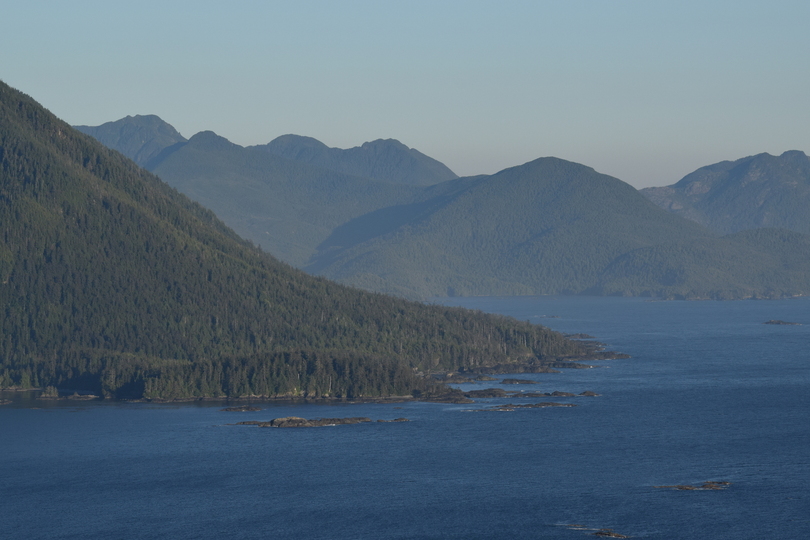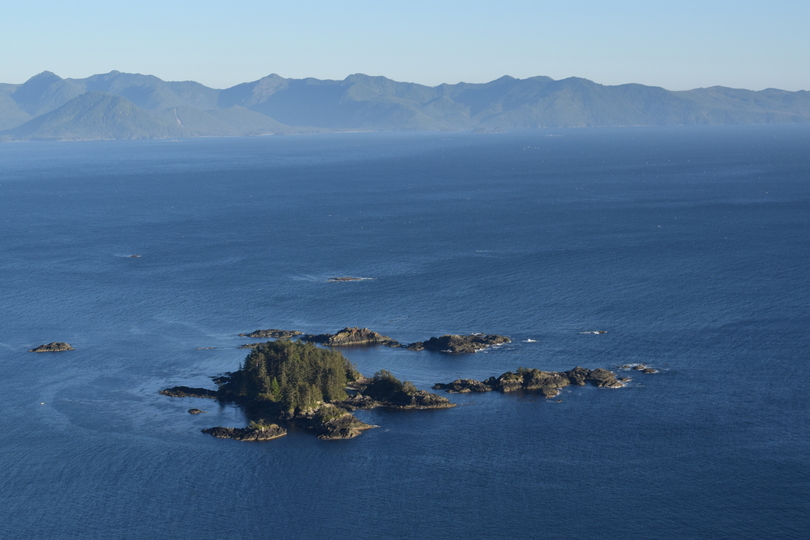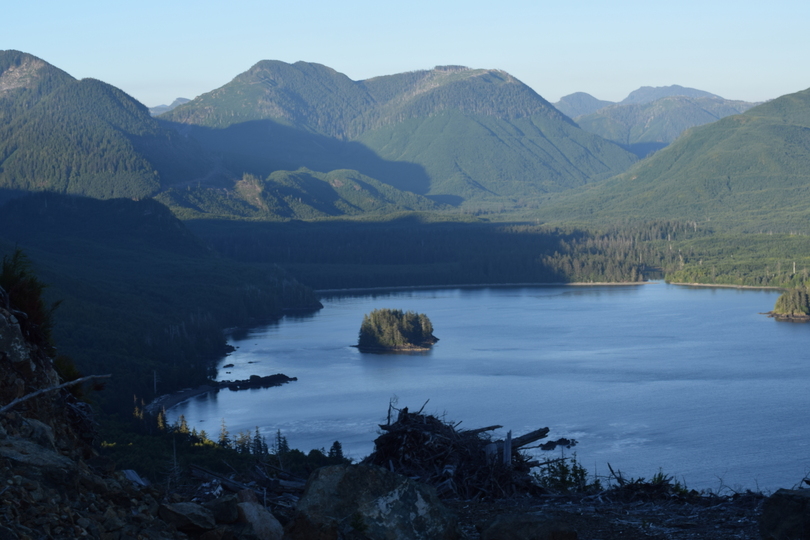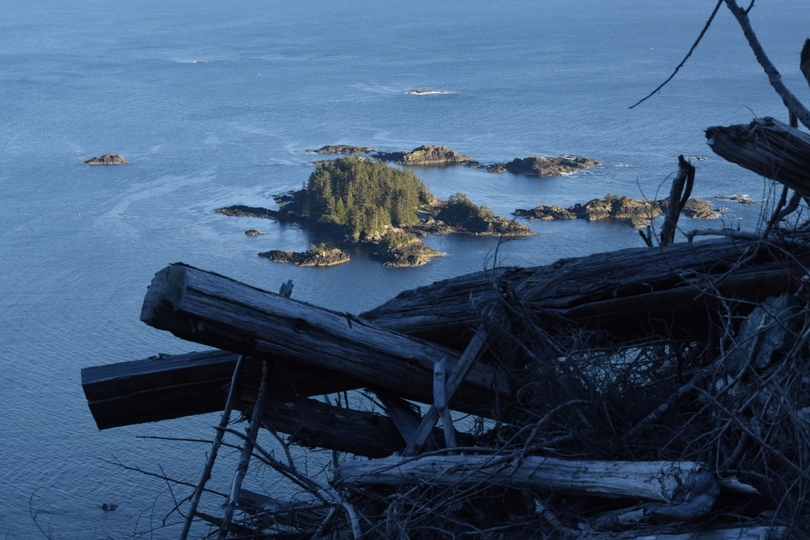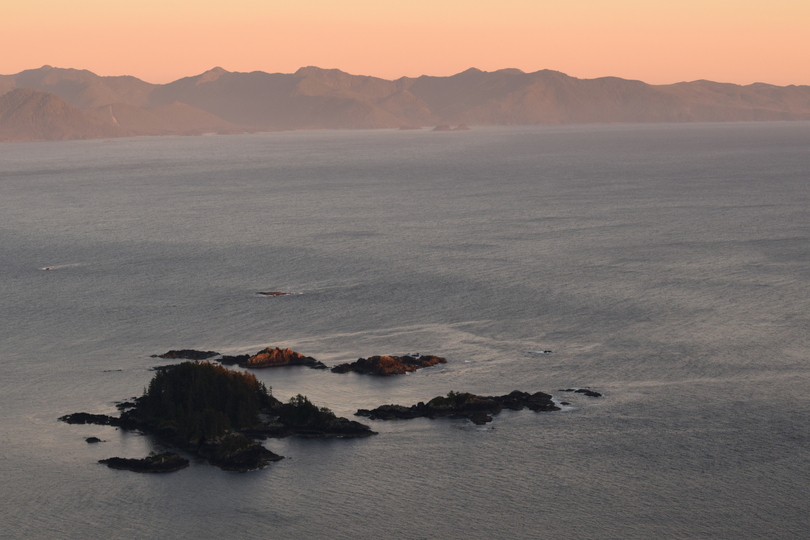 Our guides, who had been camping at Side Bay every summer for years and years, acted like they were showing us around their personal back yard. They told us stories of people they had met here. They told us about a Japanese lady who came straight from Japan, with no previous kayaking experience. She landed in Canada, bought a kayak and proceeded to kayak around Vancouver Island all alone with no radio and apparently very little food. She had even somehow managed to paddle around the potentially violent waters of Cape Scott and survive! When I was talking to one of the fishermen at the marina in Port Alice once, he told me that a buoy that was located at Cape Scott once recorded waves 100 feet high before it disconnected and went out of commission! It was quite possible the waves got even higher after that!
When the Japanese lady showed up at Side Bay, with only a bag of rice left in her kayak, the campers fed her a nice big meal. They gave her a lure and taught her how to use it so she could feed on fish. She took off the next day before everyone was up, leaving the lure behind. The next hurdle on her destination was the tip of Brooks Bay Peninsula, which can be almost as bad as Cape Scott. Not far past the tip, the ocean floor takes an abrupt and steep drop, which can make for some wicked turbulence. We all wondered if she survived. Even so, it's amazing how far she managed to get on her romantic, poorly informed ideas about kayaking in Canada.
The couple also told us the historical story about a plane carrying payroll cash that crashed at Lawn Point. We were told two guys had survived the crash; one was severely injured. The more able-bodied person decided he would hike out to get help. Oddly, he also decided he should take the payroll money with him. The guy who was left had died and the guy who hiked out was never found. He might have been attacked by wild animals, but the cynic in me contemplated that with all that money, he might have seen fit to hitch or hijack a ride on a boat and leave the country.
I looked into the story a little more at home. It was a US Navy plane with six crew members that didn't return from a navigation exercise in 1943. The plane did indeed have payroll on it. While searching for the Port Hardy Air Force Base, the pilot saw a break in the clouds and what looked like a carefully manicured lawn. It was the tall grasses hiding the abundance of rocks of Lawn Point! When the wreckage was found in 1944, with a rudimentary camp and the remains of five men, one man and one payroll, as well as watches, guns and other valuables were missing.
After telling their tales, our guides then asked me about my blog that I had mentioned a couple of times before. As soon as I told them the title of this entry will be "Side Bay, Port Alice's Best Kept Secret" I gulped, wishing I could take my words back. Their expressions suddenly changed. Their chattiness ended abruptly. They quickly took us back down the mountain and gave us the cold shoulder for the remainder the weekend. They had been keeping Side Bay as their personal private getaway and didn't want the outside world to know about it!
As I was looking at the map of Side Bay while writing up this post, I realized that Klaskino Inlet is very accessible from there. To get there by road you have to go over a rough mountain road, which, until not long ago, was impassable. I recently ran into some very experienced kayakers who made it there by the overland route. I had taken their number for writing an article about them for the North Island Gazette, but ended up losing it when my One Note app malfunctioned. They said it was passable because of some active logging going at the time, but who knows if it still is? I have long thought of Klaskino Inlet as a possible "Kayakers' Shangri la." It cuts into the mountains for quite a distance so it should have a very "canyon-like" and remote feel to it. From Side Bay it would probably amount to a two-day excursion there and back going at a steady pace.
John Kimantas talks a bit about it in his BC Coast Explorer . There was a lot of active logging going on there at the time, so it sounded like an industrial zone. It might have reverted to it's more or less natural state by now. He also mentions that there are not a lot of good places to launch. Anchorage Island might be a good place to set up camp for the night—if it's anything like Mayday Island—but don't quote me on that. It could very well be nothing but rocks and trees right up to the water! There must be some beaches to land on around it where the waves from the open ocean hit and smooth out the shoreline into nice sandy beaches. It's something worth checking out for the adventurous.