As the mill in Port Alice closed down and people moved away for work, James and I eventually ended up joining the exodus in September of 2016. He went to a mill maintenance shut down in Mackenzie, then was offered a job there. I kept my place in Port Alice and we planned to come back for holidays to kayak and continue the blog. In the summer of 2017, I came back to Port Alice earlier with Chloe and the cats to do some work on my house. When James arrived for his two-week holiday, we crammed in three monumental (and as it turned out) life-altering kayaking trips into those two weeks.
Mackenzie is way up in northern BC, a couple of hours past Prince George. Like Port Alice, Mackenzie is a pulp mill town that has had its ups and downs. The mill closed for a while, then reopened again. Before I bought my place in Port Alice, I was actually looking at some dirt-cheap houses in Mackenzie during the time that the mill was closed.
Mackenzie reminded me very much of my hometown, Athabasca, in Alberta, except it has a lot more snow! Athabasca is quite dry for the most part. It can be cold, but there is usually only foot or two of snow most years. Mackenzie is at roughly the same latitude, but the town is nestled in mountains—so there is incredible amount of snow! Sometimes it gets so bad that people have to shovel the snow off their roofs to keep them from caving in. A fond (or not-so-fond) memory I have of Mackenzie is looking out into our back yard in the middle of winter and seeing our patio furniture almost buried.
We took quite a few kayak trips around Mackenzie in the spring, to Morfee Lake, Tudya Lake, Azouzetta Lake and Dina Lakes. Morfee Lake is right in the municipality of Mackenzie. You can't see any trace of the town when you're there, so it feels like you are deep in the wilderness. Tudya Lake is a quiet and quite secluded-feeling lake 25 minutes south of Mackenzie, just off of highway 97. Azouzetta Lake is nestled in the mountains near the famous Powder King ski resort on the road to Dawson Creek. Dina Lakes was unique. Near the sprawling Williston Lake, it is a cluster of lakes with portage routes of varying lengths. We took a shorter portage and ended up encountering a moose and a brown bear quite close up. The north certainly merits its own blog, but I will only include a few photos for the sake of comparison. One thing about kayaking in the north—though we saw some beautiful pristine sites—there was something about the lack of tides that was disappointing. I guess the changing tides add an extra element of challenge and adventure to a kayaking trip.
Morfee Lake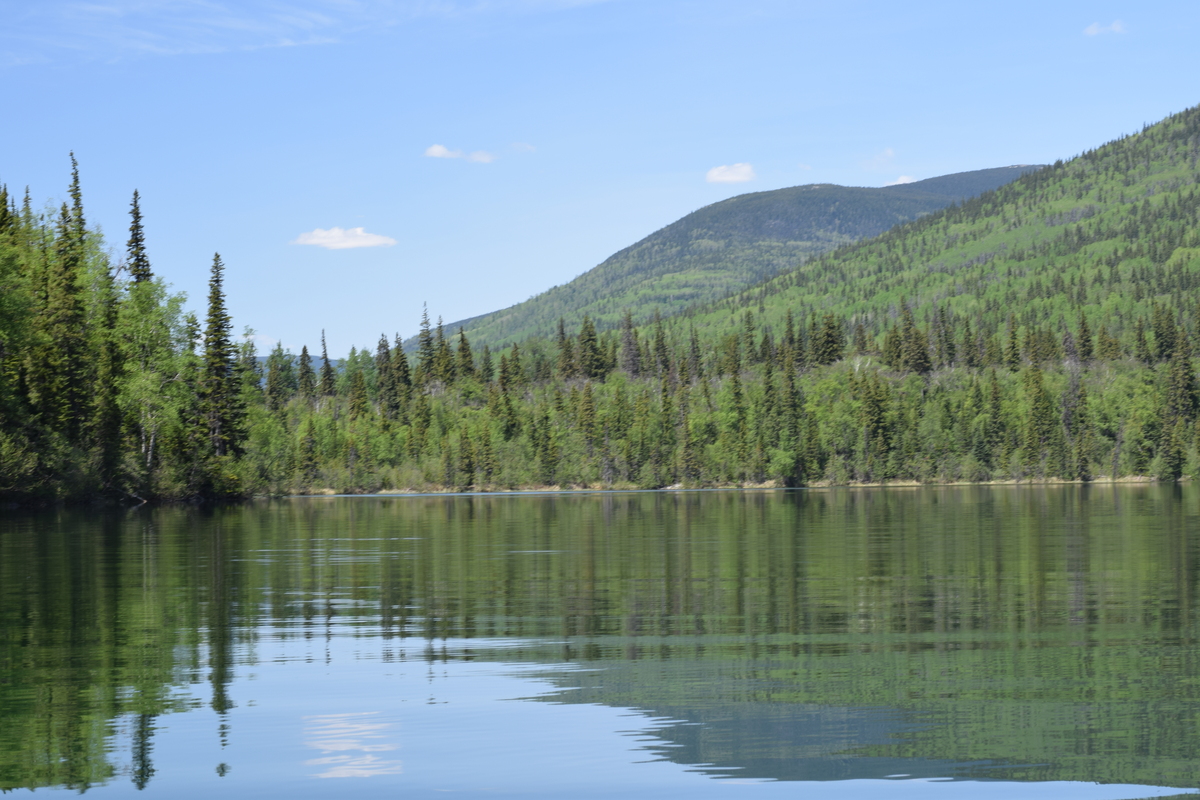 Tudya Lake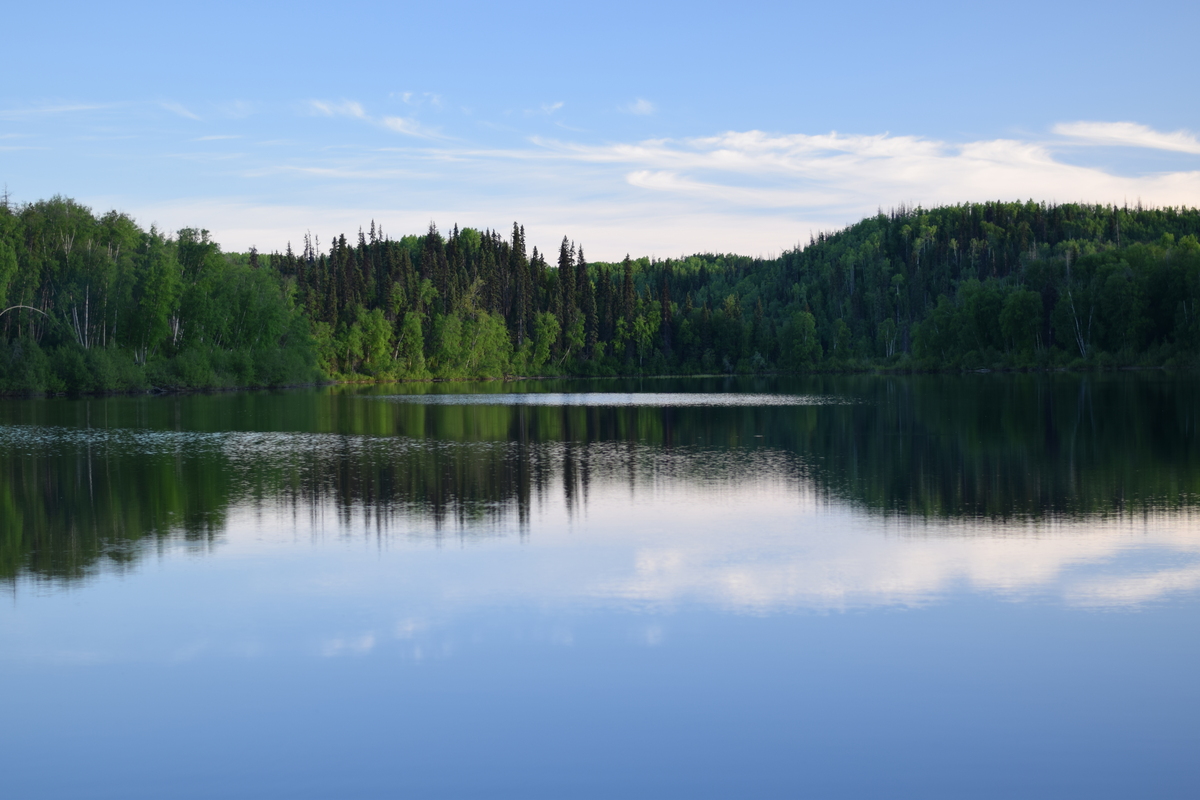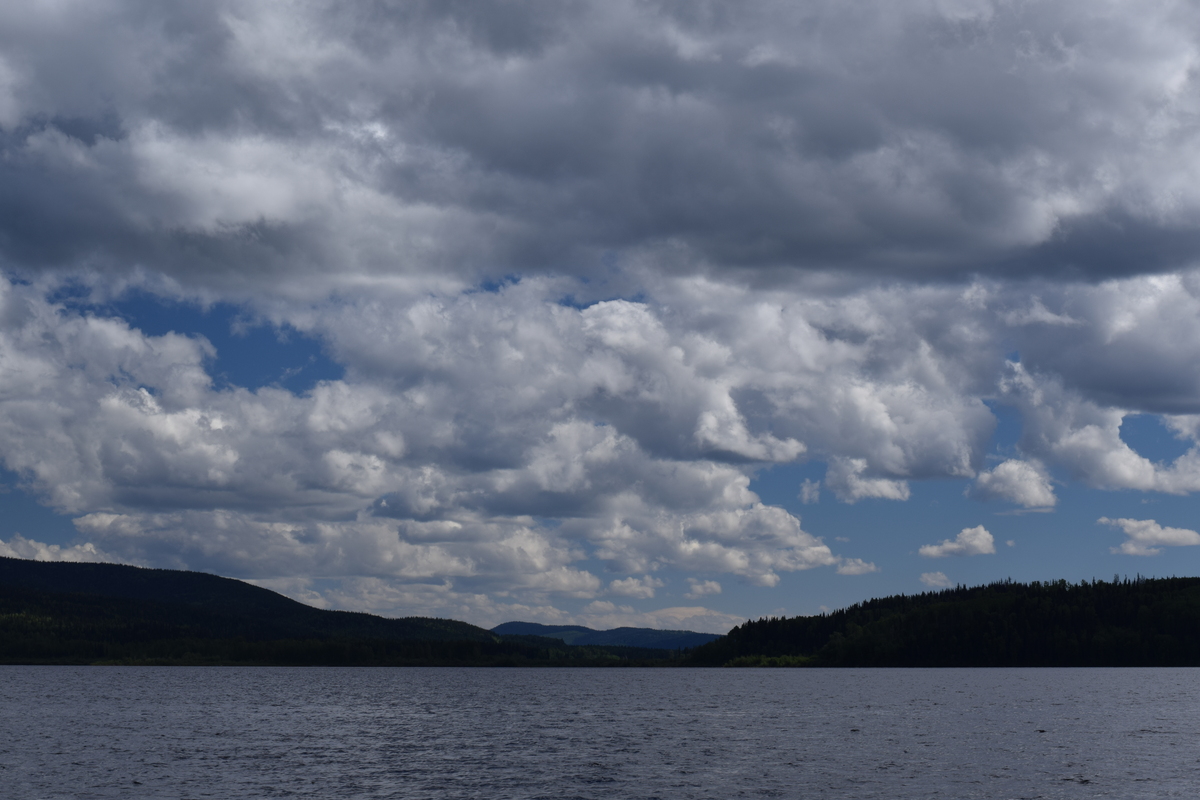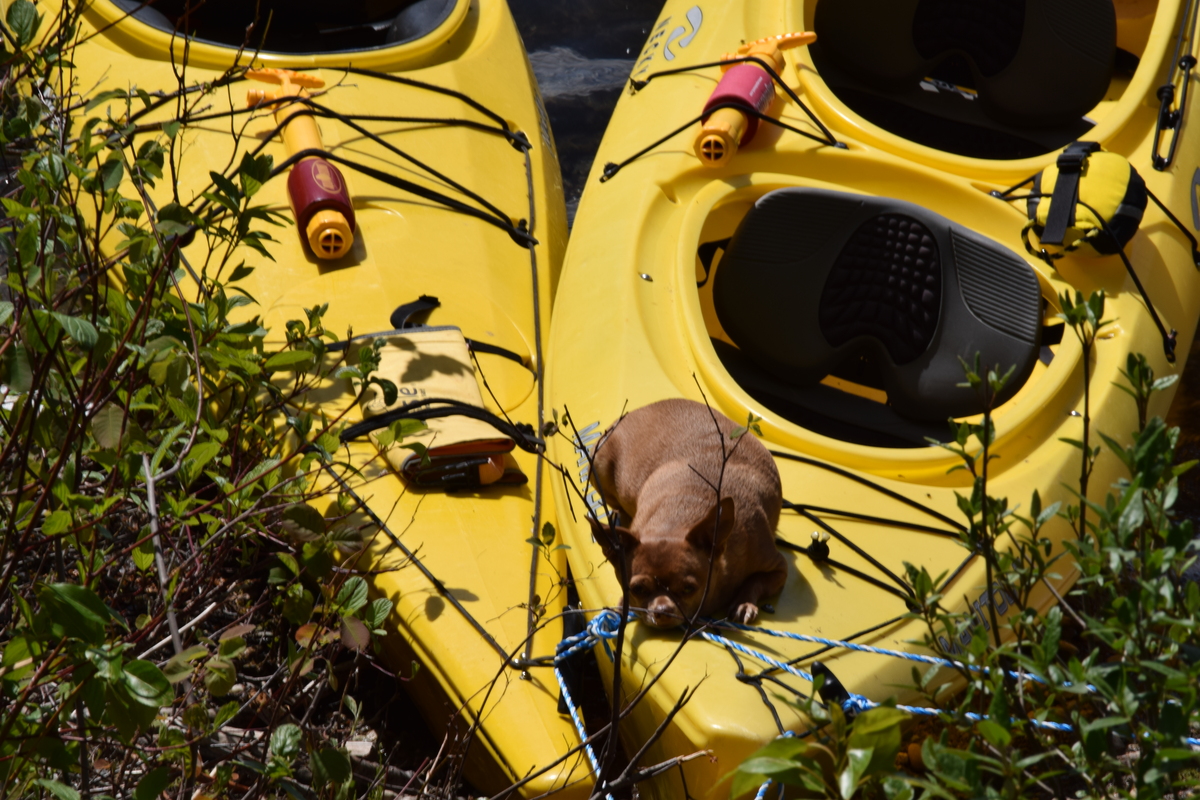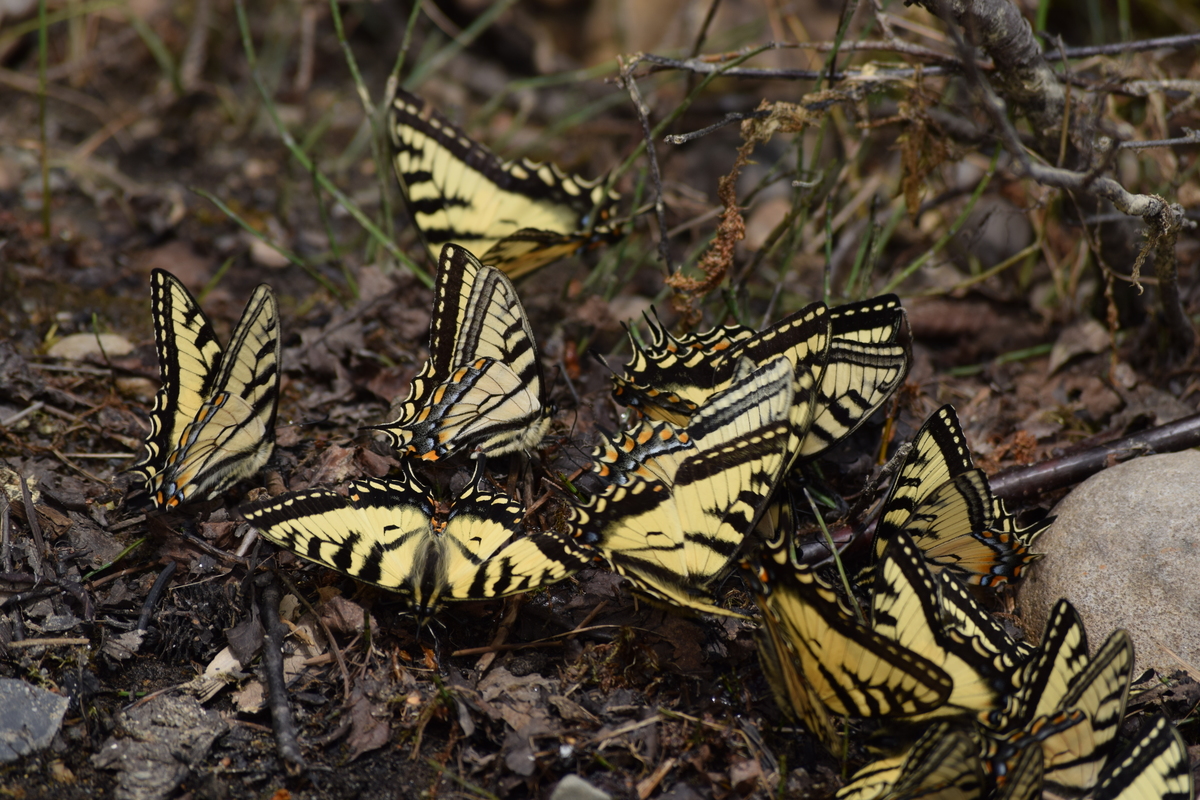 Azouzetta Lake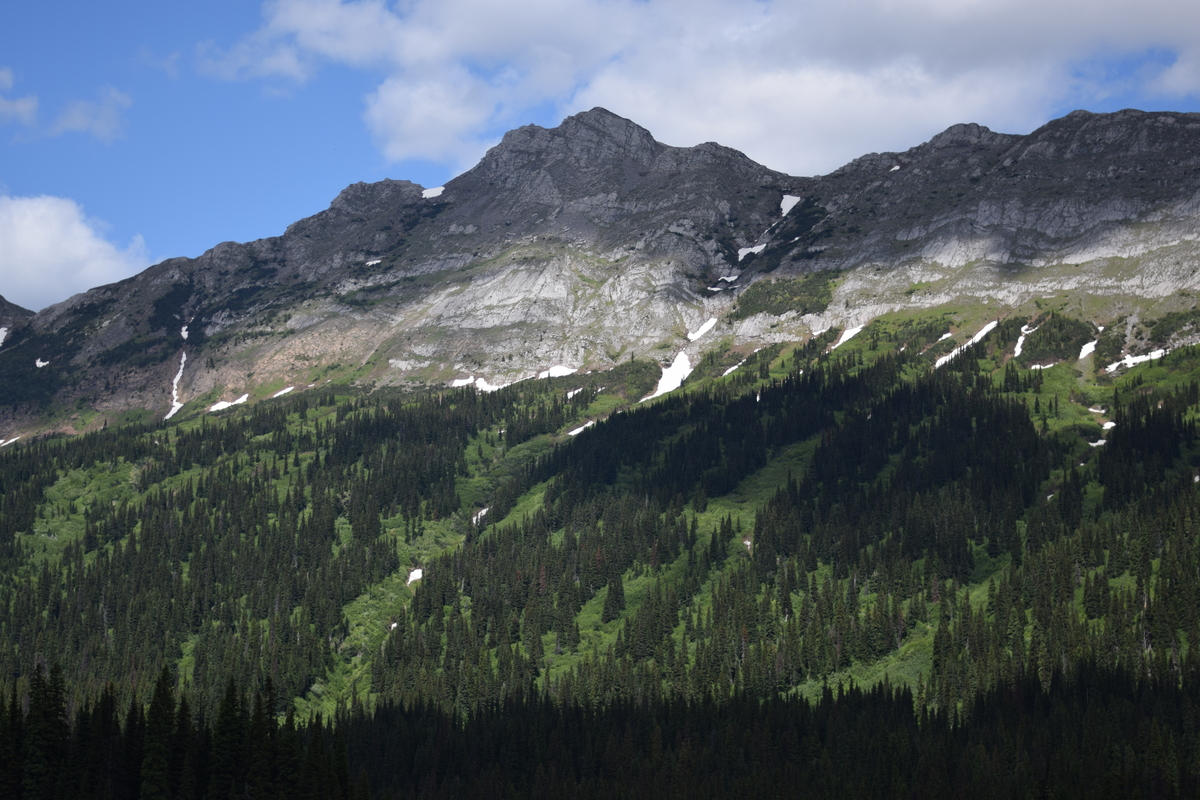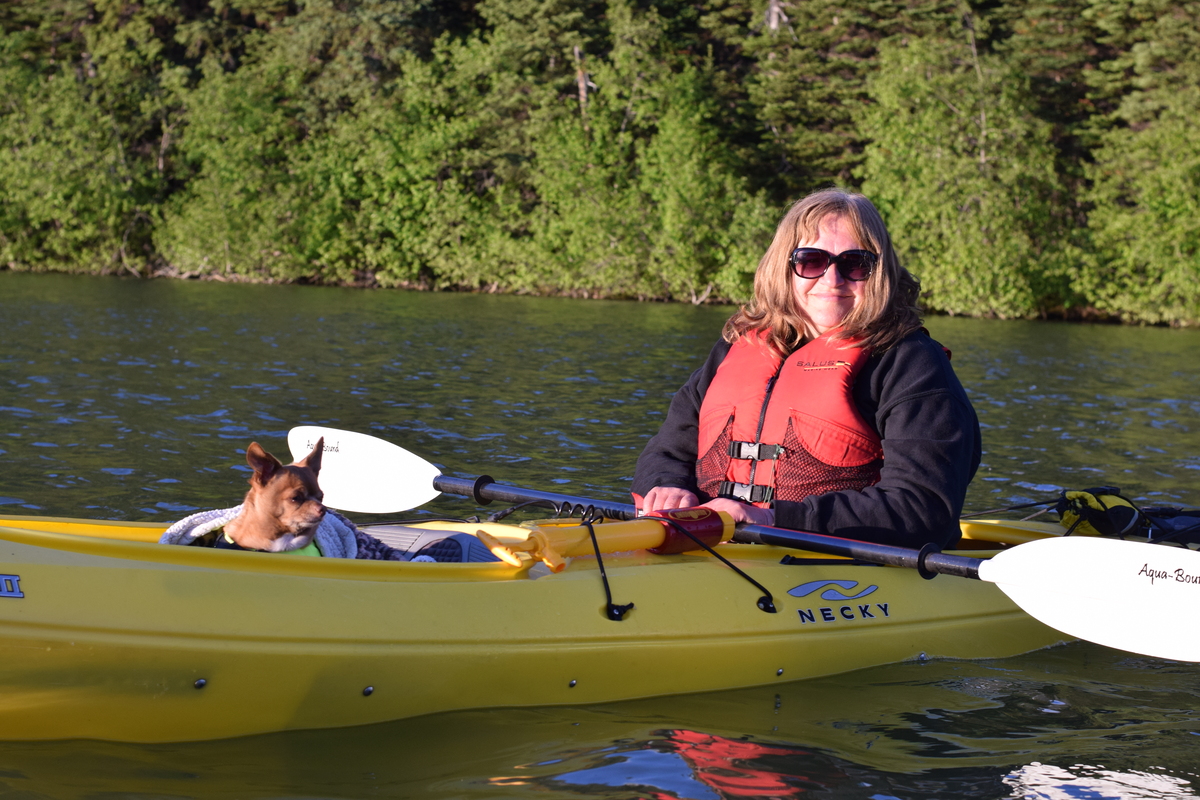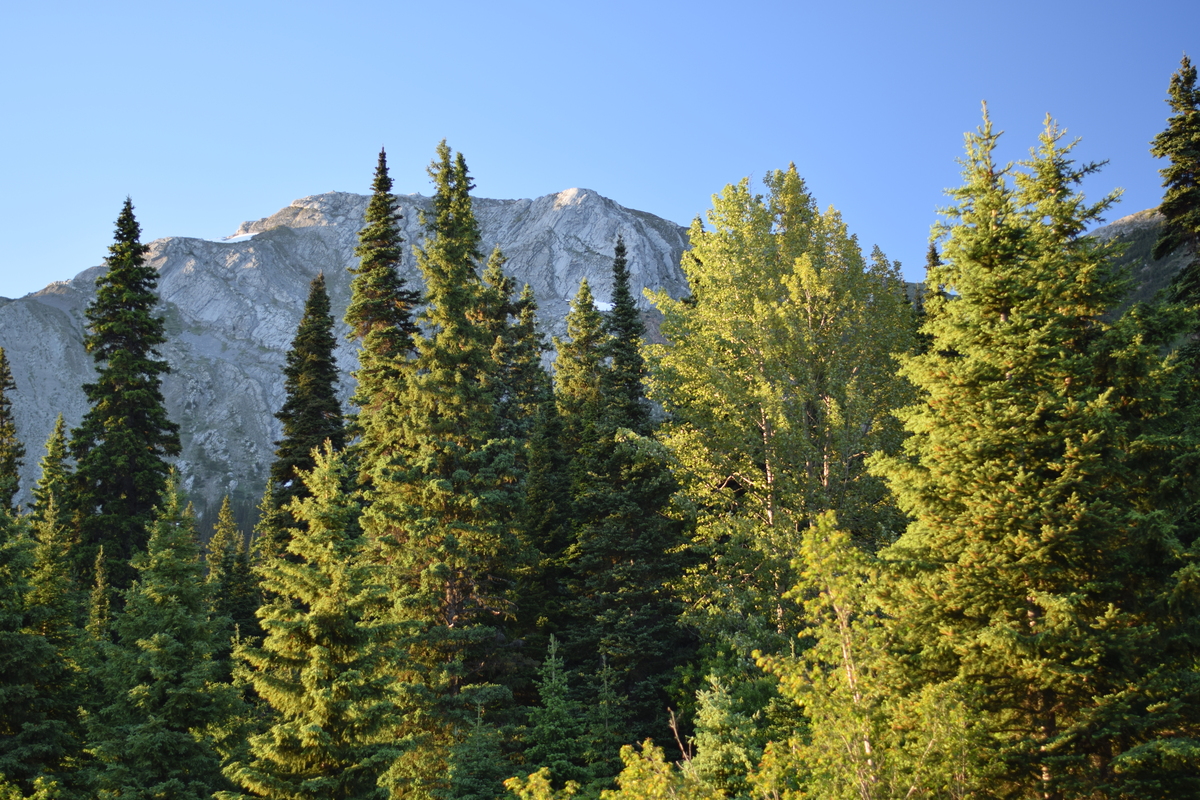 Dina Lakes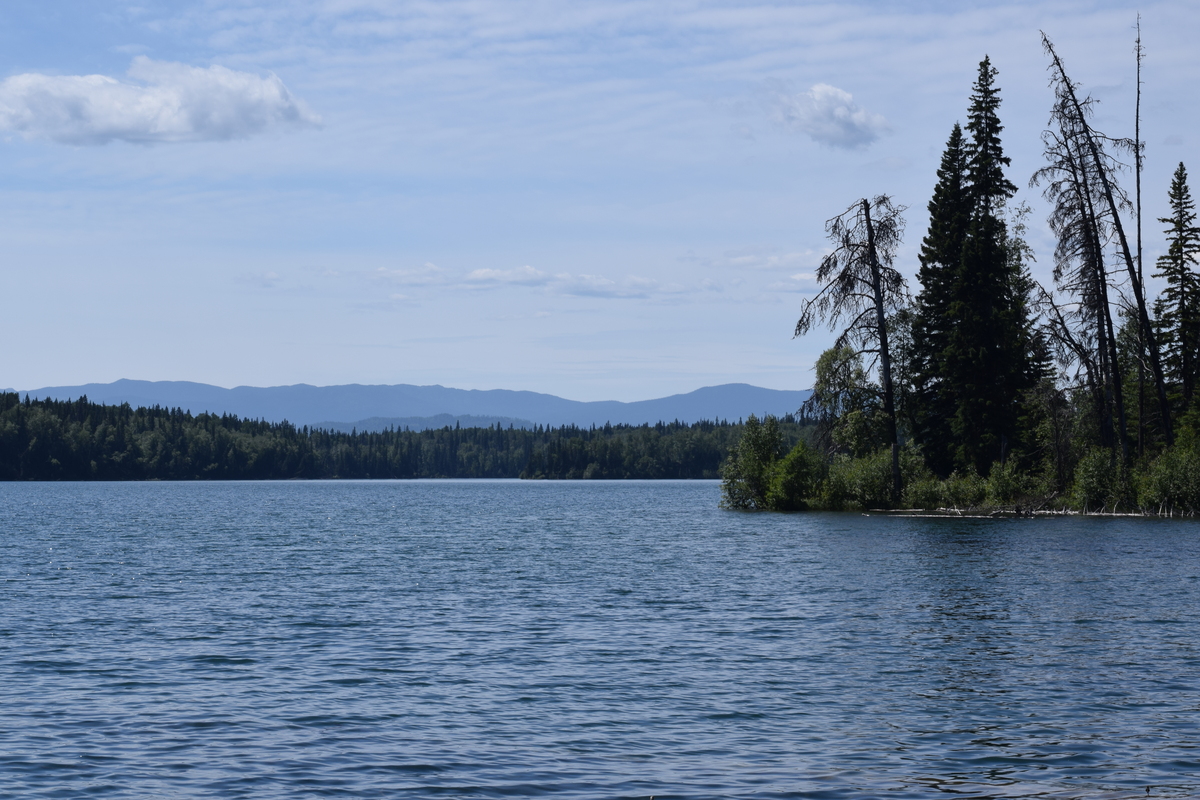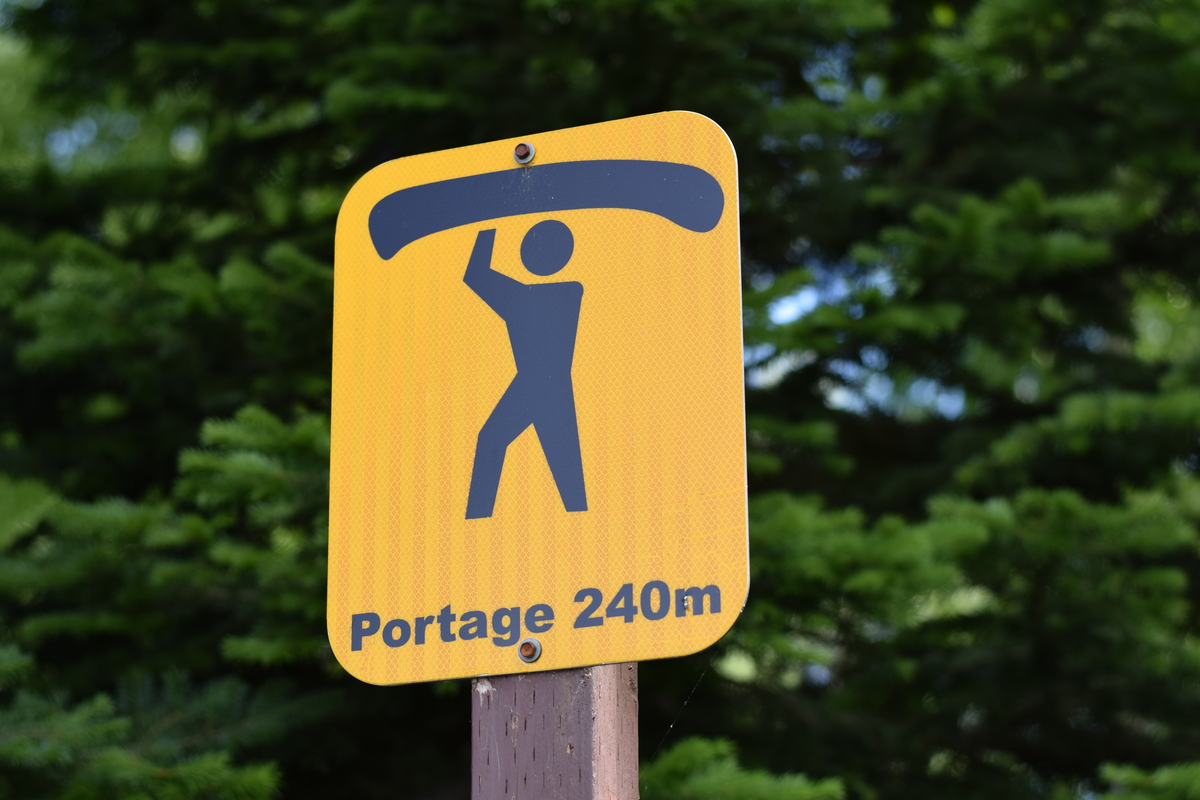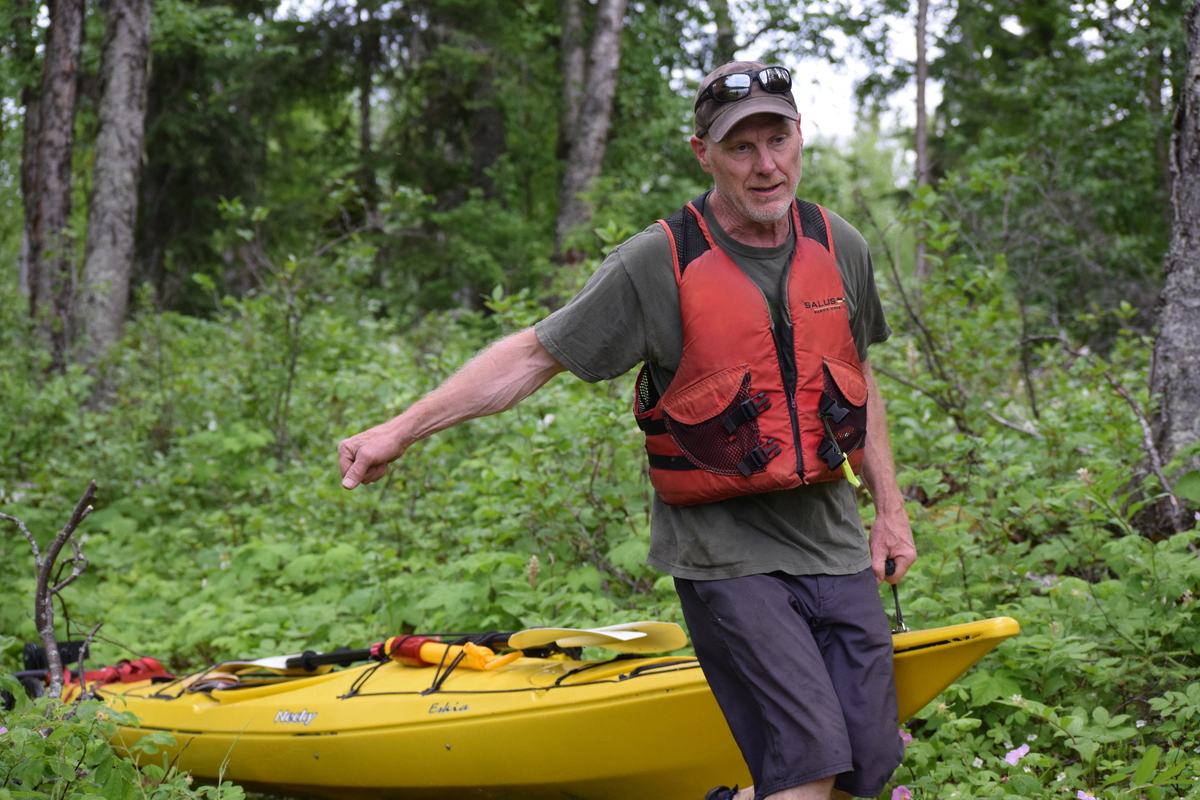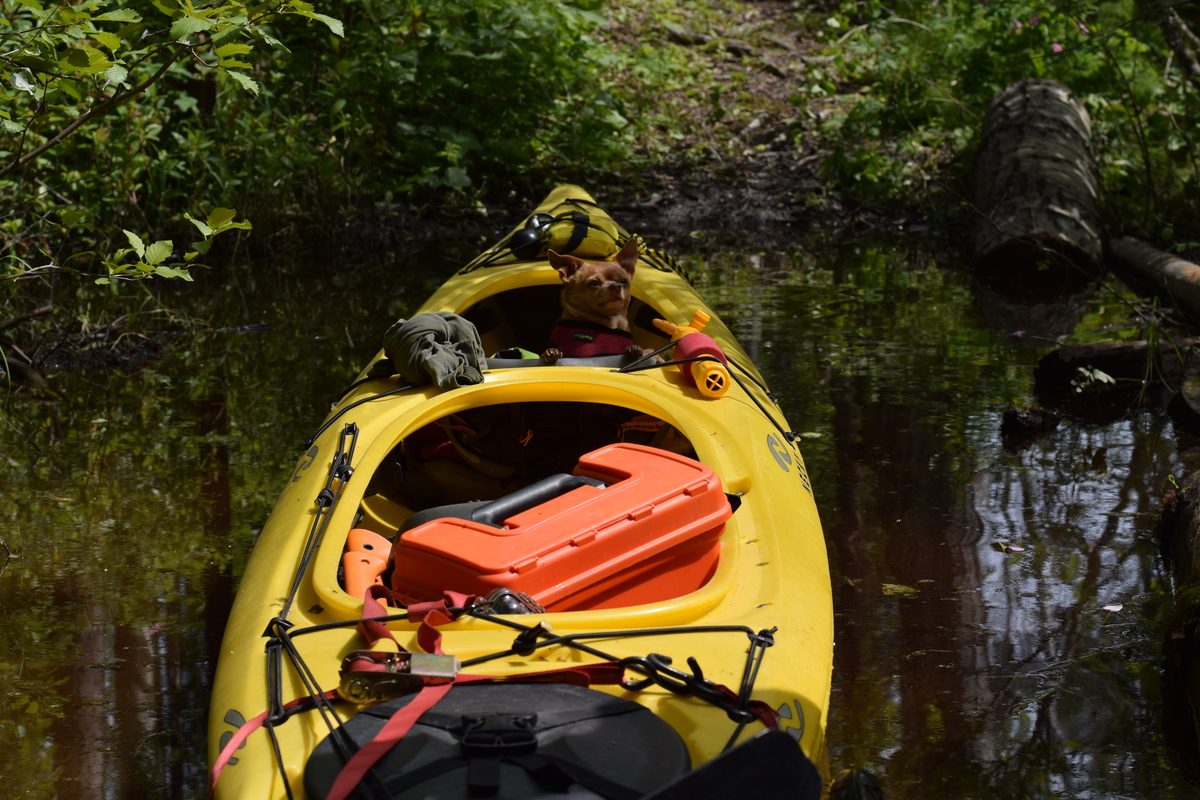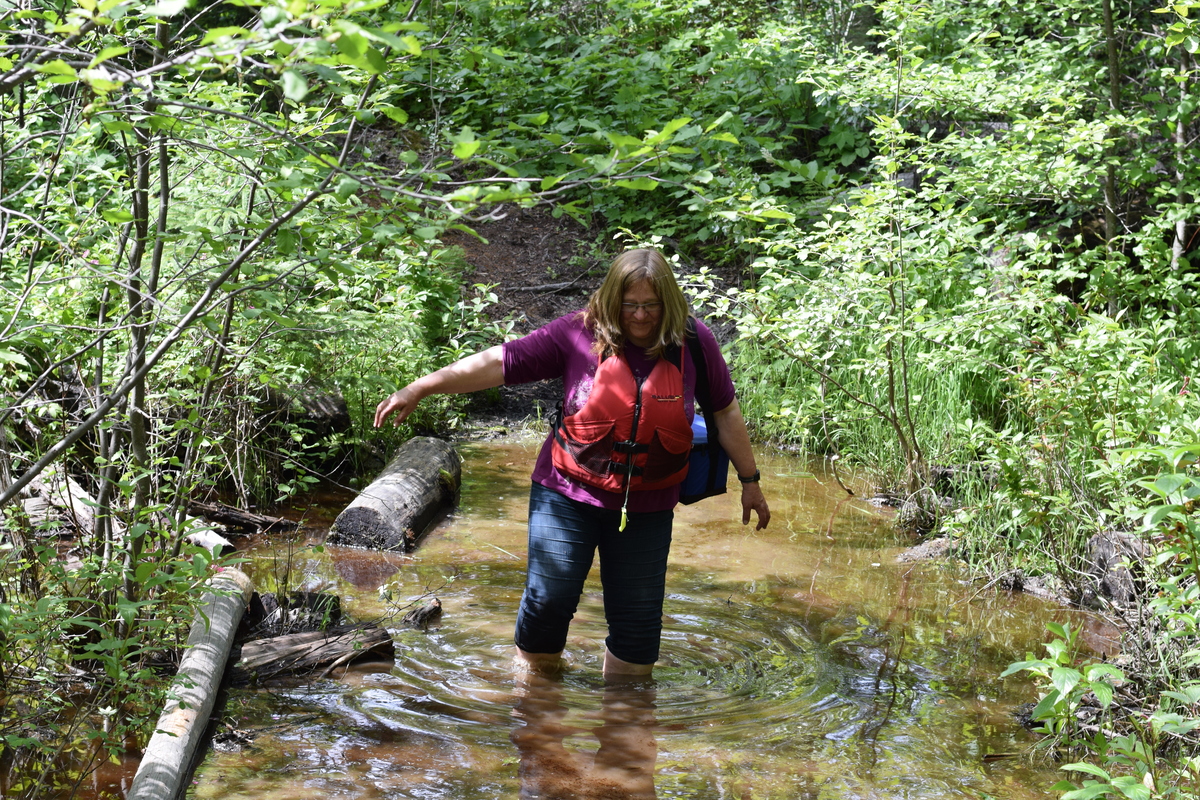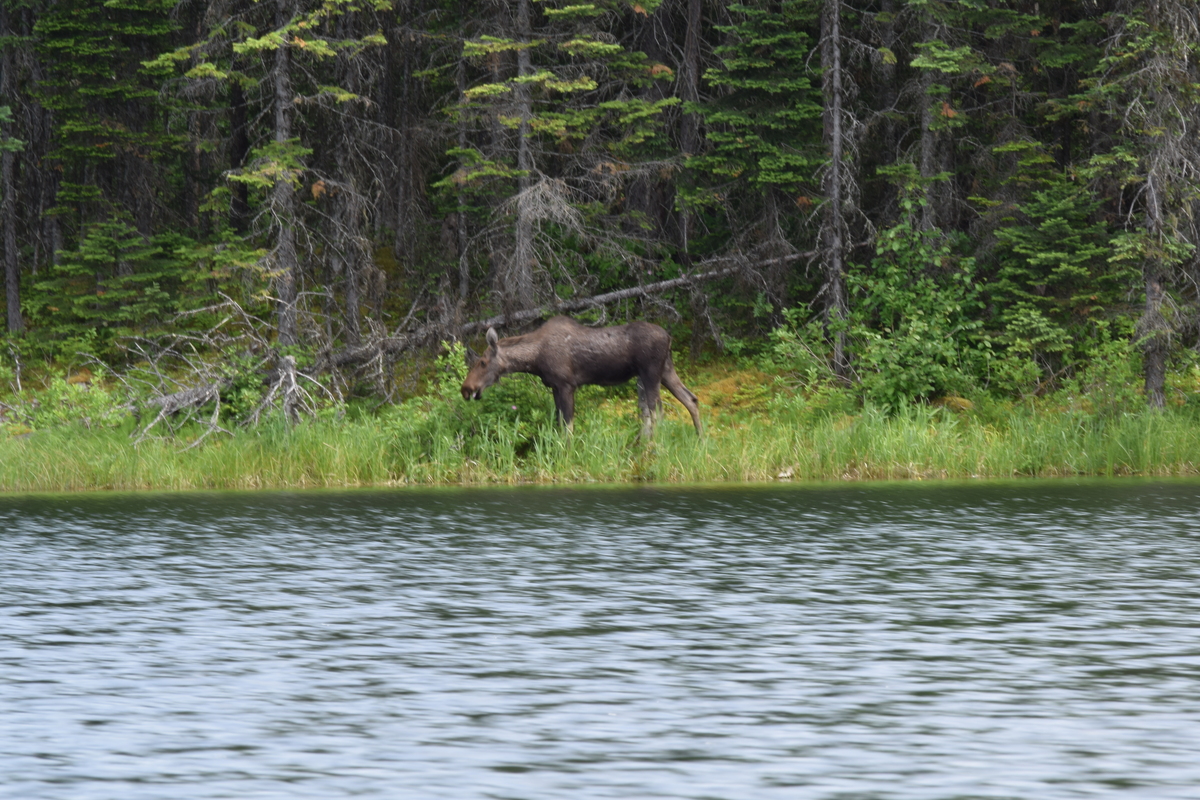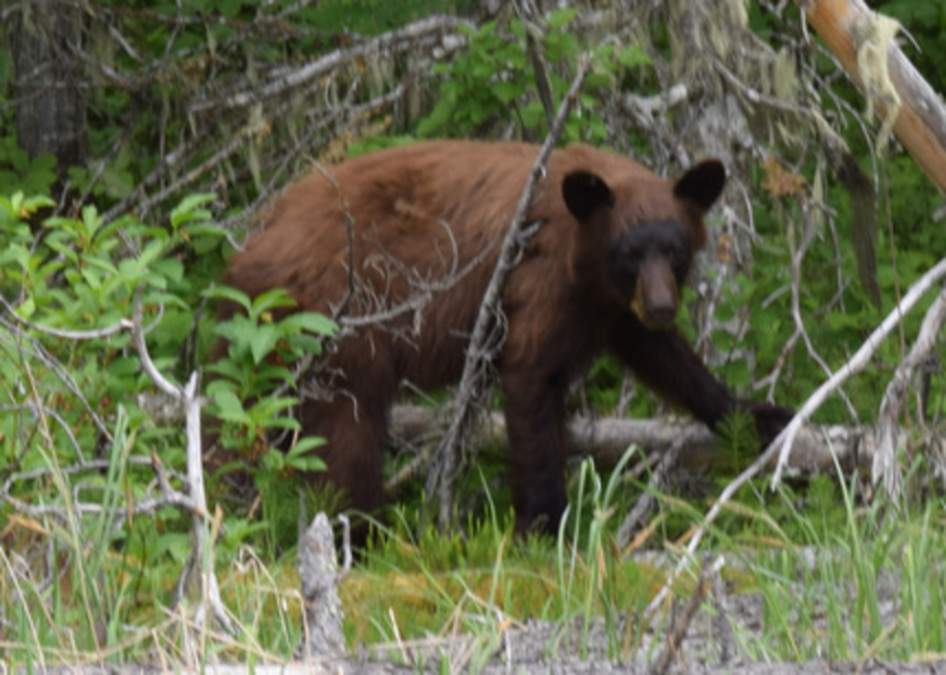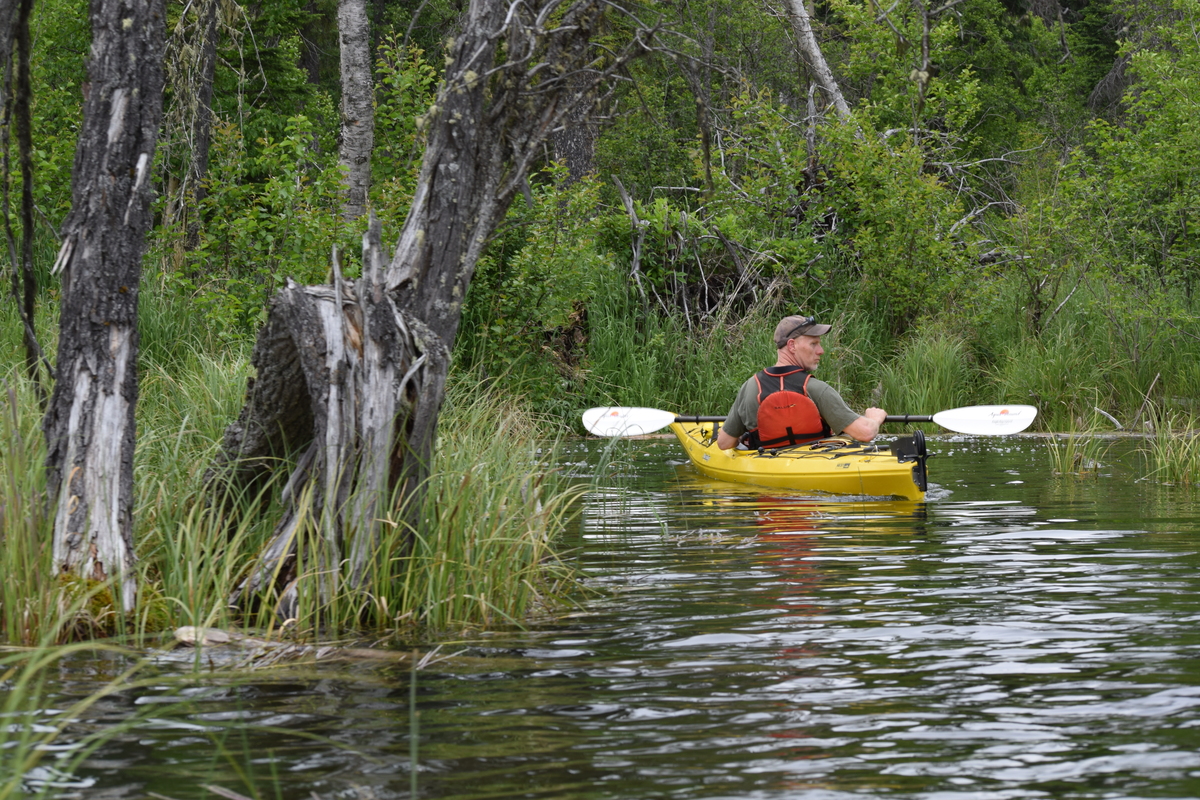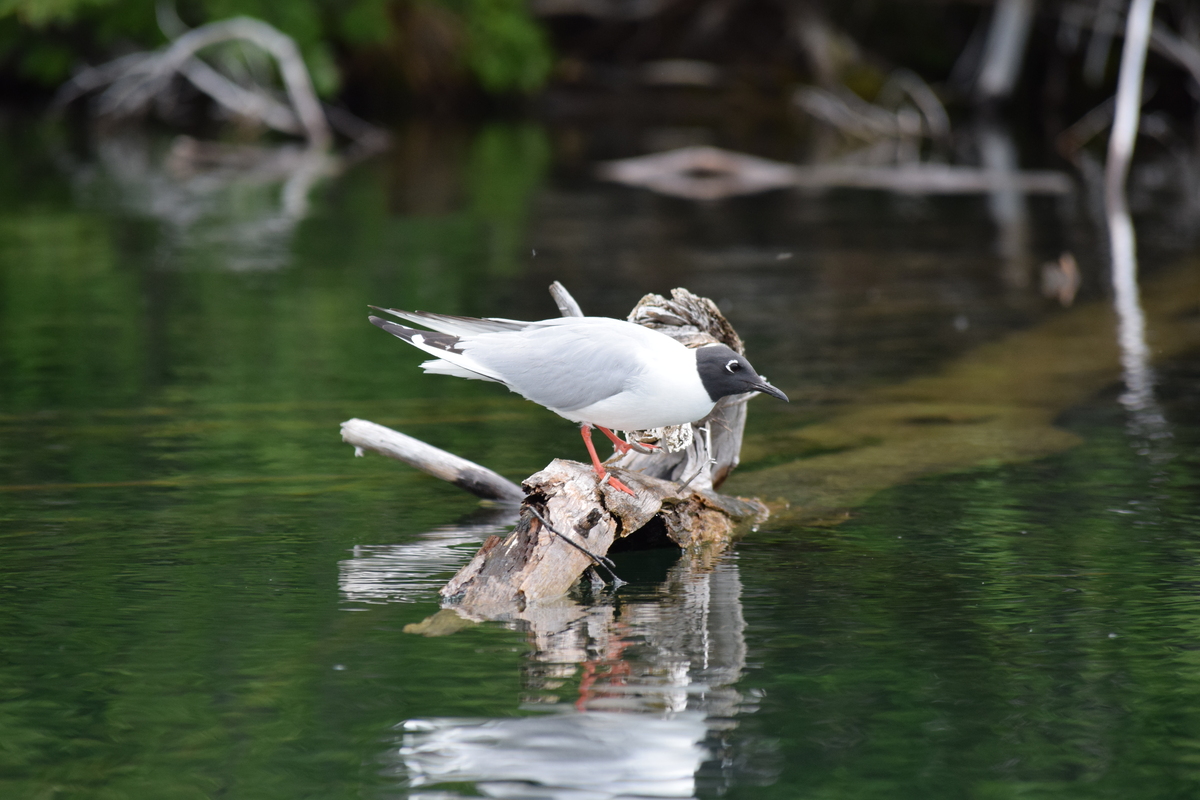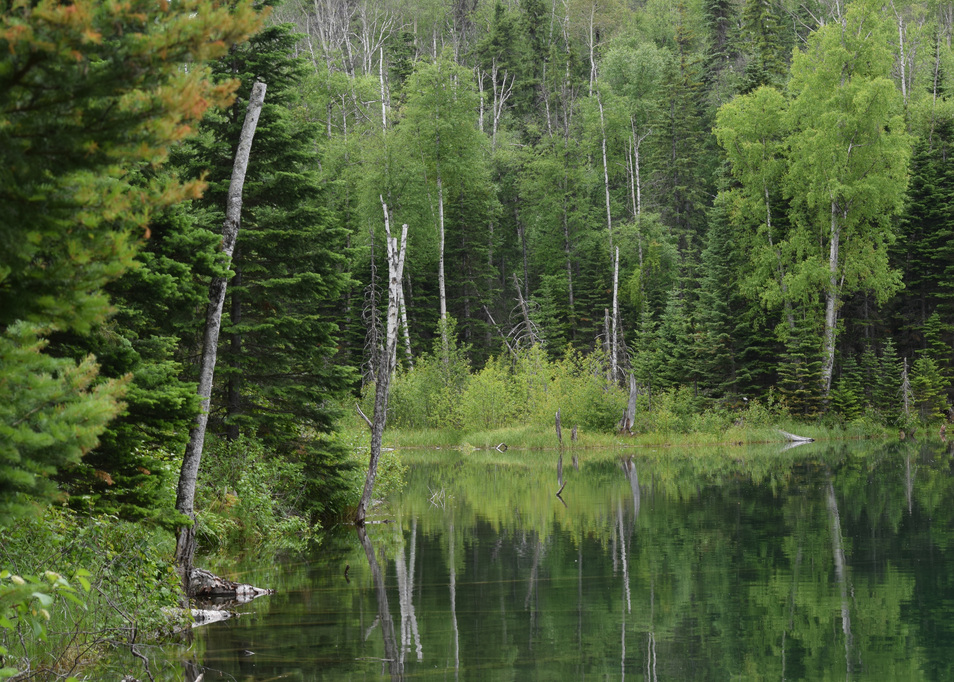 July 23, 2017
Back on Vancouver Island, we ended up going to Schoen Lake as an afterthought. Our big plans were for Side Bay this trip but, when we arrived in Port Alice, we needed to do some kayaking right away. Schoen Lake seemed to be the only thing we could fit into that time slot. James lived in Campbell River most of his life and hadn't seen it before, though he knew people who had. He assumed that it was just another overrun public campsite, but it would be a good excuse to get paddling. It turned out to be more than an excuse. It didn't feel "public" at all. It was more like a remote spiritual retreat.
To get there we turned west off Highway 19 and followed the Mt. Cain road. There are signs at both sides of the turnoff for Schoen Lake and Mt. Cain, plus one at the turnoff. It's hard to miss. There are probably a couple of branches you can take before the main turnoff that could get you on the same track. We took one of those branches, but still saw lots of signage that lead us to the road to Schoen Lake. Once you get past a certain point, there is really only one road so it's hard to get lost. It's not a place with an endless maze of logging roads like it is on the way to Gooding Cove and Side Bay.
The road is still for die-hards. If you take an 80-foot camper on that road it'll probably end up in a thousand little pieces by the end! Chloe wasn't too pleased about the rough, bumpy ride. She kept giving James and me that "can you make it stop" look. It was only a 14 km route: but being so rough and tightly encased with trees, we had that "going to the ends of the Earth" feeling again. When we were beginning to doubt there actually was a campsite at the end of it, we finally saw the park sign and several campers. In fact, the sites were nearly full. We still managed to get a lovely one close to the water.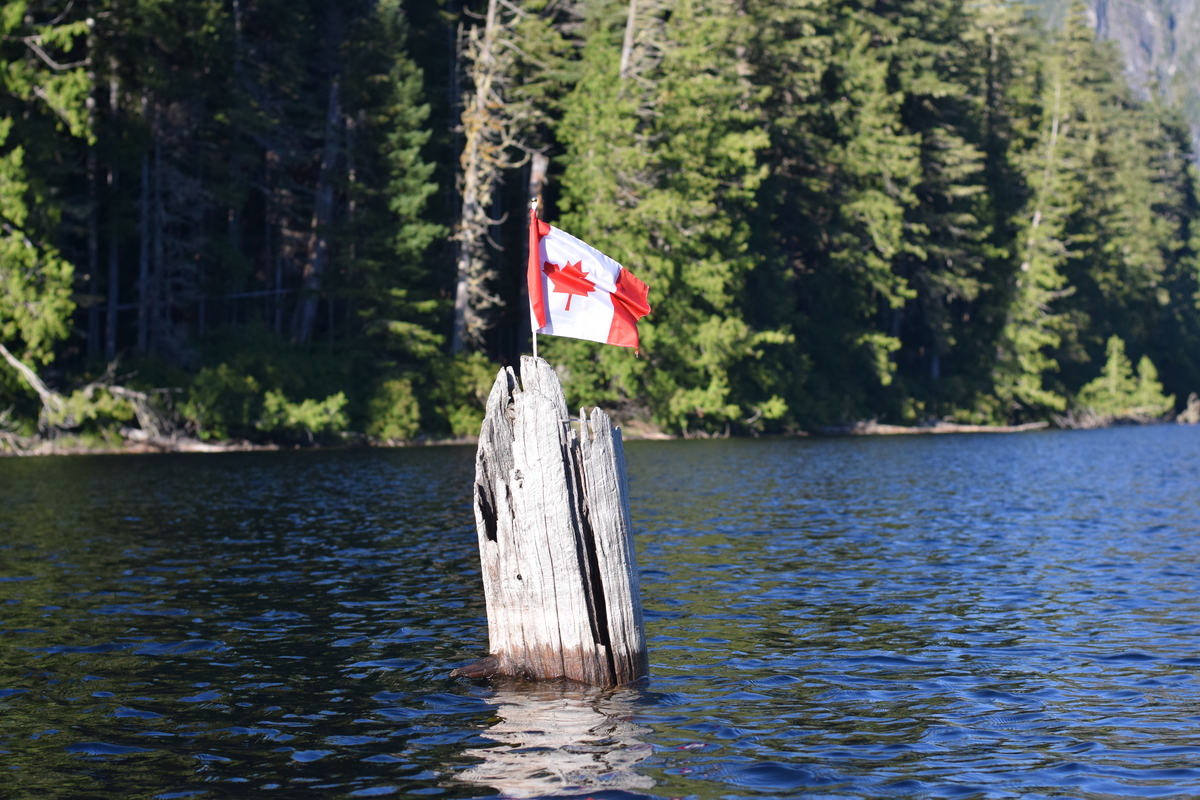 Canada flag on Schoen Lake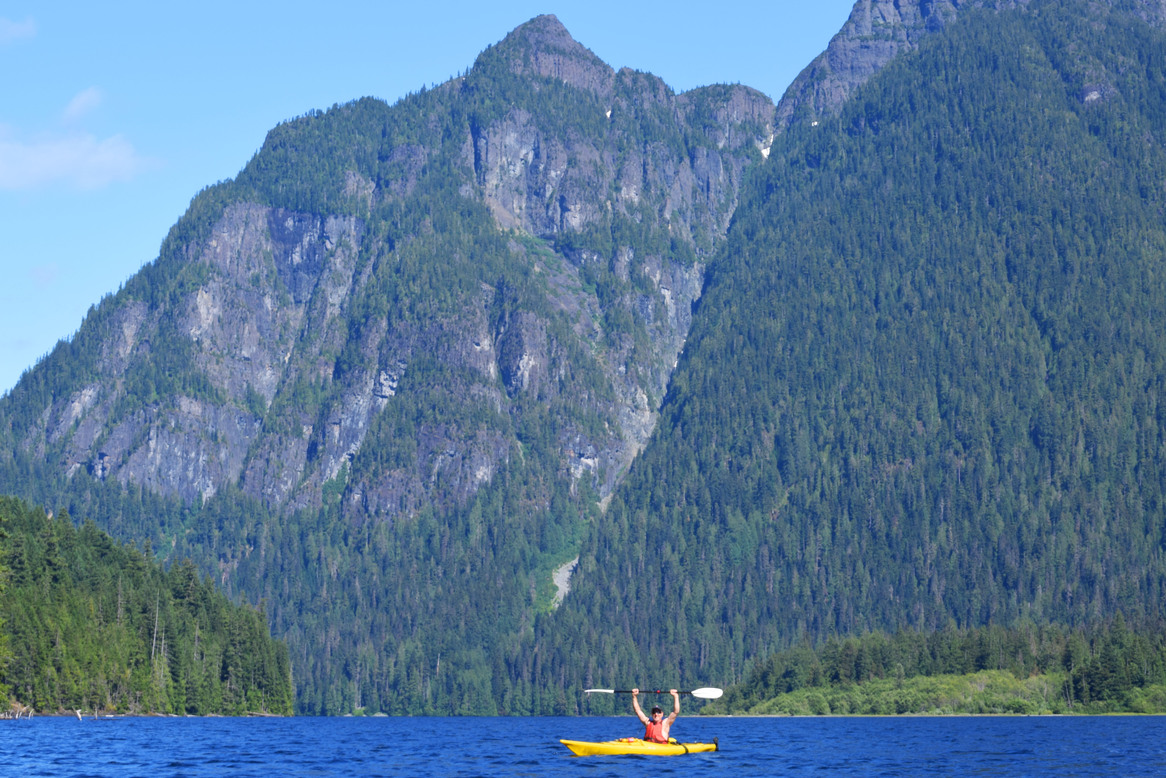 Praise to the peaks!
Schoen Lake is surrounded by mountains that encase it like tall cathedral walls. The mountains were so big and close, I could barely fit them into the frame of my camera. Unfortunately, inexperienced with my new recently acquired digital camera and equipment, I did not realize that I had a wide-angle lens in my camera pouch that could have captured everything in a single frame. It wouldn't have captured the closed in feeling though.
Mountain Gallery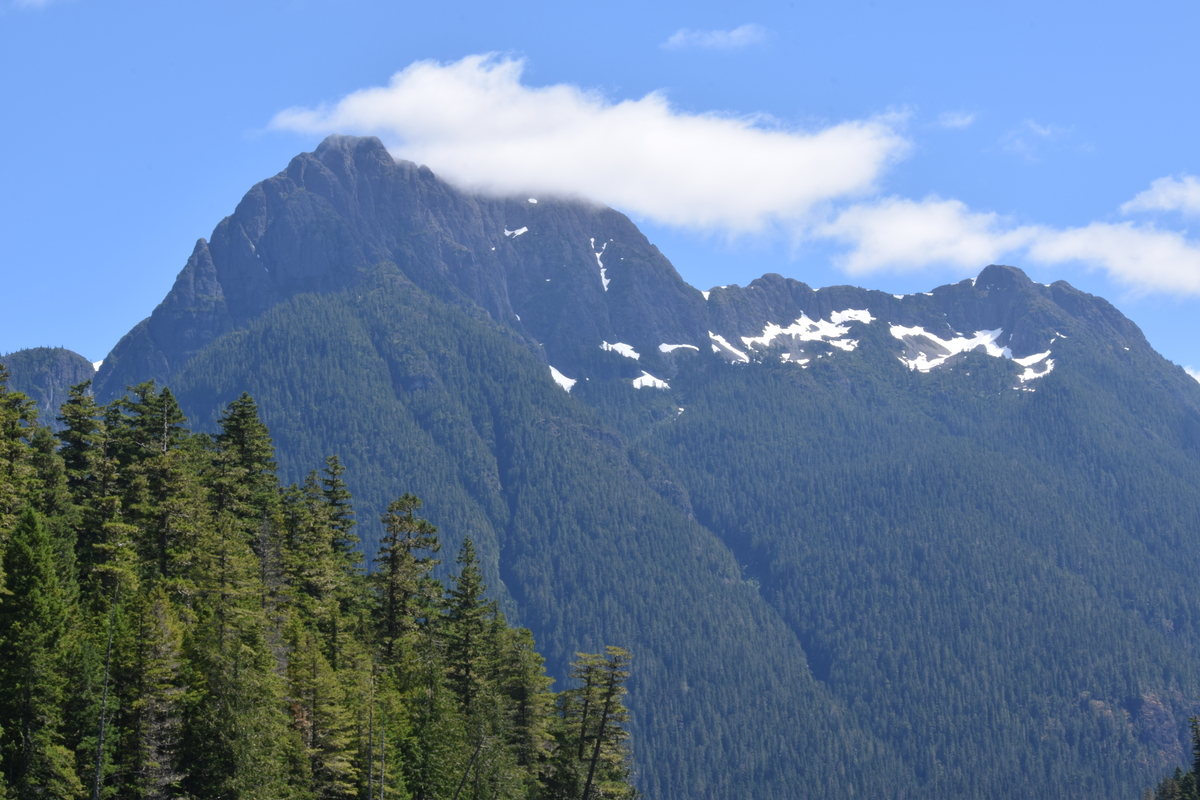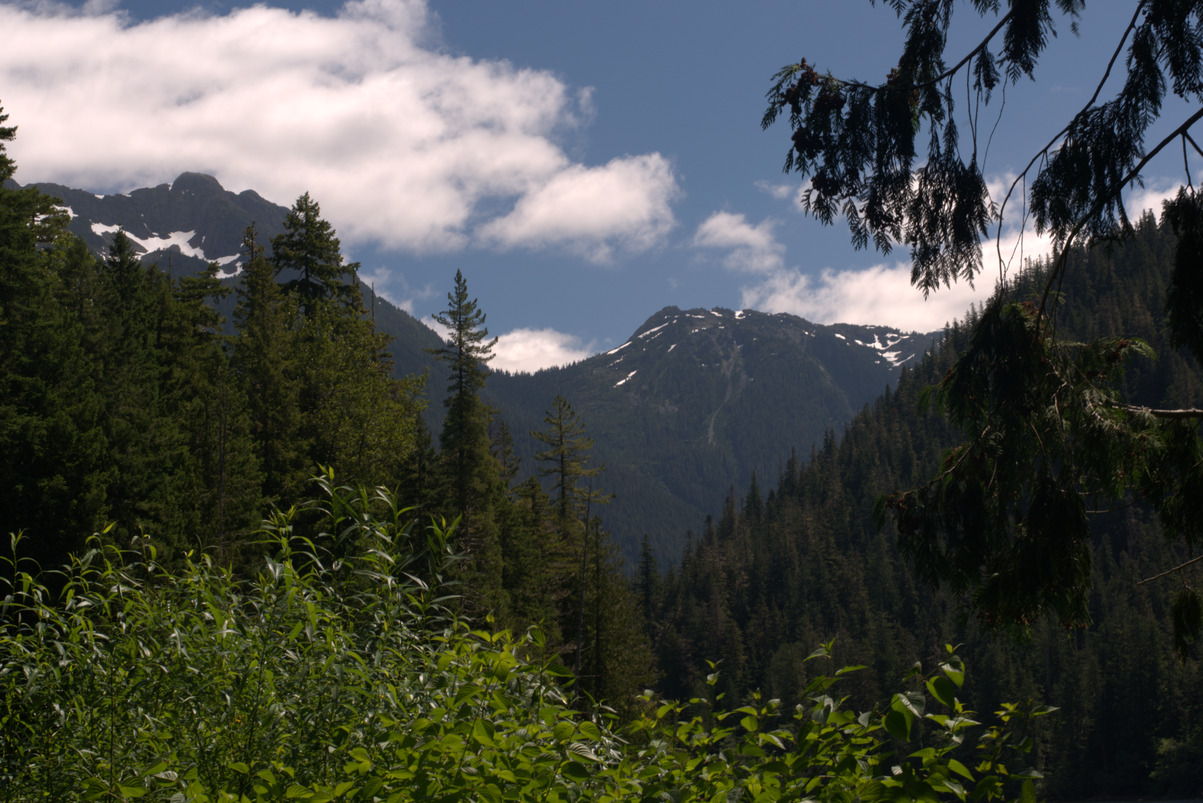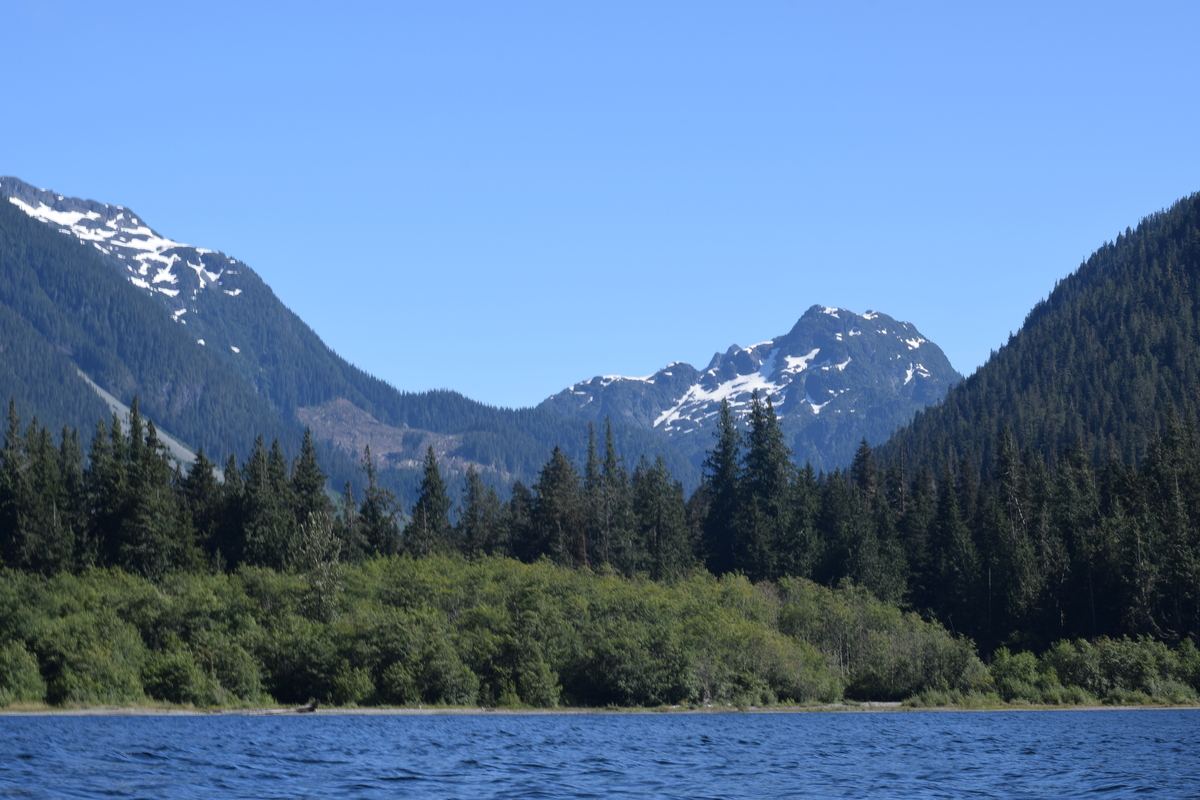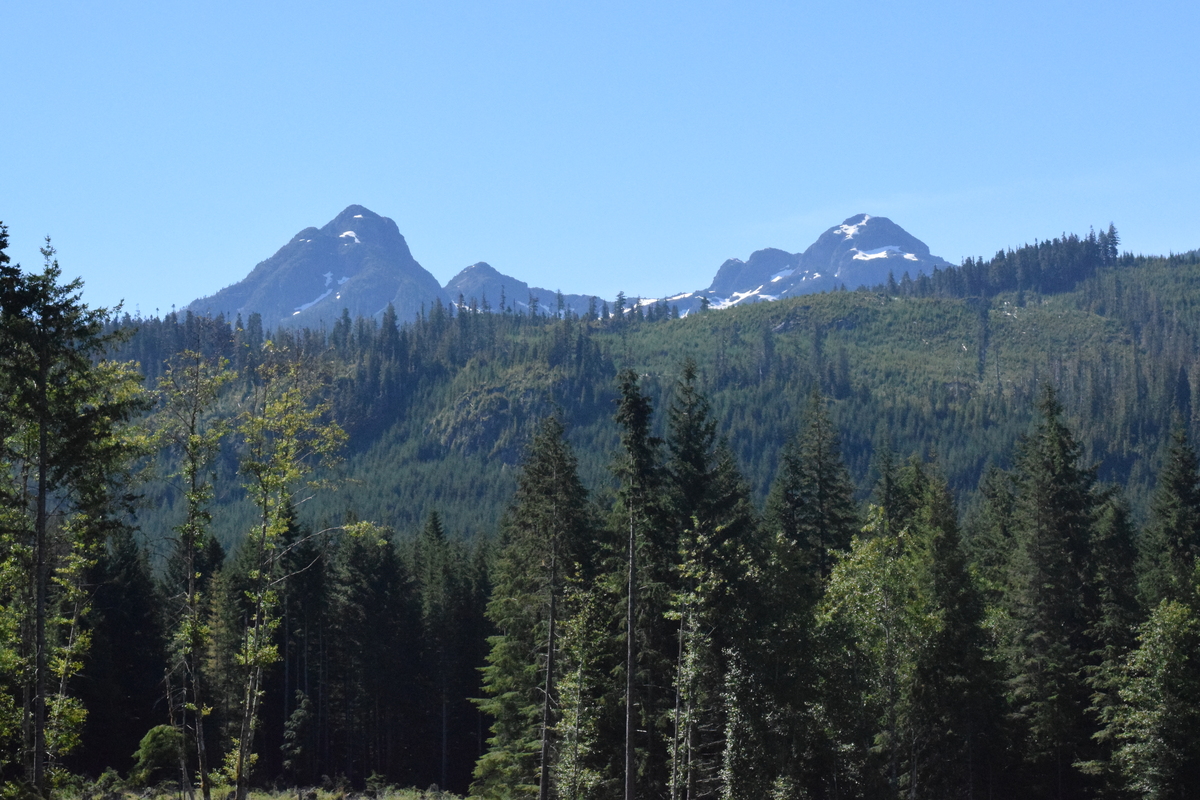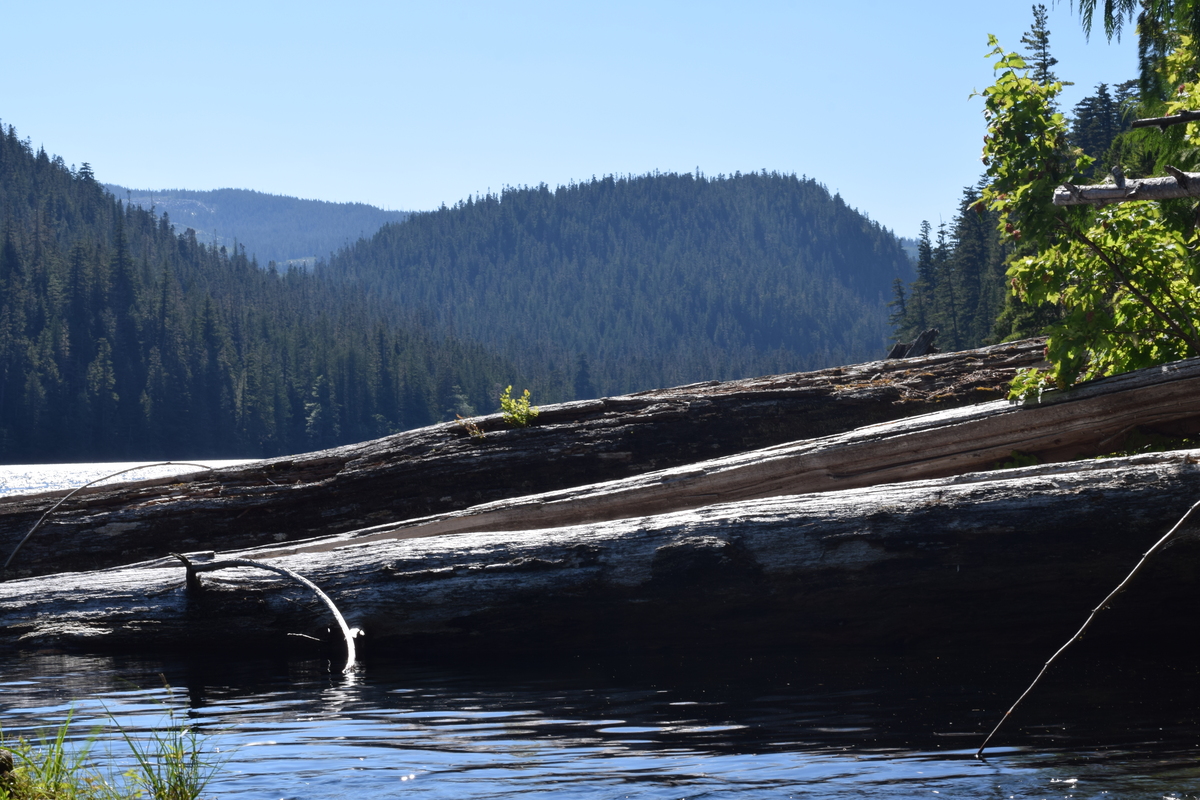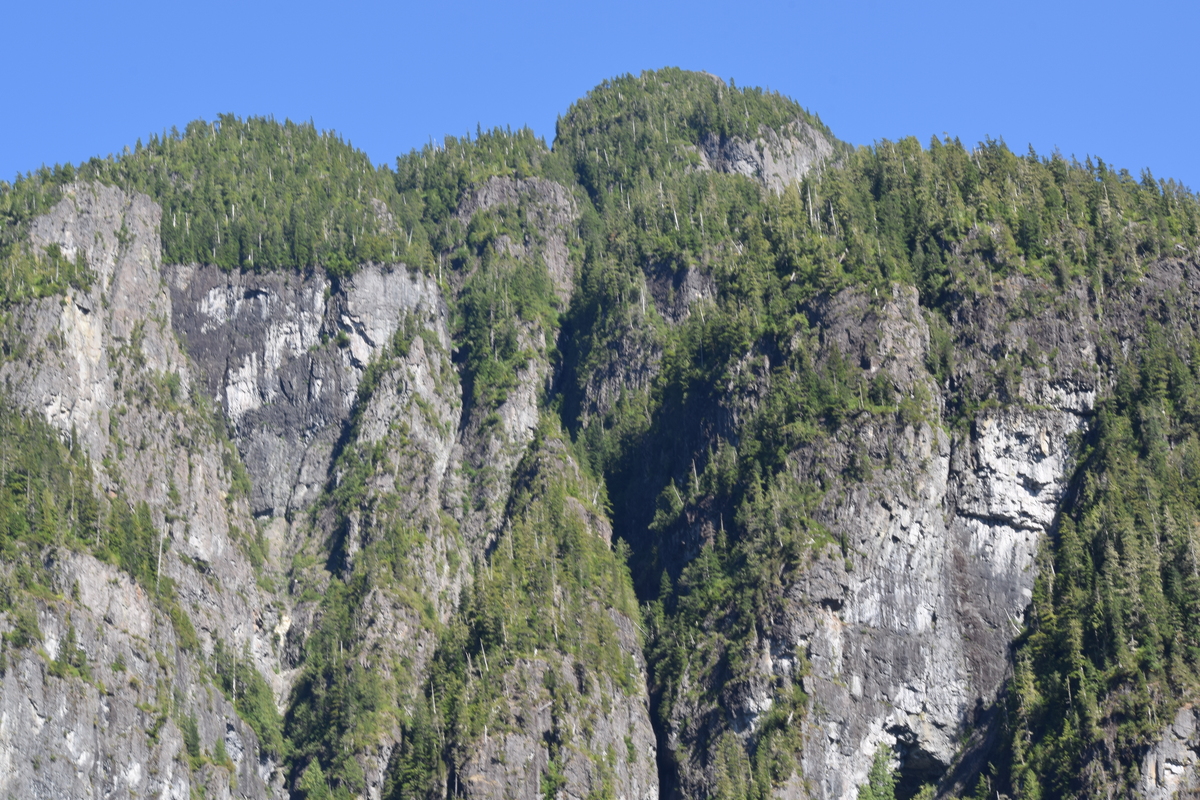 As we paddled the evening of our arrival, we kept hearing waterfalls. James had to get off the kayak and go into the forest looking for the source of the sound. He found only a couple of small cascades. He kept feeling that if he would only go in a little farther, he would find a REALLY BIG waterfall…which probably would have been the case…maybe halfway up the mountain! The next day we would discover that Schoen Lake has many waterfalls!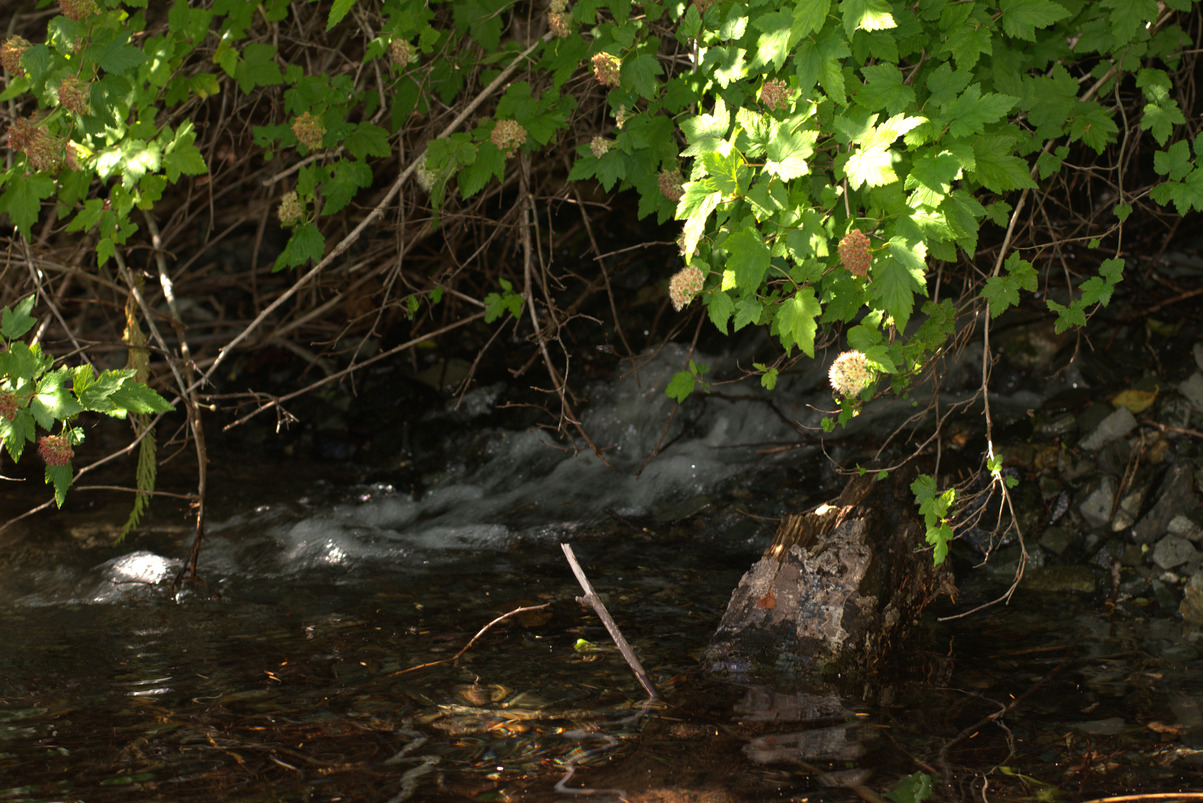 A waterfall that James tried to chase
We made it past the point where the lake bends when we were hit by a blast of wind. We wanted to go to the end of the lake, but, being that the sun would be setting soon and we were tired, we decided to save our energy for the next day.
July 24, 2017
We started out early in bright sunshine. We were grateful the wind was at our backs, but knew we'd pay for it later. On the way to the end of the lake, the many waterfalls produced a pleasant background noise. We couldn't see half as many as we could hear.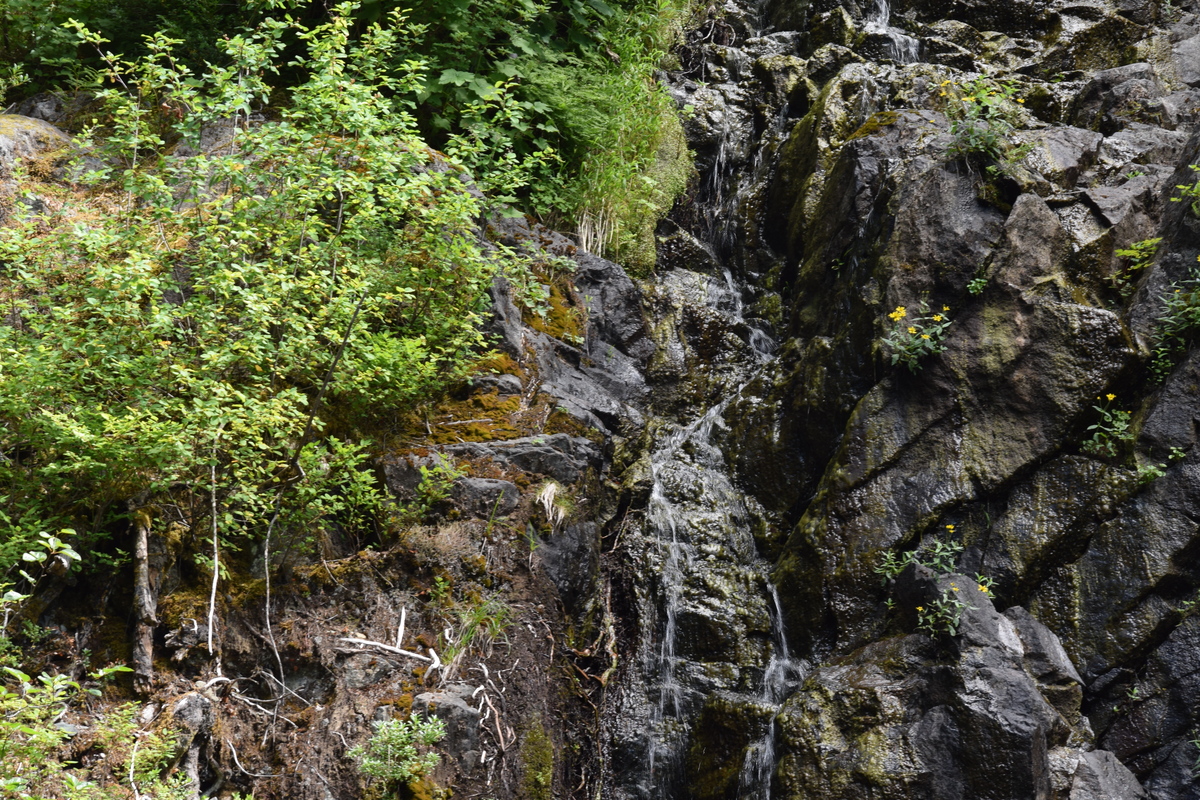 Mini waterfalls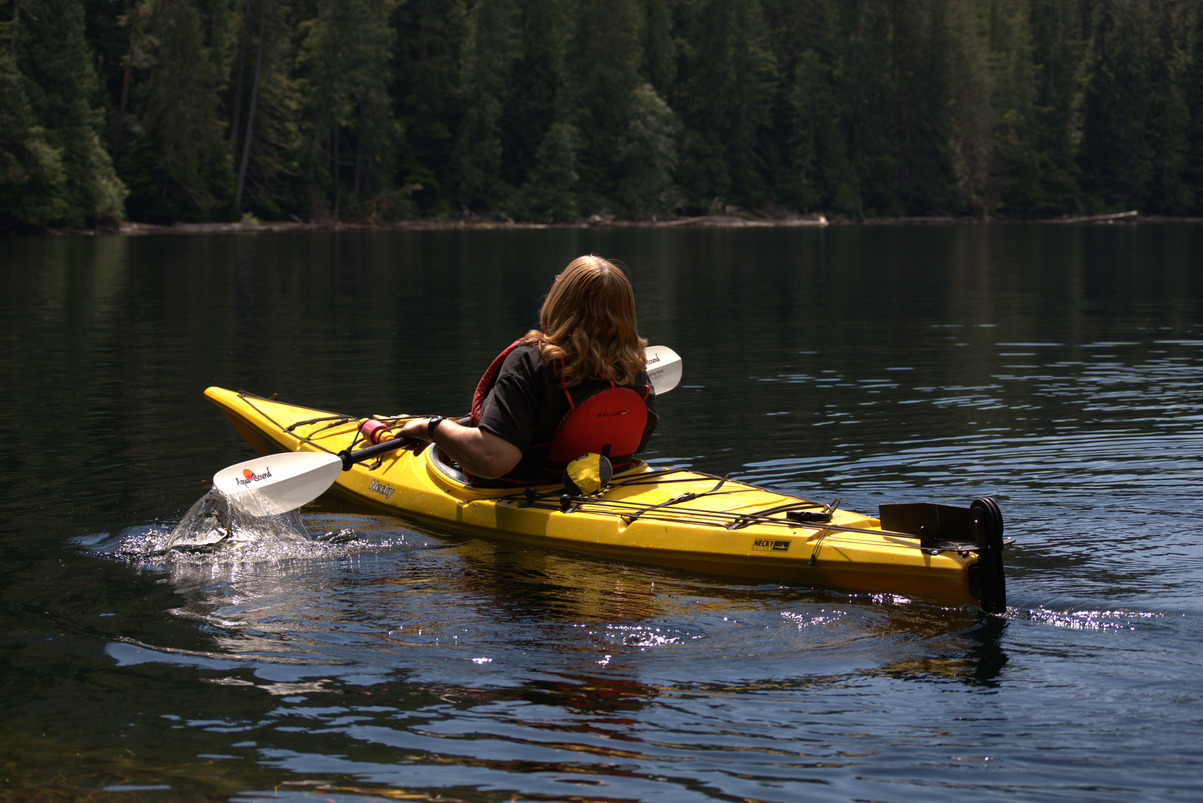 Watching waterfalls
The real waterfall bonus came when we reached the end of the lake and looked up to the ice fields on top of Mt. Schoen with its series of very high up branching waterfalls. It was stunning from far away, so it had to be magnificent up close! If I didn't have such bad knees, we could have hiked up there.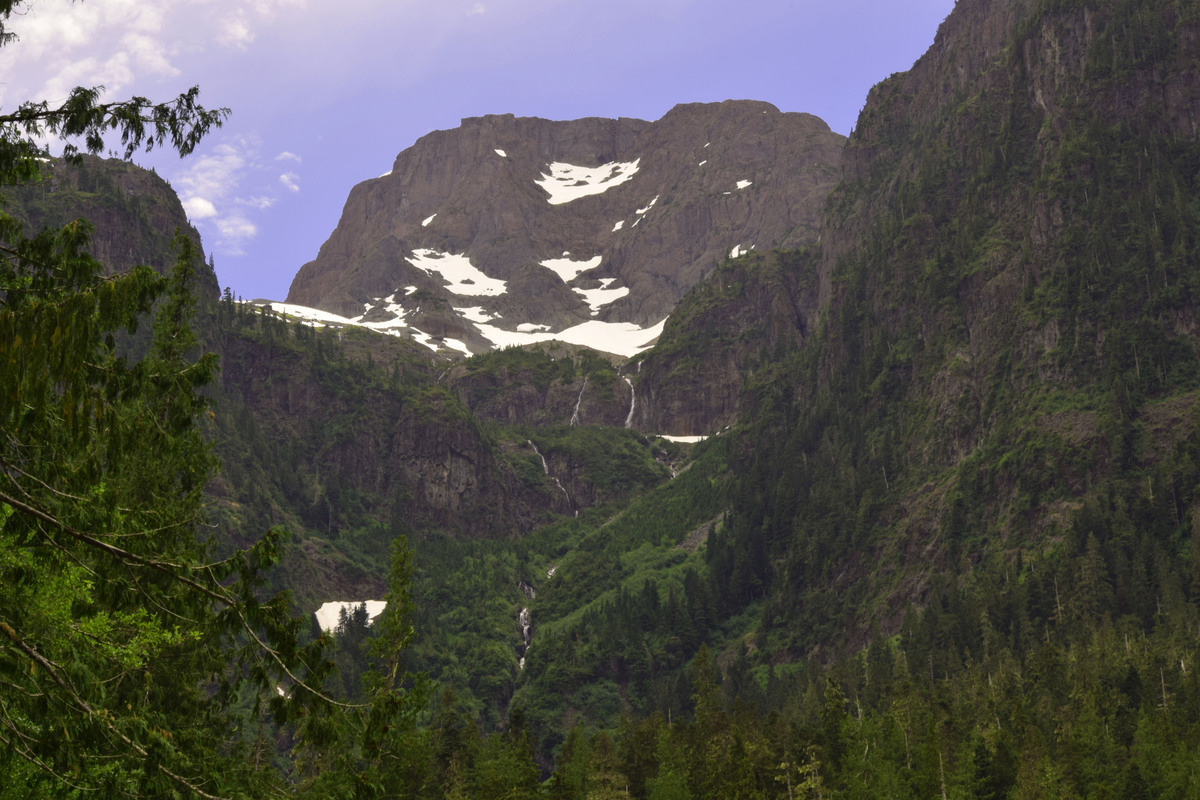 Waterfalls on Schoen Peak
When we landed at the end of the lake, we found ourselves in a dark, spirited old growth forest. I went around snapping the better part of my standard minimum 400 shots for a daily kayak outing. A lot of them ended up overexposed because I didn't know how to adjust my camera for dark places. I did manage to get a few that captured the magic of the forest.
Rainforest Gallery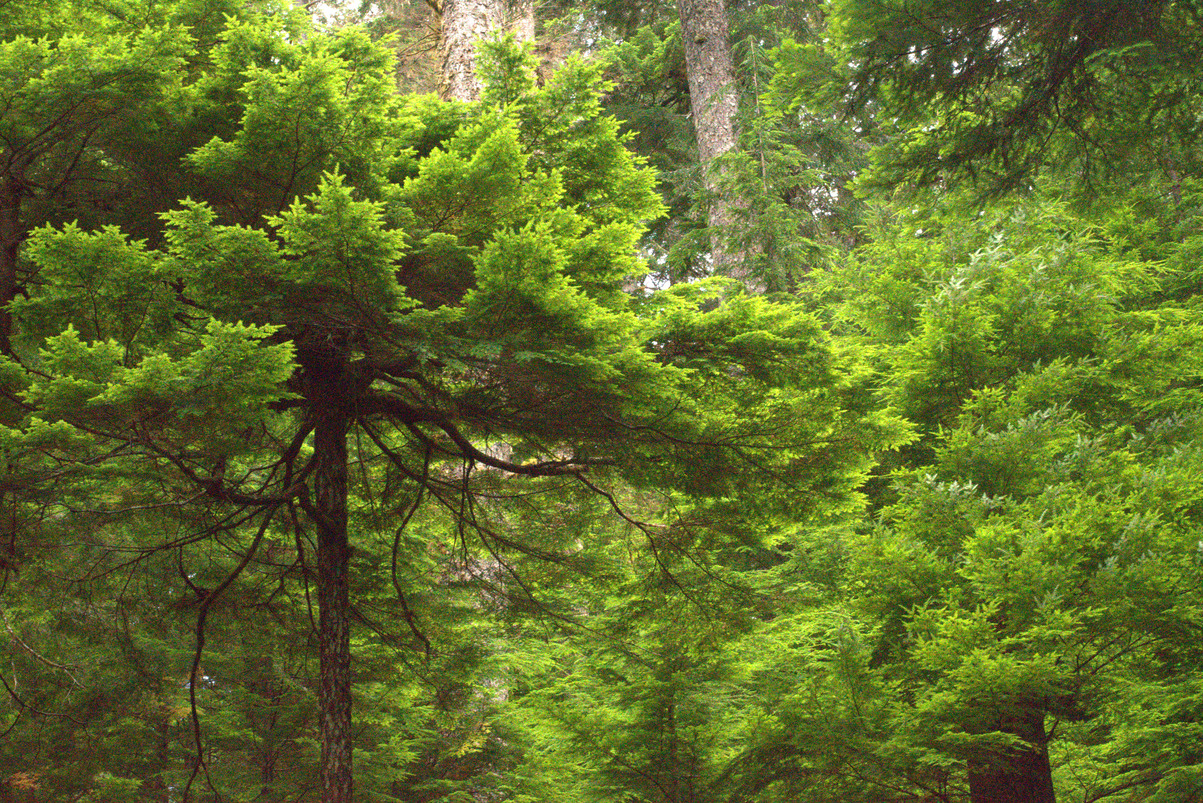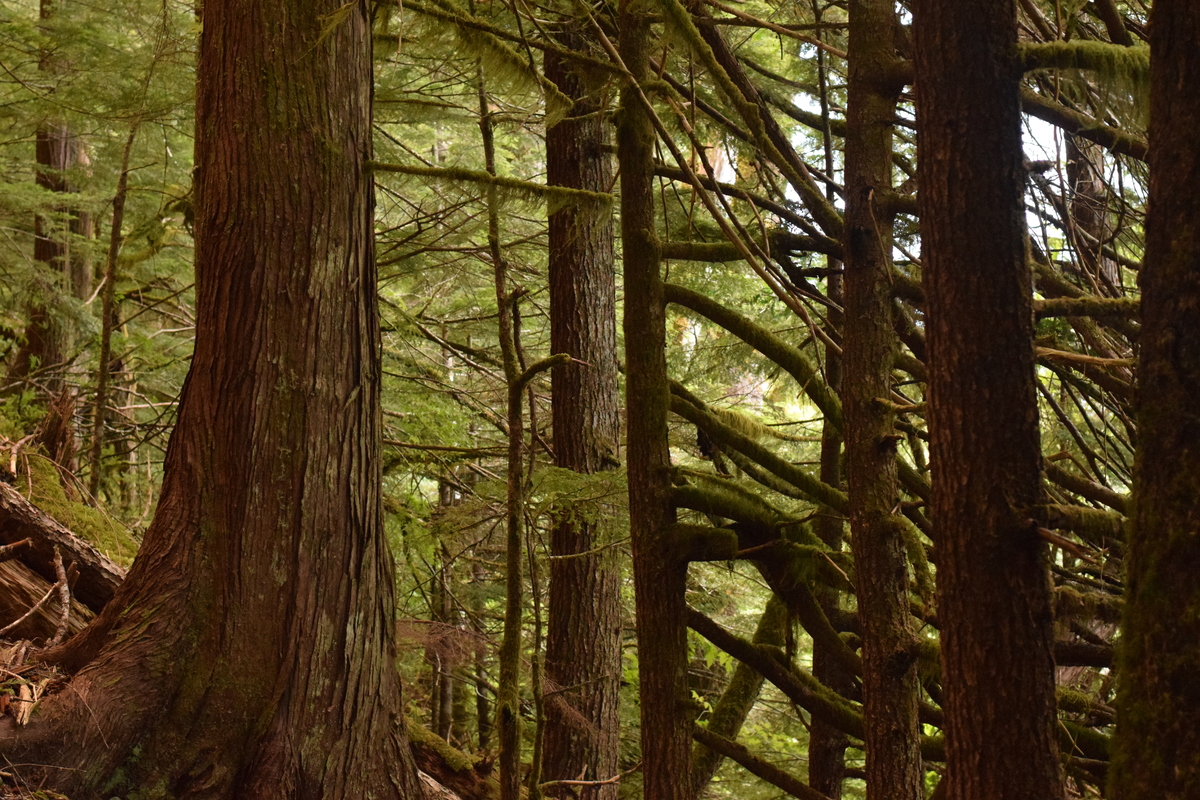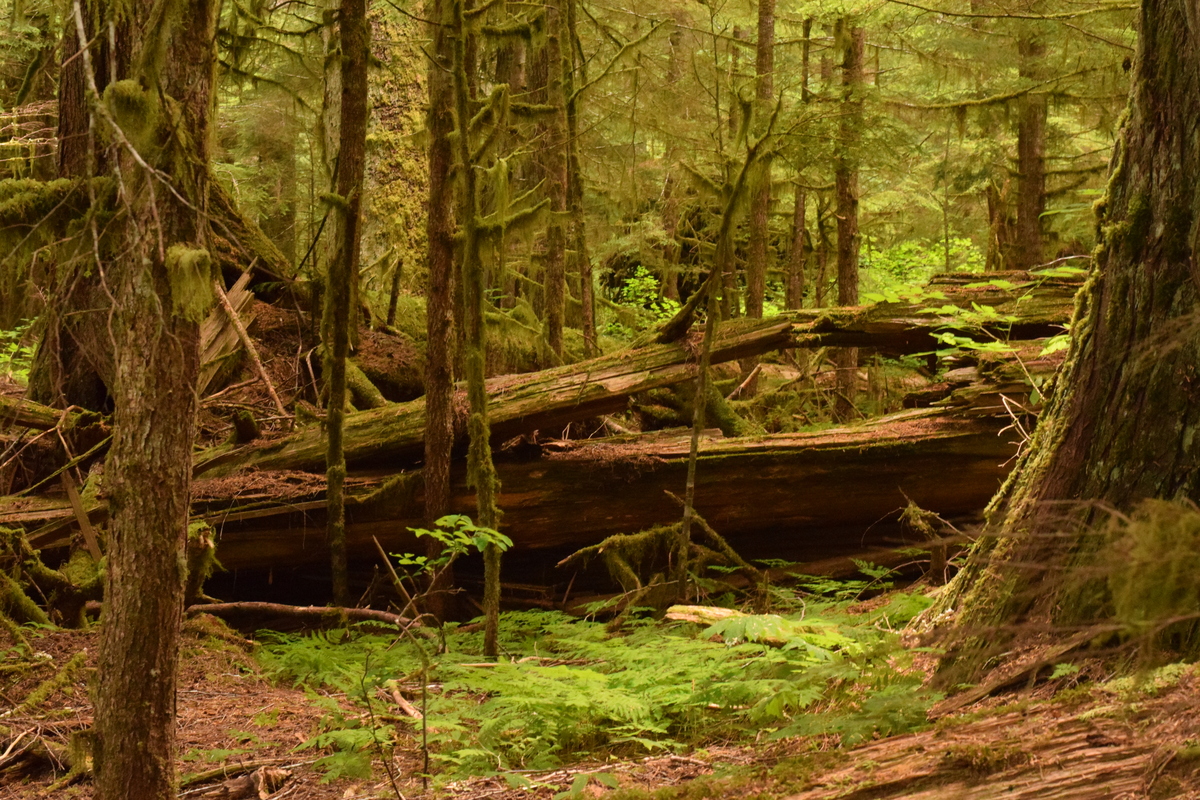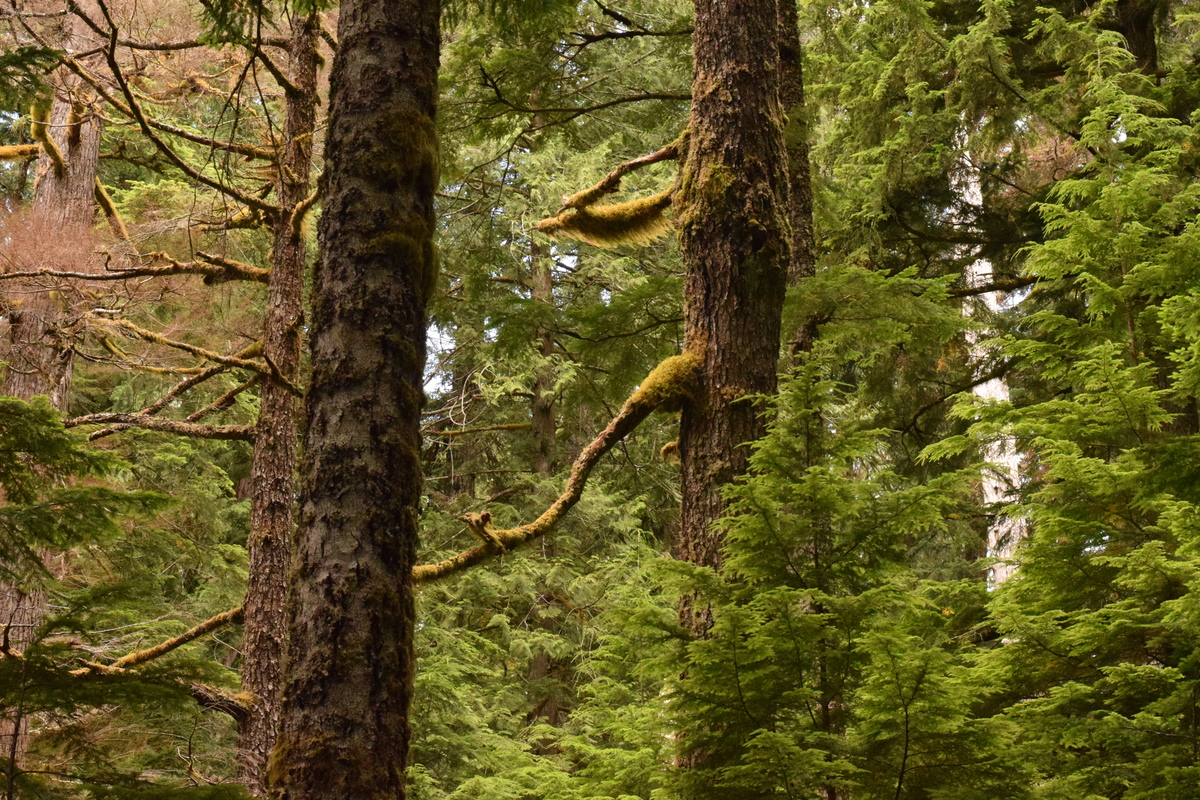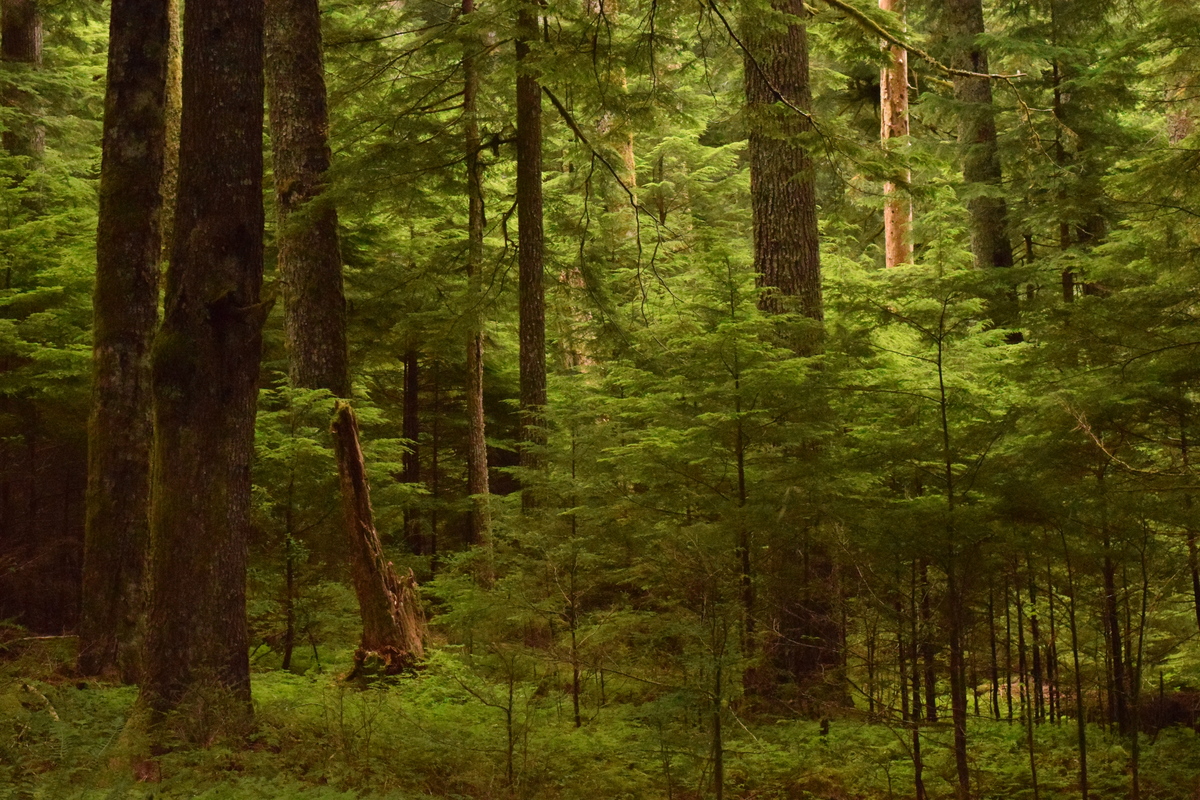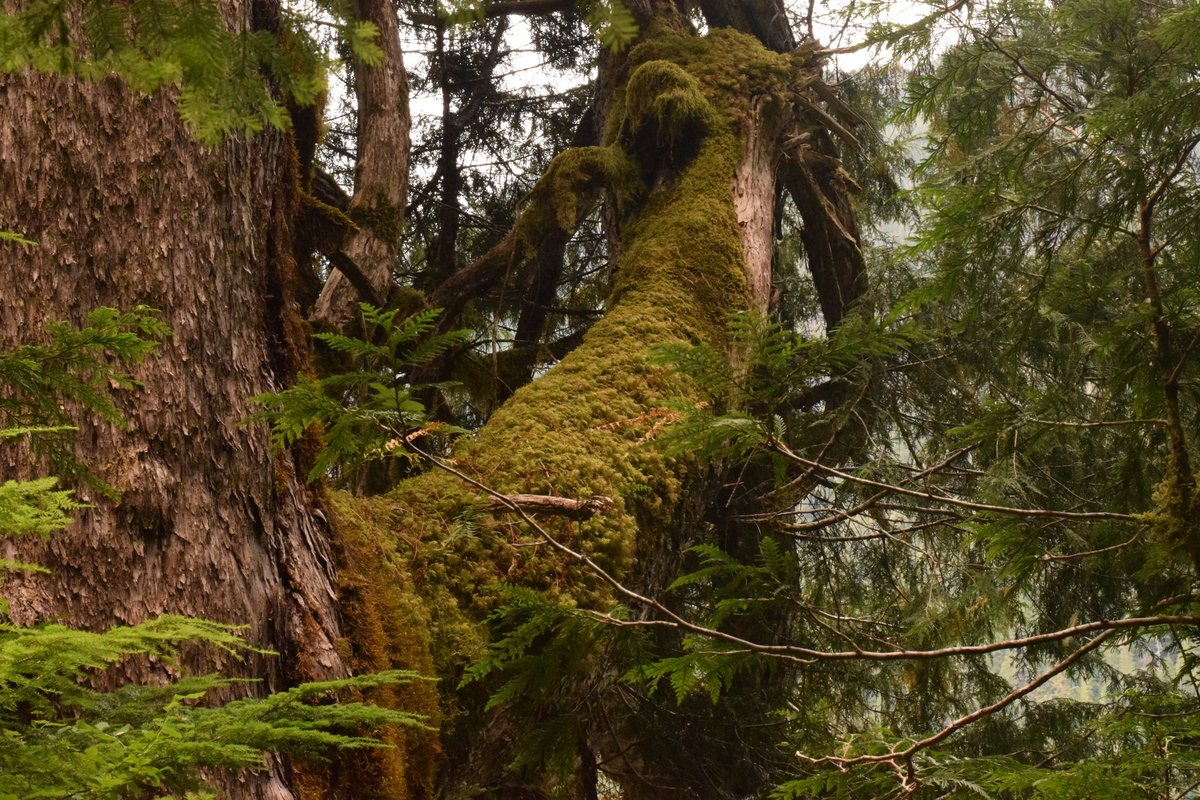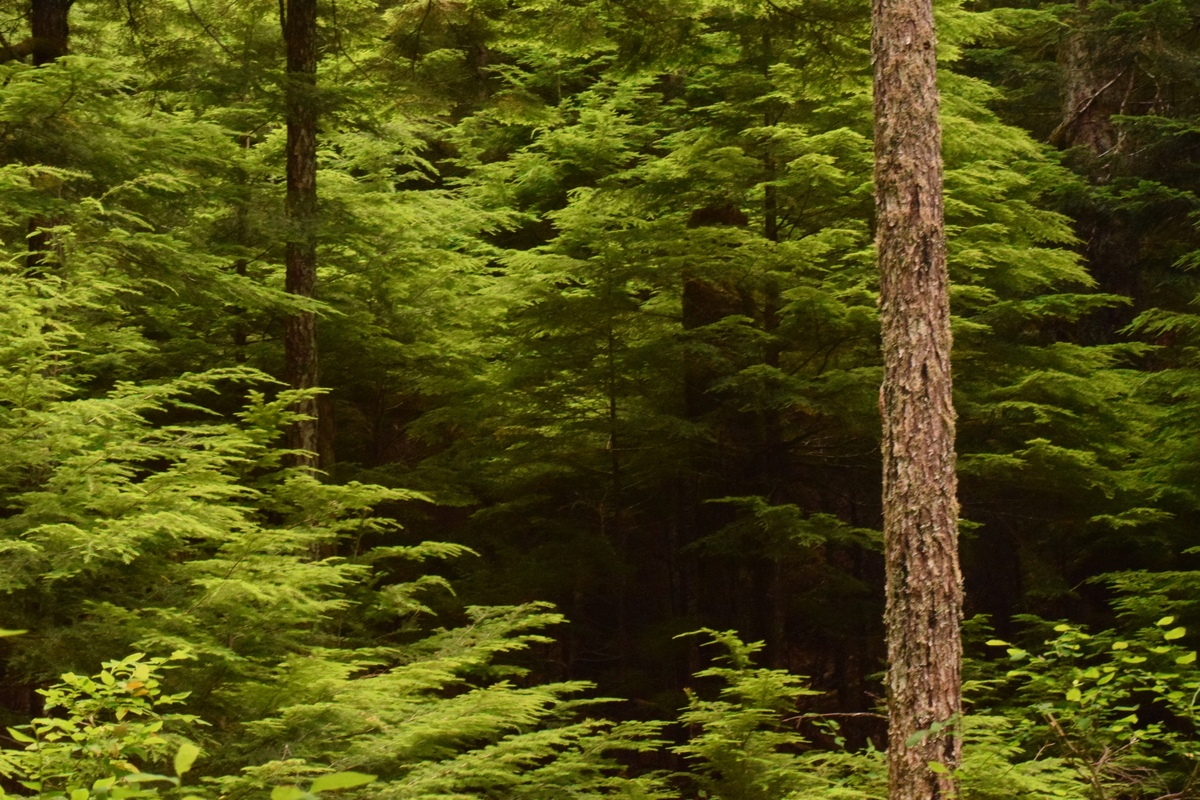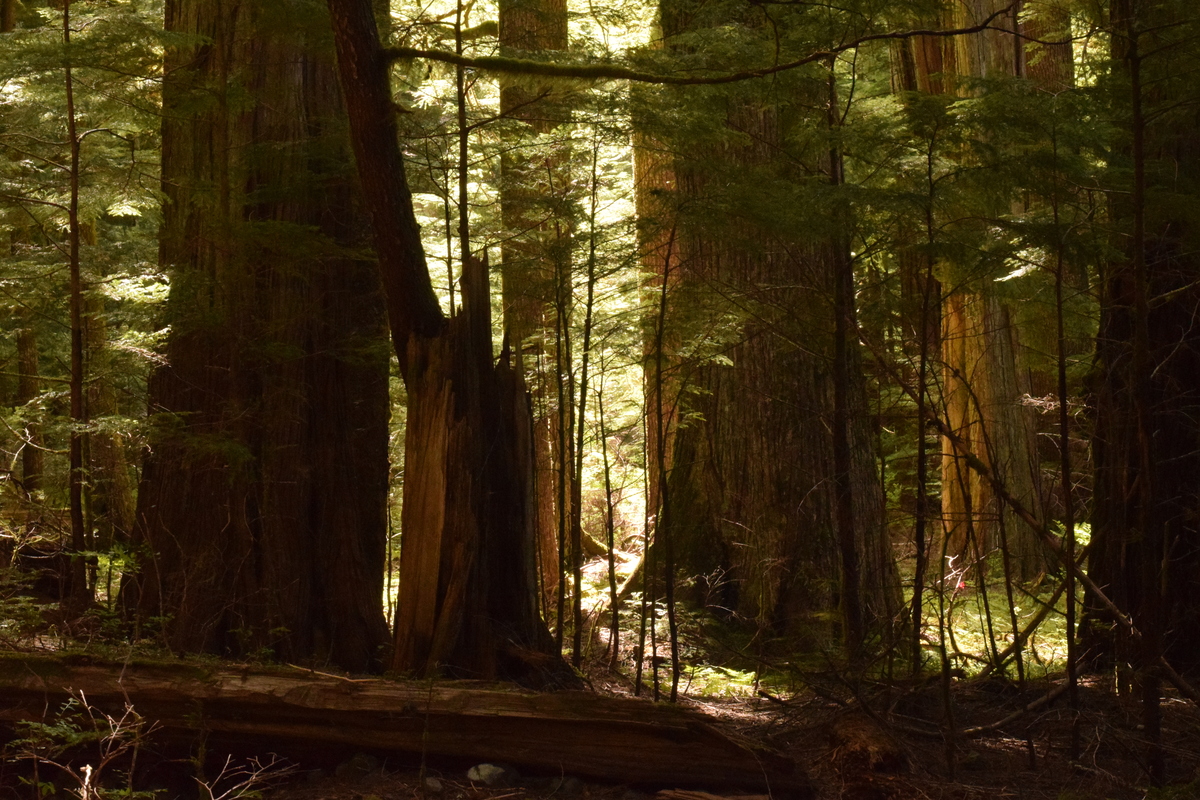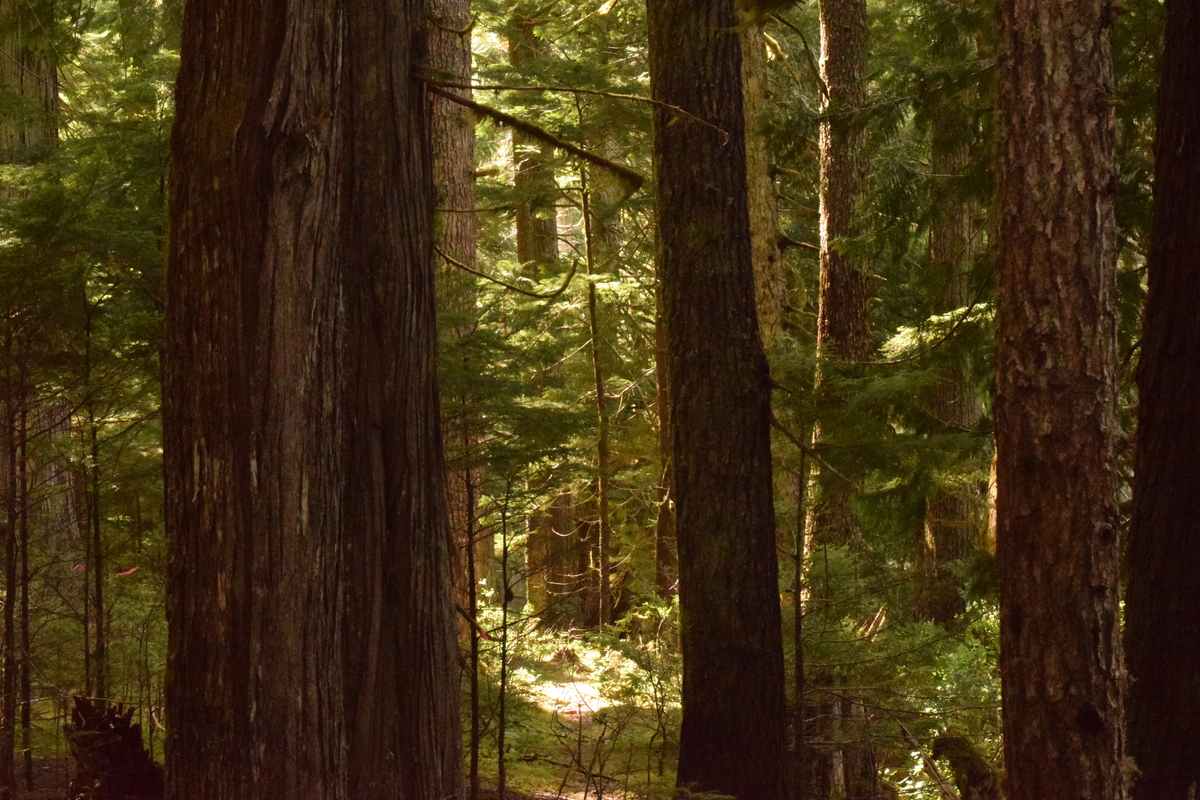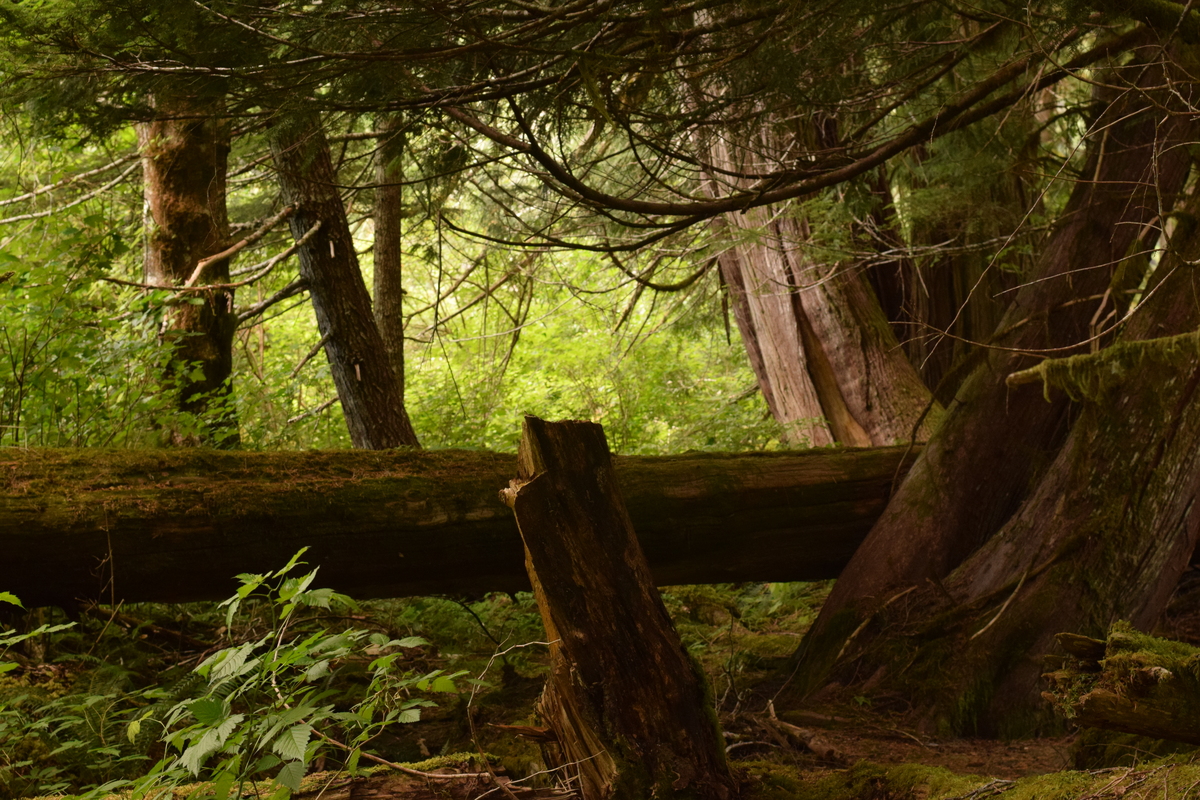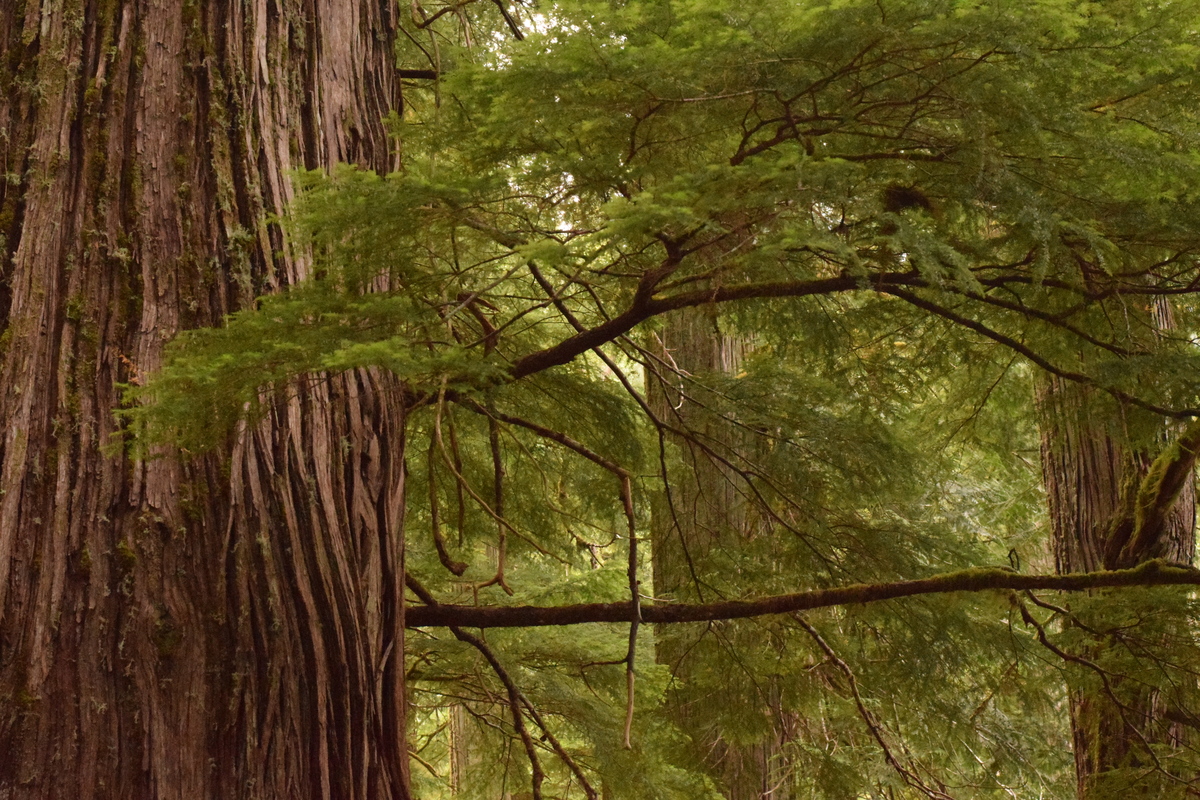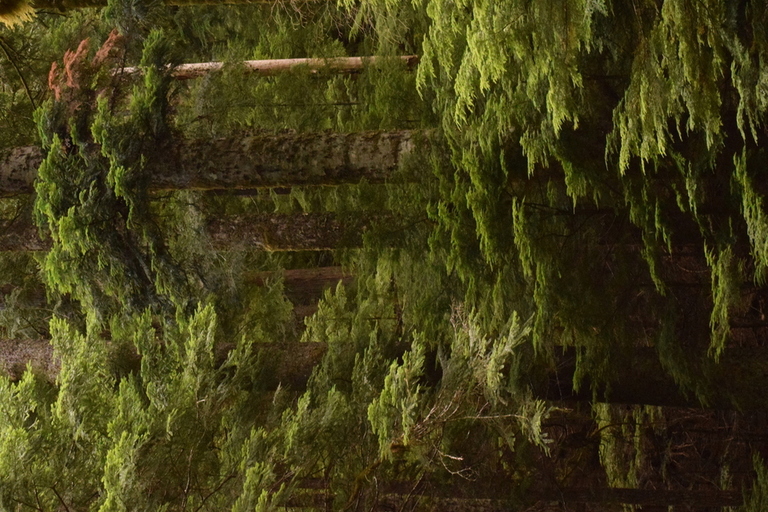 We followed a trail going in the opposite direction of the ice fields, on the hunt for waterfalls. By trail I don't mean a wide path with lots of signage, I mean a wormy little skinny trail half hidden by shrubs and marked by tiny and very short strips of florescent tape. It only went so far, but it did at least bring us to a small waterfall. James, always wanting to explore, climbed behind it to investigate. I sat on the rocks, enjoying the waterfall and practicing getting the flowing water effect with my camera. It wasn't hard, being that the light was so limited. It gave me no option but to use the required slower shutter speed.
Waterfall with flowing water effect
When we walked back to the boats, James checked out the trail up the mountain that went toward the ice field waterfalls. He thought it would lead to a plateau where one can get a better view. James seemed to have nominated himself caretaker of the waterfall route, clearing some of it and making big plans to return some day to complete the trail.
James was gone for a while, leaving Chloe and me to wonder and wait for him in the dark and spooky forest. Finally, I called for him and he came back shortly after. Before getting on the boats, we went toward the creek and perused an elk graveyard.
Snack time in the rainforest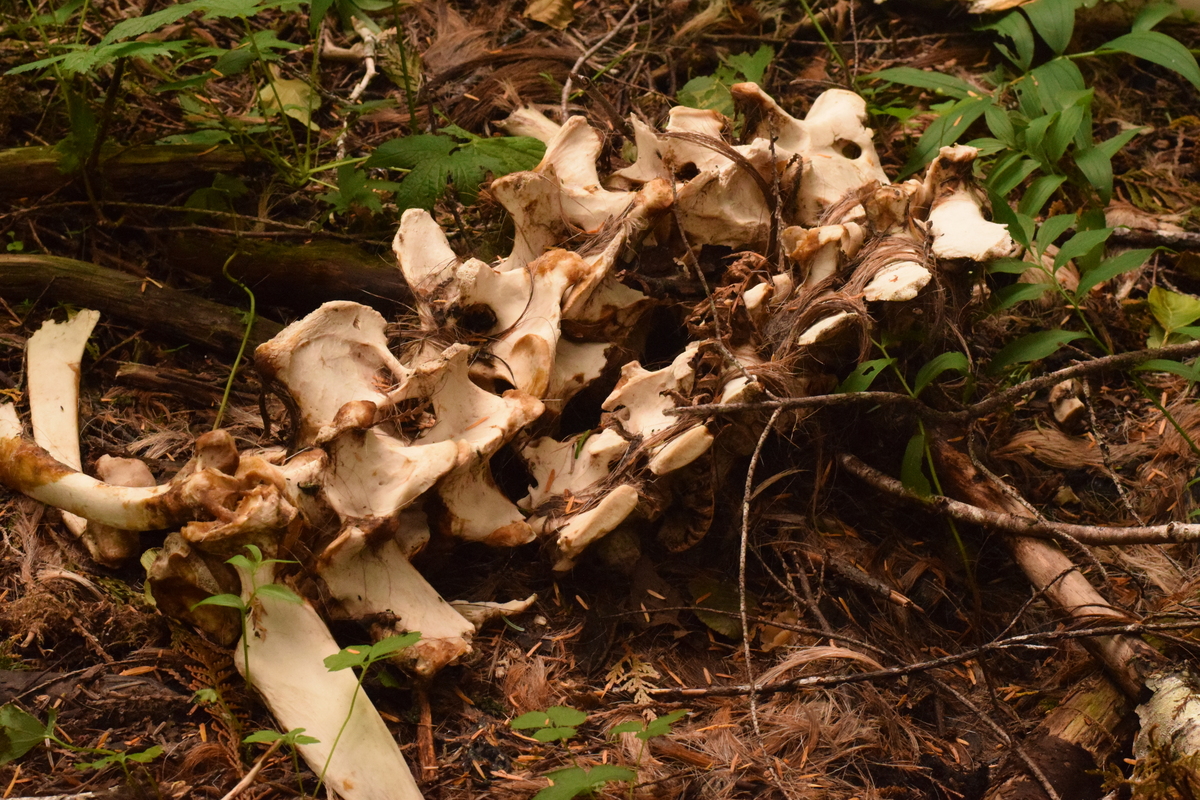 Elk bones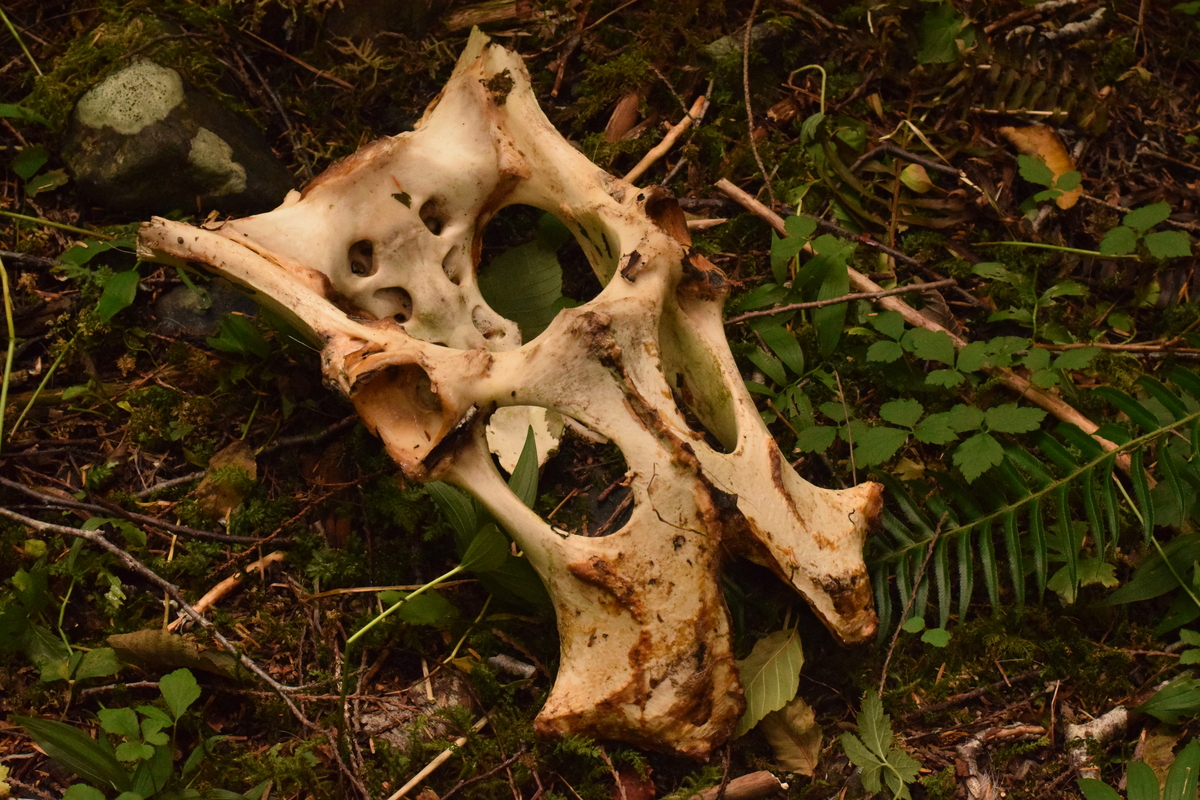 Elk skull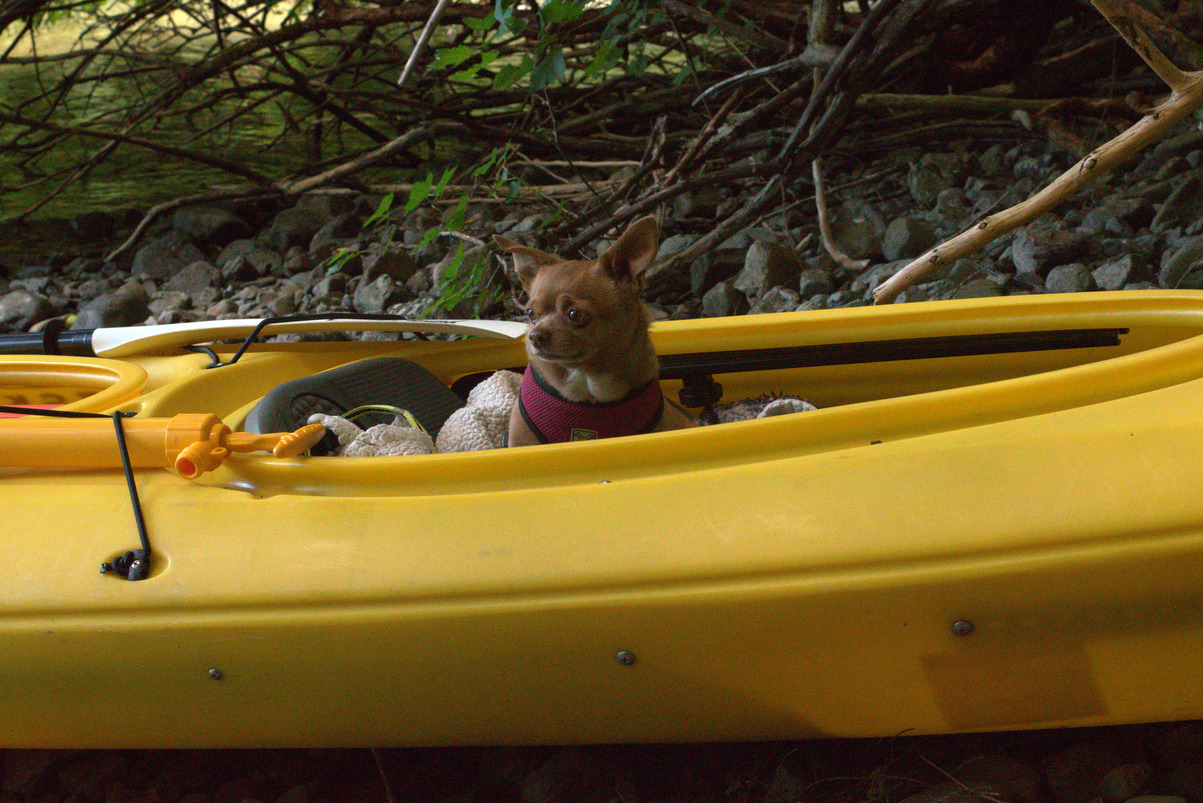 Chloe spooked!
We paddled as far as the bend in the middle of the lake, then stopped for a snack. It was also time to give Chloe a dunking to cool her off. I took photos of wildflowers. We walked to the creek and finished the remainder of our snack by the bubbling rocky stream reflecting little stars of evening sunlight.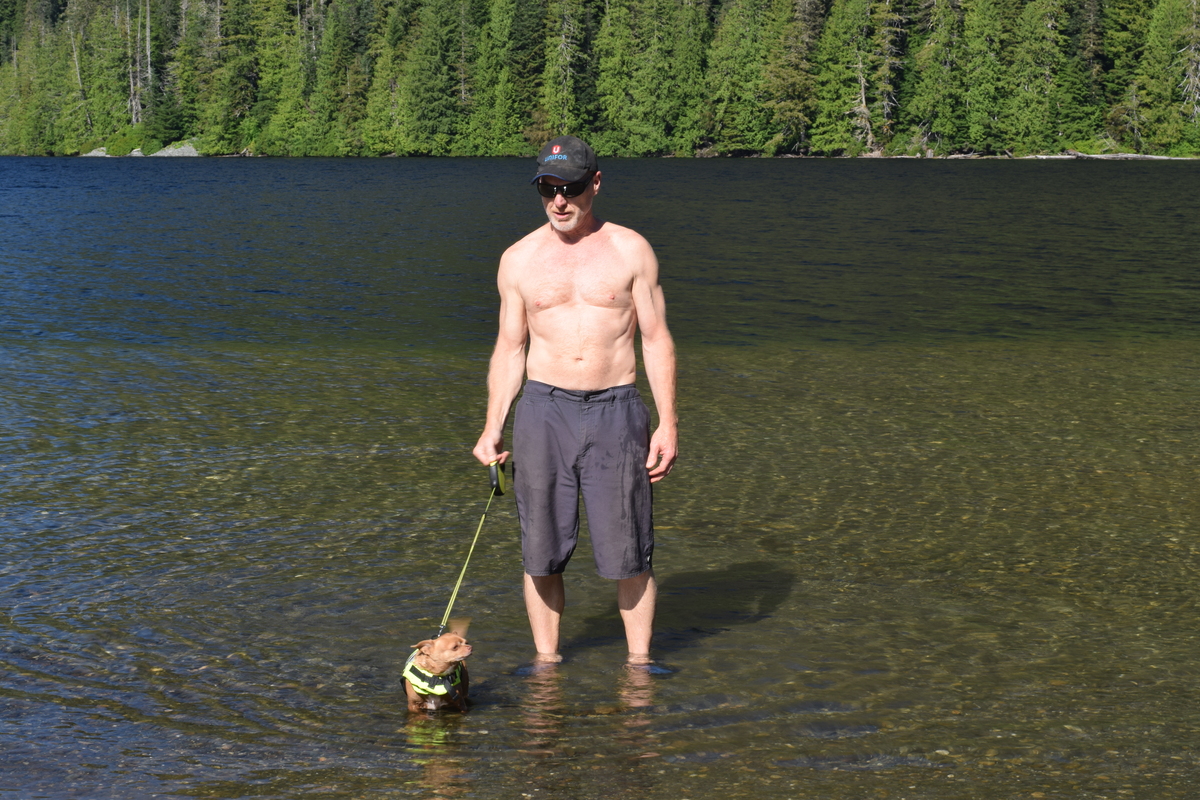 Cooling Chloe off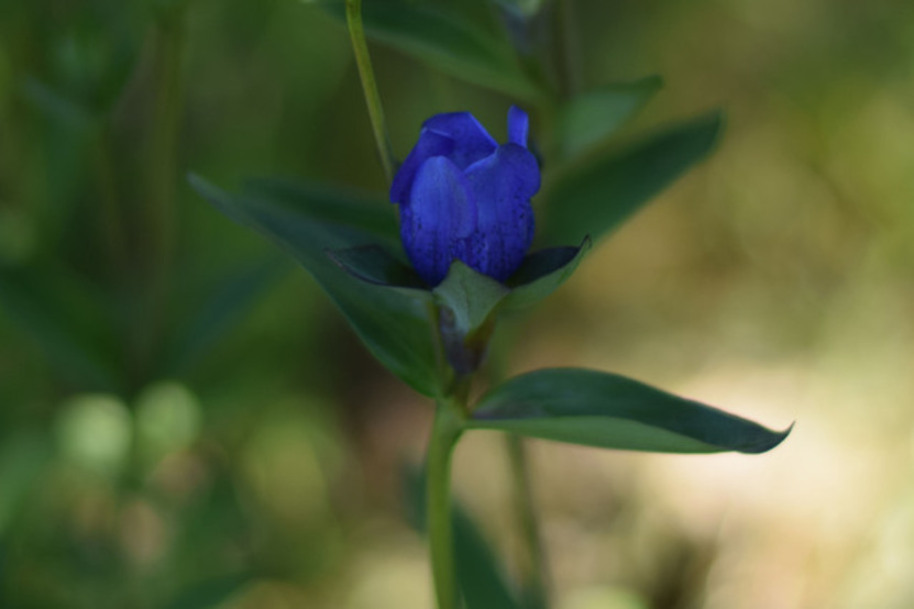 Blue wildflower
On the final leg of the journey, I must have been fighting a flu bug. I suddenly lost all the energy in my arms! I moved very slowly, making the paddle move from sheer willpower rather than strength. I was amazed I could get anywhere at all, especially going against the wind. As arduous as it was, we were sad when it was over.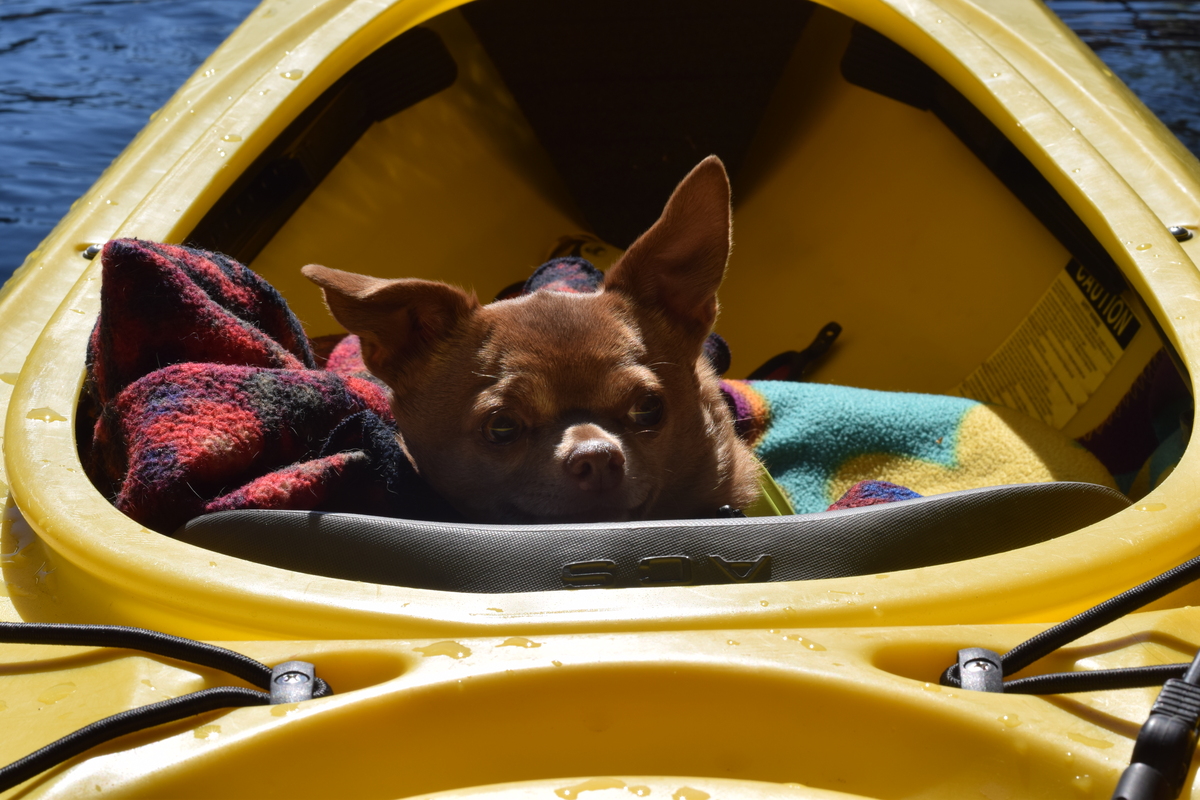 I do hope these kayakers know what they are doing!
We ended up going back on the water at dusk. We paddled around near the campsite; then, floating side by side on our kayaks, we gazed at the gradually fading twilight pastel hues on Mt. Schoen.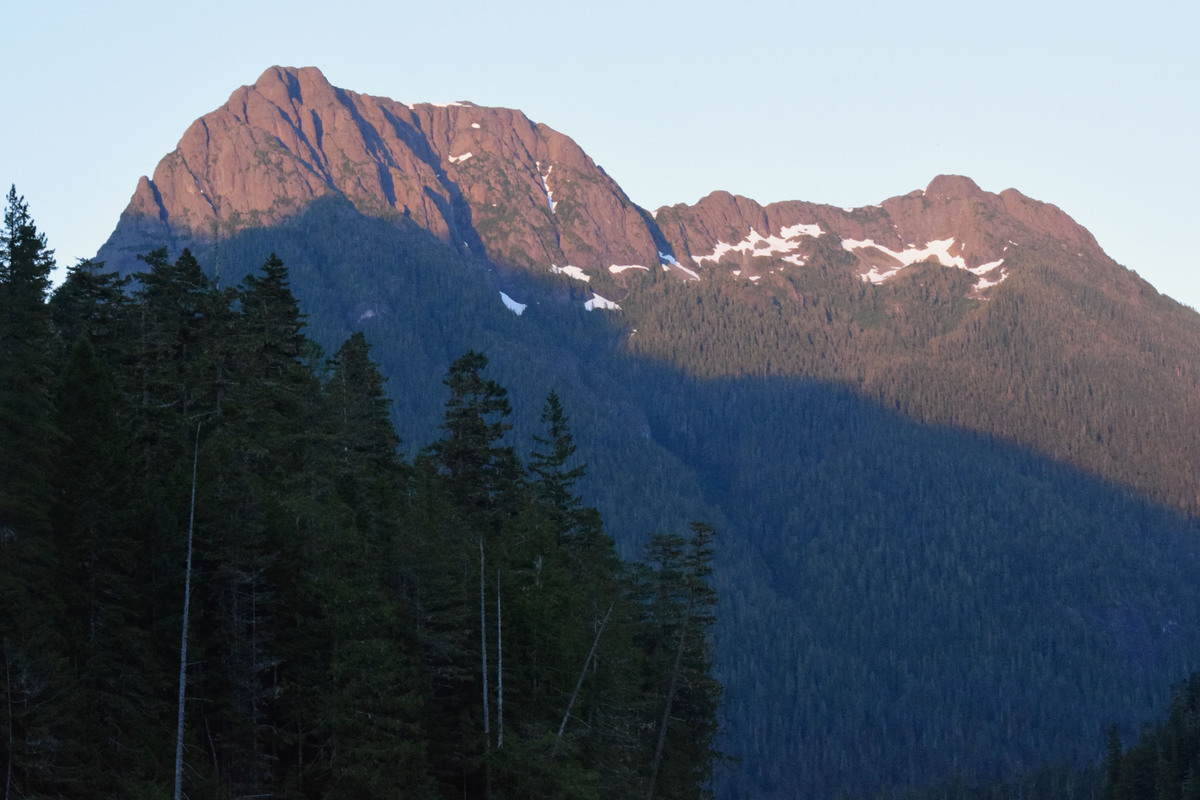 Twilight on Mt. Schoen