August 10, 2015
Because I had to work and wasn't available for kayaking, James decided to paddle the inlet on his own. Chloe stayed at home. James would end up having plenty of company anyway. He launched at the transfer station around noon. Not a good time to launch—and he would pay for it later! It was a bit cloudy, so the water was calm. With the tide flooding into the inlet, he paddled easily south toward the marina and the Frigon and Walk Out Islands. James was contemplating visiting his friend and old work buddy, Russell Inglis, who lives on the other side of the inlet, when suddenly, in the quiet of the cloudy day, he heard a sound that made him think that the ocean had sneezed!
Startled, he looked around for the source of the explosive sound. About 200 to 300 metres away from him, a whale had surfaced and was putting on a good show. It did some shallow dives, breached up, arched its tail and then went into a deep dive, not coming up for 4 or 5 minutes! It was a very surreal experience, out on the ocean with another animal the size of an airplane! When writing up this post, I asked James if he felt a sense of connection with the whale. He put down his cell phone and developed a quizzical expression. After a few seconds of silence, he answered, "I guess so. It was just him and me on the water." James took some pictures, but they were taken after the breaching and didn't do justice to the whole experience.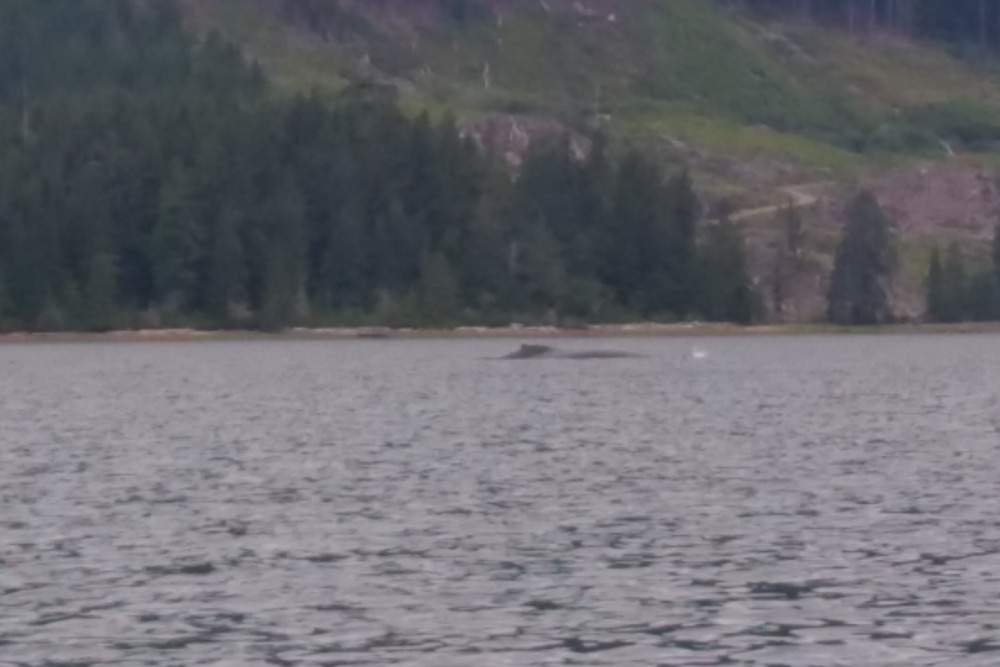 The whale.
I find it curious how there are so many videos of kayakers encountering whales without incident. Sometimes they even come within a hair's breath of the kayak, without even rocking the boat. It is amazing that such massive creatures can be so careful and exacting in their movements, demonstrating a basic respect for diminutive creatures like us—as well as a certain playfulness. Like the seals and the sea lions, they like to tease and flirt.
James carried on to Russell's place. First his dog came out to meet him, then Russell came to check out the commotion. Russell is an always jovial guy with a a very off-handed sense of humour and permanent devilish gleam in his eye. His property is an acreage on the underpopulated side of the inlet. His family gets many of their needs met from the land, having gardens, chickens, goats and access to prime fishing from the inlet. Even though they live in a fairly remote secluded place, it doesn't prevent them from going out and about. When the family goes to the Legion Thursday nights for darts league, they often go by boat! The whole family, including the in-laws, are all dart sharks and usually go home with prize money from tournaments quite consistently! I got paired up with Russell in a doubles tournament once and we won first prize! See, that's how good of a dart player he is: that he can be paired up with a greenhorn like me and win! I wasn't doing too badly that night, though, and got in some lucky shots at the right time that helped keep us out in front.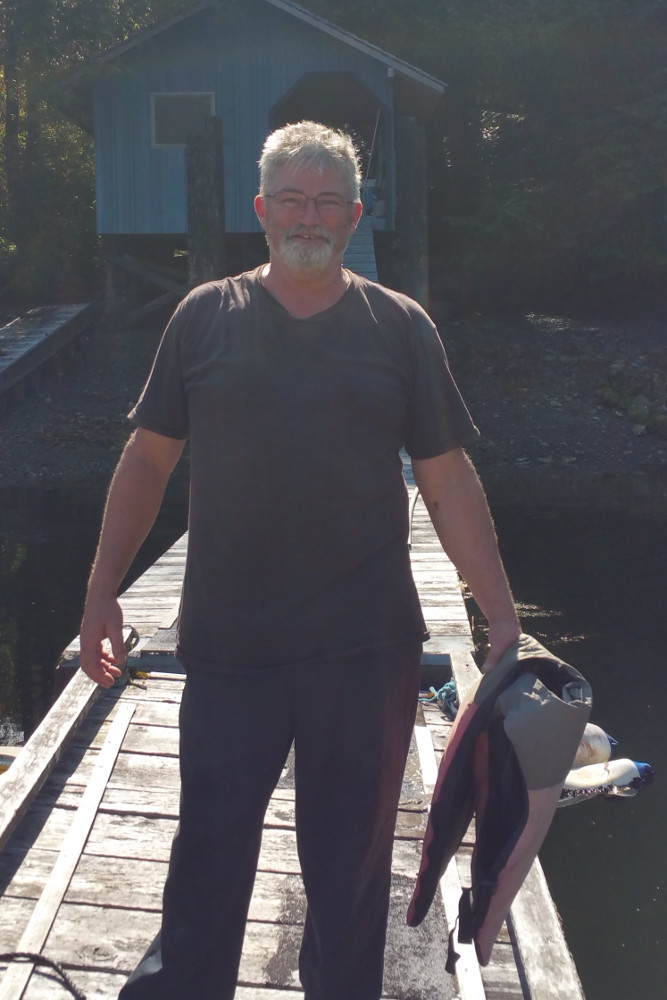 Russell Inglis.
Russell gave James a tour of the property. He showed him his sawmill, an old jeep that he was working on, and some of the things left by his father that he was planning to fix and sell. He introduced James to the goats and chickens, showed him a little greenhouse that he built, then showed him his son's place a little further up the hill that was close to the finishing stages of construction. They then went into the house for a coffee and a beer. Like every conversation in town as of late, after talk about family and acquaintances, there is discussion about whether or not the mill will reopen. The visit was topped off by a trip in Russell's skiff to his special fishing spot where they pulled up a large steel and very heavy crab trap full of crabs. Bringing the crabs back to the dock, Russell put some in a live well and processed a couple for James to put in his little kayaking cooler for the trip back.
After leaving Russell's little North Island oasis, James Paddled directly across the inlet. He received another greeting from his buddy, the whale, hearing a blow hole on the west side of the inlet, in the direction of the mill. By this time, it was getting sunny. The wind was picking up and blowing in his face. Paddling was getting a lot harder. His arms were getting tired, so he took a break in a little bay near Walk Out Island. As soon as he left the protection of the Frigon Islands, the wind intensified. He contemplated pulling into the marina and walking back to the truck on the other side of town. In the end, he decided he was due for a work out, and he definitely got one! For about three kilometres he paddled with all his might, not getting very far very fast. He thinks he was paddling 6 or 7 knots, and going back 3. For those of you who are land lubbers, a knot is equivalent to almost two kilometres per hour. At the last little bit, he had to crank up the intensity to be able to get anywhere at all. Needless to say, he was happy to see his landing spot.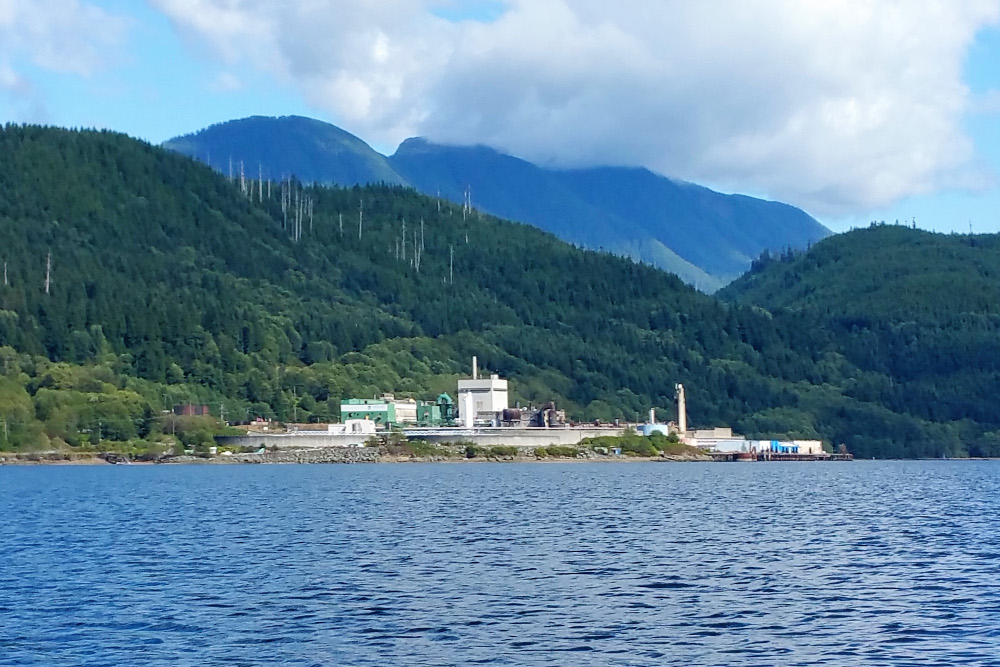 The Port Alice Pulp Mill.
Sitting on the shore, he took some time to recoup his strength and evaluate how many parts of his body were sore…but the wind wasn't done with him yet! To add insult to injury, he had to wrestle with the wind as he struggled to mount the kayak on top of the truck all by himself.